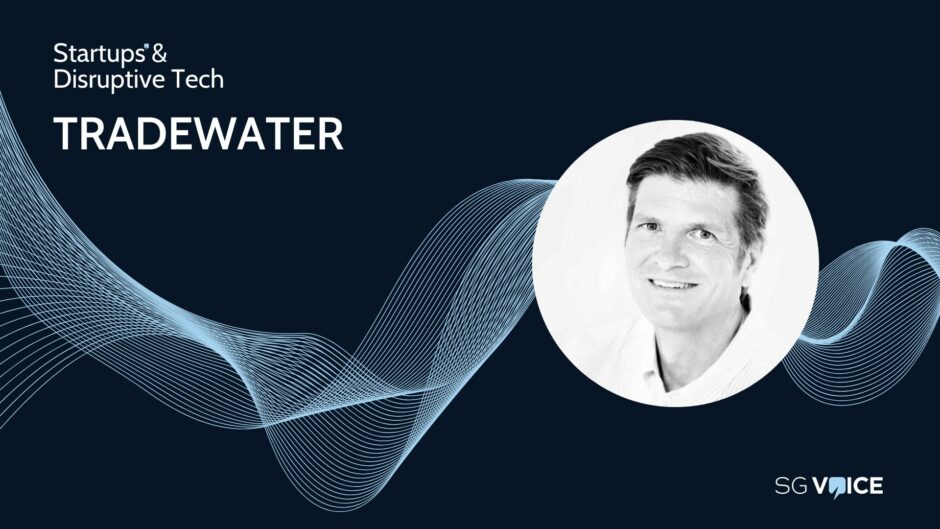 US-based startup Tradewater is pursuing scalable strategies for collecting, controlling and destroying halocarbons and methane, two potent greenhouse and ozone-depleting gases.
Tradewater was founded in Chicago in 2016 by Tim Brown and Gabe Plotkin. It currently has around 40 employees all over the world, with new people expected to join the team soon.
What problem does Tradewater solve?
While carbon emissions and the idea of net zero may have captured the public's imagination, there are more gases than simply carbon dioxide to address if the risk of climate change is to be effectively addressed.
Tradewater believes that capping global temperatures at 1.5°C above pre-industrial times is impossible without addressing potent non-CO2 gases, such as halocarbons and methane. It has devised a solution to reduce the amount of these gases in the atmosphere.
This climate mitigation strategy has been hailed as critical by the Intergovernmental Panel on Climate Change, which has said that an immediate reduction of non-CO2 gases is crucial to limit global warming to no more than 1.5°C above pre-industrial times by 2050. 
Halocarbons, which can be found in refrigerants, and methane, which is produced by food waste and oil and gas production among others, are 10,900 times and 84 times more potent than CO2, respectively. By preventing their release, the company is addressing the problem of greenhouse gas (GHG) emissions and ozone depletion.
The startup targets market segments across the spectrum, such as environmentally-minded individuals, small businesses and large corporations. 
Tradewater destroys high GWP gases financed by carbon markets
Tradewater finds and destroys the gases before they are released into the atmosphere, in a process that is both challenging and costly. What makes financing such action possible is the sale of high-quality carbon offset credits.
In fact, in addition to its work on the ground, which includes trapping and collecting gases at the locations of use, the company also offers verified carbon offset credits to individuals and businesses of all sizes.
The projects that Tradewater develops are compliant with and verified according to the ACR protocols and are also compliant and verified for the California Air Resources Board protocol. The credits available on the California compliance market are verified by third-party verification bodies approved by the ACR registry. ACR reviews the verification reports and once approved, the project is sent for review by ARB staff before compliance offset credits are ultimately issued. On the voluntary side, ACR reviews third-party verification reports for our projects and once approved, issues ACR credits that are available for the voluntary market. 
The credits generated from Tradewater projects are based on measurable, permanent and additional climate benefits. These emissions reductions are measurable because they literally have to be measured to be destroyed, they're permanent because the gases in question are destroyed using a technical process  approved under the Montreal Protocol that results in 99.9% destruction and they're additional because they have significant global warming potential, but are not included under today's climate agreements or in any nationally determined contributions under the Paris Agreement (at least as seen to date).
Tradewater works in real-time and does not sell old credits, but instead presells credits before performing the work involved. Thus far the company has had 65 projects credited by the American Carbon Registry, three by Verra and 56 by the California Air Resources Board.
How are you disrupting your market?
"Simply put, no one else is doing this urgent and critical work. Many of these gases are distributed worldwide, but there is very little information about their location, volume, or safety," the company says. "We collect these gases, aggregating small quantities to have a greater impact. It is challenging and expensive work, but it is necessary to ensure these potent greenhouse and ozone-deleting gases are permanently prevented from being released into the atmosphere."
The company has also agreed a range of partnership programmes across the private sector, working with companies of all sizes. These include the Carbon Neutral Collective, a group of small and medium-sized businesses focused on reducing their carbon footprint, and the Catalytic Coalition, where larger businesses work with Tradewater to eliminate and reduce their use of refrigerants, including forming strategies to transition to less polluting alternatives.
What are your biggest challenges?    
The startup says: "Our work is challenging, complex, and expensive, and often not prioritized by public, private, or governmental stakeholders due to a lack of awareness about the extent of the issue. We are working to raise awareness about the urgent threat of non-CO2 gases and scale up support for our targeted solutions."
What's your next big milestone? 
Tradewater has set a new goal of collecting, controlling, and destroying at least 3 million tons of CO2 equivalent annually beginning in 2023. The company has destroyed over 6 million tons of CO2 equivalent since its inception and plans to reach 22 million tons by 2027.