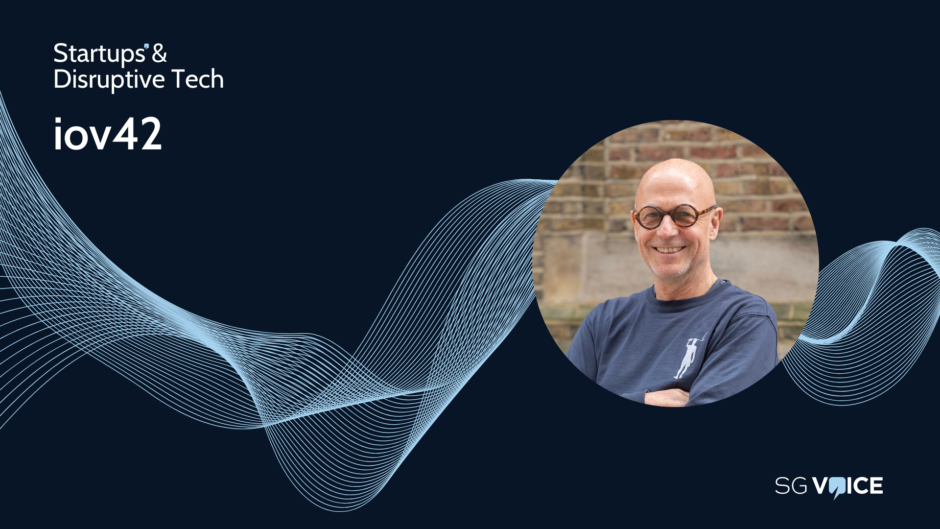 iov42 has developed technology to help organisations, governments and societies coordinate in the digital space by enabling trusted, transparent and secure transactions.
iov42 was founded in Austria in 2016 and now counts 27 employees based across the UK and Europe. Its products are already used in various markets across the world and the company has so far partnered with organisations including DoubleHelix, Timber Development UK, Preferred by Nature, the University of Cambridge and Tata Steel (NSE:TATASTEEL).
What problem are you solving?
iov42's mission is to help organisations, governments and societies coordinate confidently in the digital space by enabling trusted, transparent and secure transactions.
Its purpose-built distributed ledger technology (DLT) is intended to build stronger bonds of trust across governments, businesses and societies, so everyone can thrive in a digital society. For example, the technology has been applied to create Timber Chain, which is being used by organisations to authenticate the sustainable sourcing of materials such as timber, cotton and soy, helping to end illegal deforestation and supporting businesses in meeting regulations.
"Our technologies are trying to provide organisations with the tools necessary to help them become more sustainable in an increasingly green economy. Decarbonisation is a growing focus for industries like timber and steel, but every sector is coming under pressure to play their part," the company says.
"Many organisations are looking to technology like ours in order to build solutions that perfectly meet their needs and address their challenges. Applying these technologies can help them achieve a more circular supply chain that can cut out waste and address areas that are unsustainable or damaging for communities or the environment," it adds.
"Companies don't know whether they are truly sustainable from end to end unless they have the visibility over the data to do so. That takes essential collaboration and seamless technology. One of the greatest benefits of DLT is that, because of the way it is built, it is purposefully designed to be far less energy-consuming at scale than alternatives. Our solutions take that environmental impact into account."
What is your target market?
The technology can be used by any organisation that is seeking to enhance the trust in their operations, their products and between different stakeholders. Due to the development of Timber Chain and iov42's work with industry partners such as Preferred by Nature and DoubleHelix, its solutions have attracted a lot of interest from those working in the forest risk commodities space, such as timber, to improve traceability and meet due diligence requirements.
iov42 has also developed a prototype with Tata Steel, called Steel Chain, to give businesses accurate and up-to-date information about their steel supply chain.
The company said that the interest in traceability and trust is growing beyond commodities. Indeed, the global market for digital trust technology is expected to double to $537 billion by 2027, while there is "huge room" for businesses to put greater investment in technology like DLT.
In the UK market, for instance, the landscape is typically one of underinvestment in the space of DLT for supply chain and government. According to the Blockchain Big Innovation Group think tank, DLT companies focussed on the supply chain in the UK received less than 5% of funding versus DLTs focussed on fintech/cryptocurrencies, and government tech received less than 2%.
The global government blockchain market, however, is projected to reach $3.4 billion by 2023 at an annual growth of 84.5%, with global sales for enterprise blockchain expected to grow from $2.9 billion in 2019 to $13.2 billion in 2024. Furthermore, Gartner forecast that the business value generated by blockchain will grow rapidly, reaching $176 billion by 2025 and $3.1 trillion by 2030.
What is the product or service that you offer and how does it work?
iov42's technology uses the fundamentals of blockchain to support business value and meet regulatory requirements. It uses pioneering technology such as Proofmesh, its unique mechanism for recording transactions, asset and identity modelling, zoned architecture and novel consensus mechanism in order to better coordinate collaborative value exchanges across supply chains. For each identity and asset type combination, it creates a chain of transaction proofs – and for each transaction, the chains of all the identities and assets involved are combined to form a mesh of proofs.
"iov42 provides the technology that enables clients to create a solution to answer questions like: Who am I transacting with? Do I trust what we're exchanging? Can I be sure the value exchange has happened digitally? Where is the proof of that value exchange? How do I know it has happened in accordance with regulation?," the company says.
"Thanks to our use of digital identities, assets and endorsements, you can always trust who's on the platform, what they're doing and how they're doing it."
What are your biggest challenges?
Applications of DLT, such as blockchain, have received a lot of media attention, partly due to the high-profile reporting of cryptocurrencies, such as bitcoin, which have shown some failings and challenges. This has subsequently caused a lot of scepticism and a lack of confidence in DLT for businesses, many of whom now see the technology itself as just another trend or a risky investment, according to iov42.
"This is not because of the technology itself, but rather due to how participants have organised themselves around it," the company notes. "DLT's capabilities go way beyond the crypto space, and with the right applications, it can completely transform businesses for the better."
What's your next big milestone?
In January 2023, along with DoubleHelix, iov42 was selected by Innovate UK and Enterprise Singapore to embark on a two-year feasibility study that will test DLT as the leading solution to help importers meet due diligence requirements. This project is being developed to specifically target Schedule 17 of the UK Environment Act, relating to the "Use of Forest Risk Commodities in Commercial Activity".
Similar legislation to the UK's will apply to organisations wanting to import into Europe under the EU Deforestation Regulation and the US under the proposed US FOREST Act.
Who are your greatest competitors?
In the DLT space, iov42's main competitors are the well-established Layer 1s, including Ethereum, and Hyperledger, which are well-suited to particular client problems. iov42 says it is trying to solve different problems because of the focus on identities, third-party endorsement and the use of permissioned networks, rather than public.
How can you create synergies in your sector?
The problems iov42 is trying to solve cannot be done by single parties alone, according to the startup, therefore collaboration and data-sharing are essential.
"For this to happen, people need a system they can actually trust, for example a decentralised approach. This means that there shouldn't be one single point of failure or one single organisation controlling and owning all of the data in the system – it should be retained by individual users," iov42 says.
As such, the startup is looking to partner with a wide range of organisations such as government agencies, NGOs, science laboratories, huge global corporations, academics, trade associations and more.
What haven't we asked that you think we should know?
"The timber industry has been one of our biggest success stories. With 15-30% of timber harvested and exported illegally, we have been playing our part in making sure that traders can become a lynchpin in combating this illegal industry," concludes iov42.
"We have already equipped traders such as Carl Ronnow with the tools needed to meet their commitment to providing comprehensive, real-time due diligence for their buyers, all supported by third-party audits and verification."