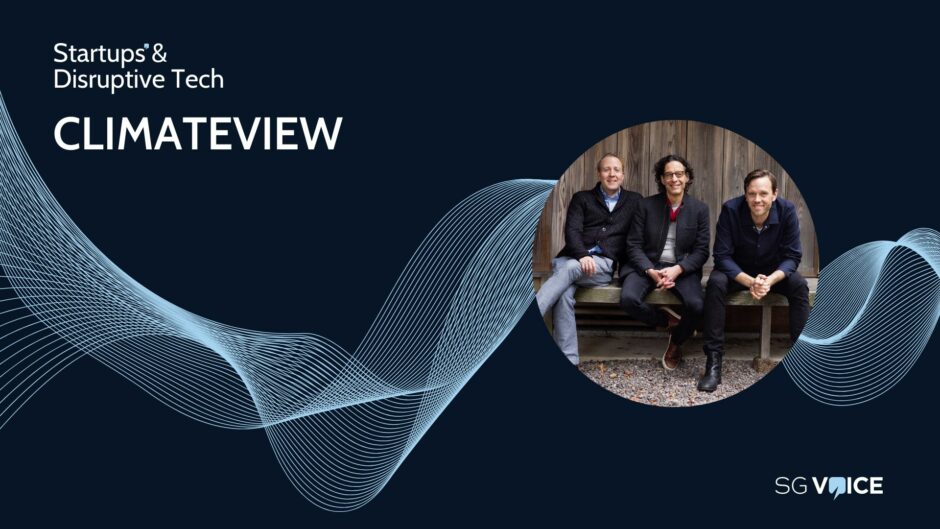 ClimateView helps cities deliver data-driven climate action plans, with the view of attracting high-impact funding to accelerate their transition to net zero.
ClimateView was founded by Tomer Shalit, Einar Bodstrom and Jeff Goens in 2019. It has a hybrid team of over 65 people across the EU, UK and US.
What problem are you solving?
Cities account for around 75% of global CO2 emissions, mostly due to industrial and motorised transport systems that rely on fossil fuels and infrastructure constructed with carbon-intensive materials. Many of them are, however, severely impacted by the effects of climate change in terms of flooding, droughts and storms, while densely populated areas are vulnerable to the spread of diseases.
Meanwhile, it is expected that an extra 2.5 billion people will live in cities by 2050, highlighting the need to expand sustainably while addressing the current footprint. ClimateView's mission is to help them achieve net zero emissions by giving them data to unlock the right amount of funding.
The company says: "ClimateOS, our impact intelligence platform for city climate planning… helps Nottingham to understand the things they need to achieve to reach their 2028 goal. It helps Heidelberg engage all citizens and stakeholders by making their plan digital and possible for everyone to follow…and to track its progress."
"It helps Helsingborg to see where their next € is best spent, on district heating, bike lanes or charging stations… and to present that business case with confidence to finance, both public and private."
How does your product work?
ClimateView's offering is ClimateOS, a climate planning platform for cities that combines data and systemic analysis to enable cities to plan, manage, and fund the transition to net zero. It is a Software as a service (SaaS) that models interdependencies and trade-offs between competing objectives in a complex, constantly evolving real-world setting, connecting emissions, energy, economics, and externalities in a single analysis.
This allows cities to evaluate strategy, focus resources on the initiatives that matter, design better actions that align stakeholders, and create investment plans that attract financing. By connecting emissions, actions and economics at a system-wide level, cities can establish evidence-based net zero strategies and climate investment plans.
What's your target market?
Cities and local governments in Sweden, Germany, Austria, Switzerland, Spain, UK, US and Japan. The company has active sales and market operations in over 50 cities across Canada, France, Netherlands, Belgium, Denmark, and Norway.
ClimateView is interested in collaborating with cities, experts, city networks, governments and NGOs, and has built partnerships with Microsoft (NASDAQ:MSFT), the Carbon Disclosure Project (CDP) and city networks.
What are your main challenges?
The company says that these are using data-driven insights, tight resources and hard-to-align stakeholders that cities face in their transition to net zero.
"The choice is often between working in the old way, with consultants in static uncollaborative processes, or working digital," it adds.
What it will take to scale up?
The more cities that commit to net zero, the more will seek a platform to manage it, according to ClimateView.
"Today, 1,100 cities are committed to net zero but the majority lack any reporting mechanism. Many are aiming for 2030. Most do not know of the option to rely on software to crunch the numbers and manage the process. Therefore, scaling will also require category-building and thought leadership," the startup notes.
What's your next big milestone?
Being part of reaching the net zero mark with a city will be the next key goal, says the company.
By end of 2025, it envisions having 525 cities on ClimateOS and contributing to managing the emissions of 290 million citizens, amounting to around 2,9 billion tons of CO2. This number is greater in size than the emissions of the entire EU in 2021.