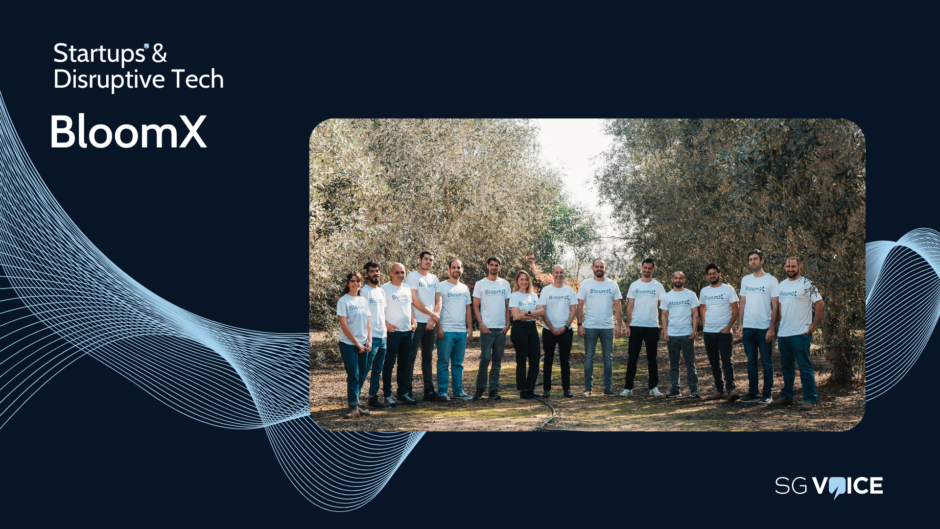 BloomX, previously known as Bumblebee AI, was founded in 2019 by Thai Sade, Avi Keren and Ido Senesh. Based in Ripshon, just North of Tel Aviv, the startup has developed a technological approach to pollination that does not rely on declining insect species. 
Company mission
BloomX's mission is to sustainably increase growers' crop yields and improve fruit quality, while also addressing challenges related to climate change, food security and the decline of pollinating insects.  
Currently, more than 90% of the world's most important crop types are pollinated by bees and other insects. Without their service, estimates suggest that global crop production could fall by as much as 8%, reducing the supply of vital sources of nutrition such as fruits, vegetables, nuts and legumes. 
Already, there is research to suggest that the decline of pollinating insects is contributing to around 427,000 premature deaths per year due to the decreasing availability of nutritious food supplies. Furthermore, a reduction in crop yields has significant social and economic impacts, including the disruption of subsistence-based livelihoods and trade activity worth an estimated $577 billion per year. 
BloomX was established to tackle these issues. As explained by its founders: "With the growing demand for food worldwide, a reliable and sustainable pollination solution is crucial. Currently, managed bees, such as honey bees, are used for crop pollination, but their generalist nature means they lack the physical traits required to effectively pollinate specific crops. In contrast, wild bees are natural and efficient pollinators that have evolved to pollinate crops according to the lock-and-key principle." 
"However, many wild bee species are endangered or extinct due to human activities, including habitat destruction and pesticide use. Furthermore, even if wild bees were available, they cannot be used for large-scale cultivation due to the lack of management. Therefore, there is an urgent need for a sustainable solution that can effectively pollinate crops at a large scale while taking into account the unique pollination requirements of specific crops." 
The BloomX approach
BloomX has developed a system that relies on artificial intelligence (AI) and mechanical devices to mimic natural pollination. In the absence of an effective pollinating vector, such as a thriving bee population, the company's technology provides growers with a way to improve their yield productivity and quality without relying on declining insect populations. 
The AI solution combines agronomical know-how with a range of environmental data points such as plant fertility parameters, temperature and pollen receptiveness to identify the optimal window for pollination. This information is then used to optimise the deployment of BloomX's hardware devices, which are tailored to replicate the natural pollination processes of specific crops. 
For example, the company's 'buzz-pollination' devices are designed to mimic the pollination process of bumblebees, which use their vibrating chest muscles to release the pollen from flowers. Crops such as blueberries are heavily reliant on this process, but it cannot be replicated by smaller species such as farmed honeybees. The buzz pollination devices provide a technological solution, with their pre-calibrated mechanical arms used to vibrate the stems of blueberry plants. 
Other crops, however, require a different approach. Avocado trees, for example, are better served by BloomX's 'collector device' which uses an electrostatic charge to stroke the perimeter of one avocado variety to release its sticky pollen grains. These grains are gathered onto a reusable frame, before being transmitted to other varieties to replicate their natural cross-pollination.  
By removing the need to introduce farmed honey bees, the startup also reduces crops' exposure to new diseases. This helps with the conservation of indigenous wild bees, ensuring their survival for the continuation of natural pollination.  
"The solution not only replicates the complex and delicate natural pollination process, but also offers a sustainable alternative to traditional pollination methods," the company says. "Our bio-mimicking approach contributes to a healthier ecological balance on the farm, strengthens fruit resilience to extreme climate conditions, and lowers the environmental footprint of crop production by creating more yields with less land." 
Disrupting the market with novel technology
BloomX's founders acknowledge that their mission is highly ambitious, with many hurdles to be overcome along the way. "One of the most significant challenges has been convincing growers to put their trust in technology rather than in bees, with which they have been using for decades," they explain. 
"However, as our approach replicates the natural pollination process and is able to be seamlessly incorporated into existing crop growing procedures, it is a challenge we are able to overcome primarily through demonstrations and case studies of our successes with existing clients." 
With recent investment and planned expansion, the company appears to be well on its way to addressing these challenges. 
Future plans for agtech leadership
BloomX intends to target agricultural growers that are facing the consequences of declining insect species. According to its founders, initial clients include some of the world's leading Tier 1 and 2 blueberry and avocado growers in Latin America, South America, South Africa and the US.  
As the company expands, it will continue to test its solutions on different crops and increase its product range. This will include the ongoing improvement of its AI algorithms, as well as the development of autonomous machinery. By advancing its automation capabilities, in collaboration with fellow agtech businesses, the startup hopes to improve productivity and efficiency while reducing the burden of labour costs. 
In February 2023, BloomX closed an $8 million seed funding round led by Ahern Agribusiness, with additional participation from Vasuki Global Tech fund, Bio Bee, the Israeli Innovation Authority and Dr Gal Yarden. This investment will be used to further its research and development, enabling it to develop solutions for additional crops. 
"Our next goals and milestones include securing funding for our next round, which will enable us to further develop our technology and expand our operations. We're actively working on developing new crop-specific tools, to enhance our pollination process," say BloomX's founders. Ultimately, their goal is to establish BloomX as an industry leader within the agtech sector by 2033.