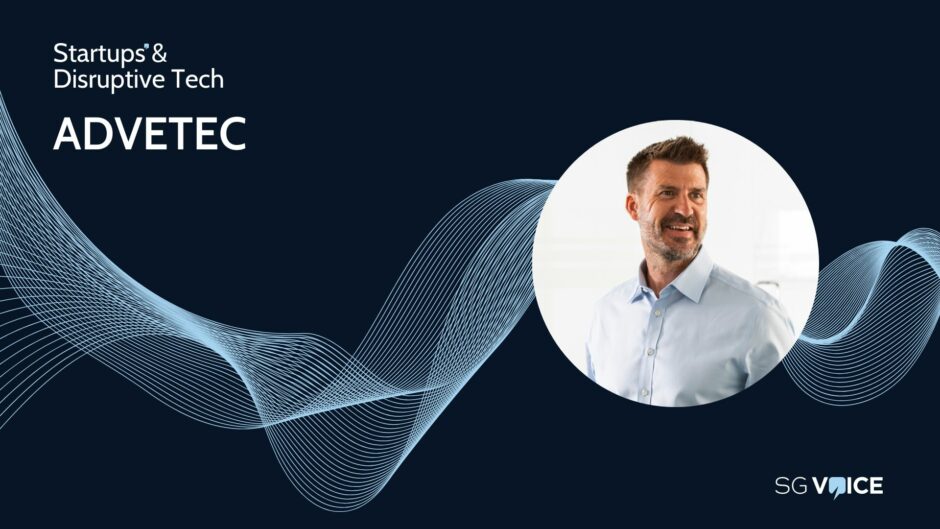 Advetec saves mixed residual waste from landfill by turning it into solid recovered fuel, which can be employed by energy-intensive industries.
Advetec was founded in South West England in 2000. Over the last three years, it has raised £6 million from its existing shareholder base.
What problem are you solving?
To meet its pledge to be carbon neutral by 2050, the UK must re-educate itself about unrecyclable waste – "an often untapped, misunderstood and sometimes even forgotten" waste stream, says Advetec.
Mixed residual waste (MRW), such as a sandwich wrapper containing crusts, cannot be recycled due to the presence of organic matter. Typically, it accounts for 50% of the waste recycling plants receive and is sent on to landfill or for incineration instead.
According to Advetec, this waste has real and typically untapped potential for the circular economy as it is "optimally suited" to becoming a refined, high-quality alternative to fossil fuel.
What is your product and how does it work?
Advetec's biotechnology process turns MRW and organic fines into solid recovered fuel (SRF) via an on-site aerobic digestion process. Its largest machine, the X022, can process up to 10 tonnes of commercial MRW each day and is capable of multimachine configuration.
Unrecyclable waste is shredded, biotech additives are introduced, and organic waste is aerobically digested. After 72 hours, a high-quality and homogenous floc remains which is well suited to become SRF to replace fossil fuels in energy-intensive scenarios such as cement production, be used in gasification or in pyrolysis to produce green gas for heating homes. Turning unrecyclable waste into SRF is 40% cheaper than sending it to traditional energy from waste (EfW) and it brings it into the circular economy, Advetec says.
What is the driving force/mission behind your business?
"As a local waste solution with a real-world impact, Advetec is committed to unlocking the value of this waste stream – one so often overlooked by waste creators, handlers and legislators – and bringing it into the circular economy as fuel," says chief executive Jim Lovett. "Our technology is a direct solution to help businesses improve their green credentials, while also helping the UK to achieve its goal of halving residual waste sent to incineration or landfill by 2042."
What is your total addressable market?
The UK alone generates 44 million tonnes of industrial and commercial (C&I) waste per year – some of which is sent to EfW, but a significant chunk is still sent to landfill. In light of the UK Government's pledge to halve these volumes by 2042, there is a very real and immediate need for an alternative, such as biotechnology.
Lovett continues: "Overall, the market potential is vast. Our solutions fit into many different areas of the waste journey – at the creator level, at the collector level and at the processing and disposal level."
In the US, the problem is even greater, as 52% of the nation's waste still goes to the landfill with virtually no treatment. The US is lagging behind Europe when it comes to the regulation needed to drive change, such as diverting waste from landfill, improving recycling collections and investing in waste treatment infrastructure.
Looking at the SRF market, Advetec's process moves waste up the thermal value chain. One tonne of SRF (floc) can replace 0.5 tonnes of coal from the production of cement. For every tonne of SRF used circa. 1.2 tonnes of CO2 from the use of virgin fossil fuel are avoided.
SRF produced from unrecyclable MRW is more valuable than SRF produced from recyclate, Advetec says, because it has a higher thermal value. The digestion process gives it a higher calorific value and a biogenic carbon fraction, which is usually 37% and is not part of the greenhouse gas emissions tax.
As such, it is suited to replace coal to power kilns for green cement production, the company notes. As cement production is one of the most energy-intensive industries in the world, accounting for 7% of the world's CO2 emissions, there is strong demand for an alternative to fossil fuels to support greener methods.
The SRF market is growing and is expected to reach $6 billion by 2029. Advetec says is enabling the UK to capitalise on this by creating a fuel that delivers greater cost certainty and carbon reductions, as well as new waste capacity and circular economy gains.
What do you perceive as being your biggest challenge?
"Without doubt, Advetec's biggest challenge has been breaking into the market," says Lovett. "The waste industry is very traditional and risk averse so getting early adopter sites has been a challenge. We have made great progress with some very forward thinking customers and there are lots of 'first to be second' customers coming through the pipeline now, but it's been a difficult slog."
In the UK, Advetec says it faces a challenging permitting process due to a lack of resources with the Environment Agency which leads to 18 to 24 months for obtaining a permit. Lovett adds: "We have challenged the regulator to help speed up this process, with some success to date!"
"Considering we are in a climate emergency, and we must adjust our lifestyles and embrace new technologies to achieve goals such as the 1.5-degree target and Methane Pledge (UK), not enough is being done to help change happen at pace," he continues.
"We must allow new disruptive technologies to enter the market safely and to create the right conditions for them to thrive. It is a shame that we're seeing innovators and businesses migrating to more dynamic environments, such as the EU, to prove their solutions and deliver change."
What do you think it will take to scale up your product and on what timeline?
According to Advetec, growth will come in time, but it would benefit from a strategic partnership with a larger waste business, which would provide better access to more waste producers and help link the end-to-end waste process better.
What is your next big goal or milestone?
The next milestone for the business is to double the number of field operations in the UK and the US.
Who do you consider your biggest rivals?
"We don't compete with anyone really as our technology is genuinely unique. The idea of rivals is very interesting," comments Lovett.
"We span the whole waste journey so have multiple rivals, but ironically many of them could also be long term partners. For example, we reduce waste levels at source as part of the process which is not necessarily something that the average waste collector would see as a good thing – as they charge clients on volume. However, our technology could help them save on road-based carbon, fuel and gate fees – there's a huge amount of re-education to be done in the industry."
How do you see your technology supporting the drive towards net zero in both developed and less developed countries?
Lovett concludes: "It's a big question, but one that needs answering, not just because it gives us an opportunity to expand our reach and scale-up the business, but because we also need greater focus on ensuring all parts of the world are delivering positive environmental change."