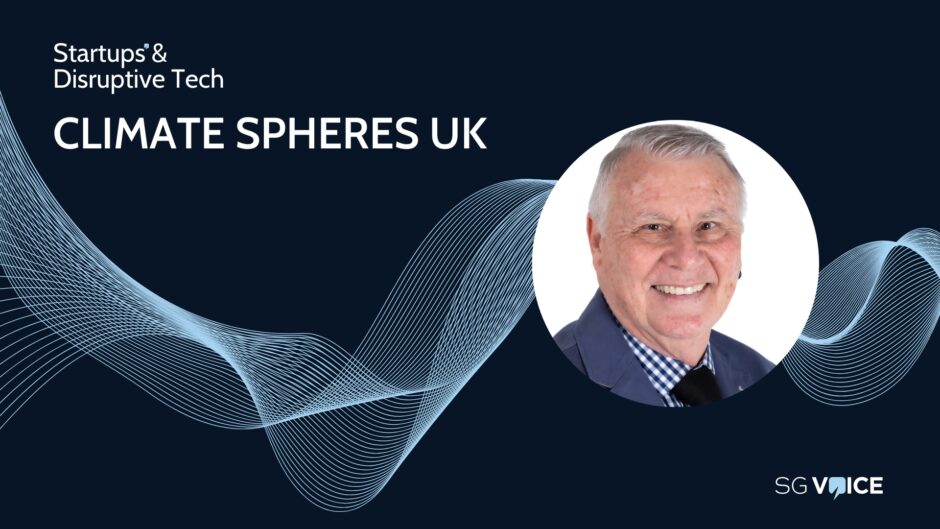 Cardiff-based Climate Spheres UK (CSUK) was founded in 2021 by Kevin Holtzclaw and Jane Gardner. With its science-based approach, the company hopes to help UK farmers in overcoming the challenges of climate change. 
Company mission
"Our mission is to help UK farmers find ways to thrive, reliably and sustainably, despite our rapidly changing climate," says Holtzclaw. "We bring together practical experience, scientific insight, and industry awareness to fortify UK agricultural in the face of climate change, ensuring the profitability of sustainable food security." 
"The agricultural sector not only needs to transform practices, priorities and markets to be climate change ready, but it is also needed to mitigate and balance the environmental impacts of other sectors. This is a phenomenal challenge that will require innovation and adaptability. We want to help facilitate this transition, ensuring that profitability is maintained while maximizing the value of farms to communities."    
The urgency of this mission is undeniable, as the UK's farmland is becoming increasingly vulnerable to the impacts of climate change. Rising temperatures and dry conditions are causing crop yields to decline while also affecting the health and productivity of livestock. Heavy rainfall, high winds, and the saline intrusion resulting from rising sea levels, meanwhile, are reducing the availability of fertile soil.  
Furthermore, research suggests that climate change will increase the number of invasions by pests, pathogens and non-native species that could cause result in severe financial losses. Indeed, a bacterial disease known as Septoria tritici blotch is already costing UK wheat farmers up to £200 million per year.  
Evidently, climate change poses a significant threat to farmers' profits. At the same time, resource shortages are exacerbating the inflation of food prices. Given the current fragility of the UK's economy, further price hikes could have severe impacts on the country's food security and business activity. 
Science-based toolkit provides valuable support
CSUK has developed a suite of science-based tools and services that help farmers to adapt to the changing climate by adopting cost-effective solutions. 
As summarised by Holtzclaw, "CSUK gives farmers the tools, knowledge and strategy to ensure that their farm is future-proof and remains profitable as the UK climate becomes more extreme, while being well positioned to benefit from the agricultural transition and Net Zero opportunities." 
The company has developed proprietary tools for analysing the specific agricultural impacts that climate change will have on the locations of individual farms. This provides more relevant insights than the conventional use of national data, enabling farmers to make informed decisions that are tailored to the unique context of their operations. 
"With our climate change risk assessments, we are helping farmers both contextualise the weather extremes and trends that they have been experiencing and to plan for their mid- and long-term futures. Ensuring that they are able to adapt to changes in a timely manner, instead of just reacting after their business is already harmed," Holtzclaw explains. 
CSUK also supports farmers in improving their slurry management through anaerobic digestion. Again, the focus is on context, with each customer being provided with individual recommendations on suitable technologies, local environmental requirements and business strategies that maximise the returns on their initial investment. 
Ongoing development of additional solutions
As CSUK continues to grow, it is exploring additional solutions and services that may be offered to its customers. Since late 2022, for example, it has been researching the environmental impacts of growing industrial hemp and converting its fibre into textiles. 
The startup has identified industrial hemp as a high-value crop that can provide an additional source of income while improving soil health and sequestering substantial volumes carbon. With over 50 varieties that can be grown in different areas of the UK, it plans to offer a new service that will help farmers to select the appropriate variety for their location. It will also assist them in selecting specific seeds, acquiring the necessary growing permission, optimising their cultivation and commercialising their resulting product. 
Holtzclaw says that CSUK is also exploring the potential of using biochar as a means of capturing carbon, improving soil health and increasing crop yields.
"As a win-win that does not require agricultural land be taken out of production, it is seen more favourably by farmers than forestation projects," he reasons. "Biochar also supports nutrient management, reducing the quantity of expensive and high-emissions artificial fertilisers required." 
Challenges remain, but outlook seems promising
As it advances its efforts, CSUK has a number of challenges to overcome. According to Holtzclaw, the biggest issue is the uncertainty of the market. Currently, the company is waiting to see how it can align its work with the Government's upcoming land management schemes, enabling farmers to access stack payments for their adoption of its sustainable solutions. 
"There is not yet funding in place to support the scale of agricultural response required to remain functional and profitable through climate change," says Holtzclaw. "There are also regulatory challenges for hemp, with uncertainty and the time demands of the license process." 
Biochar has also been largely neglected, with few farmers understanding its potential benefits. Holtzclaw hopes that through engagement with Government policymakers, new measures may be put in place to ensure that the market is strengthened by regulatory and financial support. 
Although a supportive policy environment remains to be seen, Holtzclaw paints an optimistic outlook of CSUK's future. "We are looking forward to collecting original data exploring the benefits of biochar and hemp in the field, and developing the evidence base for how they interact with each other," he says, suggesting that the company's sustainable mission is not to be dissuaded.