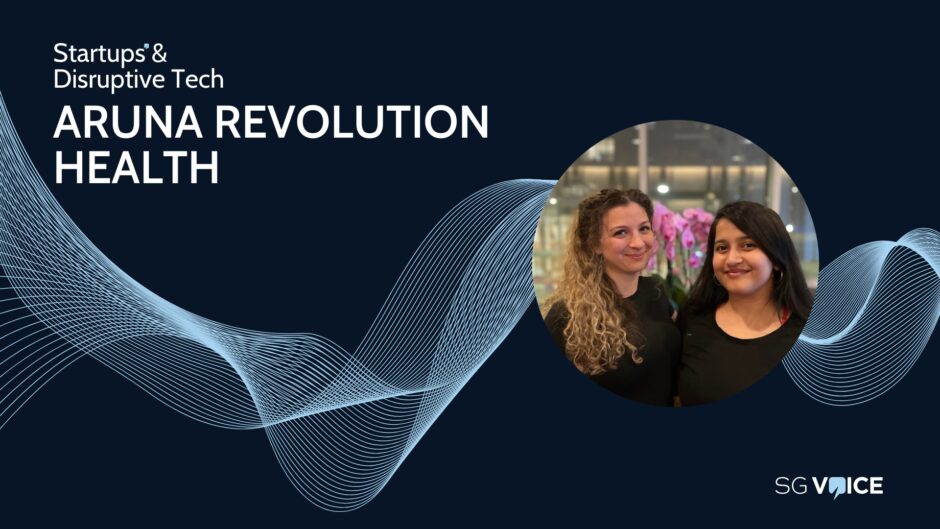 In 2021, Rashmi Prakash and Lanna Lastiwka co-founded Aruna Revolution Health. The Canadian startup produces compostable menstrual products, integrating environmental sustainability with health and hygiene. 
Company mission
Aruna is on a mission to eliminate the trade-offs between the health of menstruating individuals and their ability to care for the planet. 
"Both Lanna and I have experienced the struggles that surround menstrual health, from using harmful period products to navigating our menstrual health in a world where it is considered inappropriate to talk about it. With Aruna, we no longer want any menstruator to have to pick between their wellbeing and the wellbeing of the planet," Prakesh explains. 
"Menstruators can pick an affordable menstrual product that keeps them safe as well as the planet. In addition, through our radical education – we hope to destigmatize menstrual health so that all menstruators can effectively and safely access healthcare for their menstrual health." 
Indeed, conventional menstrual pads are made largely from plastic that is discarded into the environment after a single use. This adds to the burden of plastic pollution, with large pieces of litter being swallowed by animals while toxic compounds are released into the surrounding ecosystem. Although alternative options are available, each comes with its own set of problems. 
"Reusable products are not as accessible, safe, or affordable as their disposable counterparts – with cups causing vacuum damage to the uterus, often resulting in dislodged IUDs and uterus prolapse," says Prakesh. There are studies to suggest these health consequences are rare and need to be further researched, both in the cause of IUDs and prolapse.
"Reusable pads withhold bacteria and blood after being washed, making it a breeding ground for bacteria. They are difficult to wear, and even worse to manage – needing to be stored in our handbags and carried around at school or work after use. Reusable products eventually end up in the landfill themselves." 
"Biodegradable pads are just a greenwashed product. With little regulation around biodegradable claims, many use this term to infer that the product is somehow environmentally friendly," she continues. "Many consumers are unaware that biodegradable simply means that the product can be broken down by a microorganism, without the guarantee of an environmentally friendly output." 
Global estimates suggest that around 1.8 billion people experience monthly menstruation. These individuals rely on menstrual hygiene products not only for their physical health, mental wellbeing and sense of dignity. With menstruation often being seen as an issue of stigma and shame, those without sufficient resources are often excluded from social institutions such as work or education. 
"Without menstrual products, we would simply bleed through clothes, and would not be able to participate in education or our careers – further expanding the gender equity gap. However we have no choice but to use pads that are both harmful to the body and the planet," Prakesh laments. 
"Menstruators should not be forced to choose a pad that they can barely afford, that is bad for the planet and their own bodies – but is essential to their wellbeing, and livelihood." 
Converting food and agricultural waste into compostable menstrual pads
Aruna intends to eliminate this dilemma, with its production of fully compostable menstrual pads. Made from natural fibres extracted from locally sourced food and agricultural waste, the company claims that its products are affordable and inclusive as well as environmentally friendly. 
"Our IP portfolio includes a novel method of extraction of fibers from a variety of food and crop waste, maximizing the use of sustainable processes, that is then turned into non-woven materials using our novel equipment made in house. Our non-woven materials with specific properties that are suitable for our compostable sanitary pad," Prakesh explains. 
As they are made from organic waste, Aruna's pads can be broken down by naturally occurring microorganisms that convert them into a fertile compost which improves the health of the surrounding soils. Through this process, the agricultural by-products and discarded food that would otherwise be sent to landfill are transformed into a vital resource.  
"In addition to the environmental benefit, our menstrual pad gives menstruators a safer and cleaner option that is better for their body. Our team understands how frustrating it is to have to use pads that contain chemicals that may cause cancer, and often cause infections. This is why we have developed a novel process that doesn't leave any harmful residue behind on the pads, and ensures that the materials touching such a sensitive area of the body are of the best and safest quality," adds Prakesh, highlighting the multiple benefits of Aruna's solution. 
Overcoming the barriers to market
Despite these benefits, Aruna faces a couple of significant challenges that are yet to be overcome. Primary among these, according to Prakesh, is the lack of suitable infrastructure for localised sourcing and manufacturing. In order to remain truly sustainable, the company is having to build up its capabilities on a micro-level. 
The company is also likely to be limited in its ability to access its target market. Although more than half of the world's population is thought to experience menstruation, Prakesh acknowledges that this community will not be immediately available in its entirety. 
She says that the company will initially target North American teenagers and millennials who care about their menstrual hygiene while also being concerned about the environment. According to Prakesh, teenagers are likely to remain loyal to the first brand of menstrual products they purchase. As such, they are a valuable segment to have on board. 
Additional opportunities are being explored, with Prakesh reporting that multiple institutions and organisations have shown an interest in stocking the compostable pads for the use of their visitors and employees. She adds that a number of established menstrual hygiene brands have enquired about white-labelling the product for their existing customer base. 
Upcoming milestones
At present, Aruna is working to scale up its initial pilot phase and develop its first micromanufacturing facility. Having already secured CAD$550,000 in Government prize money, it will open its first fundraising round before the end of 2023. 
As it builds up to its official launch in early 2024, the company is keen to explore any additional opportunities for collaboration. The firm is open to partnerships with any aligned organisation, whether they be a company, non-profit or Government body. 
"We would love to collaborate with others in the sector, from the healthcare field as well as the agricultural sector," says Prakesh, expressing similar enthusiasm for partnerships with non-profit organisations or Government bodies. "We value global partnerships to help us expand the reach of our mission to ensure every menstruator has access to sustainable menstrual pads."