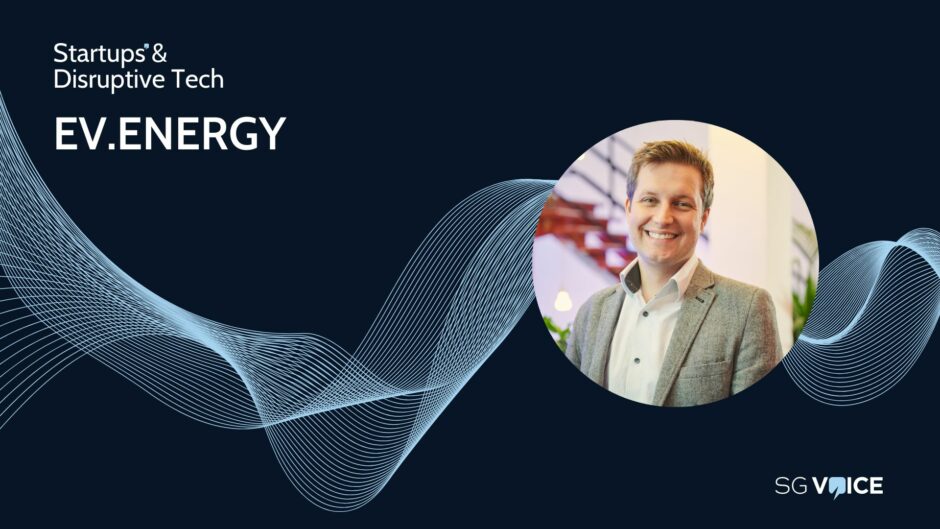 Ev.energy, a B Corp-certified business since 2019, has developed a smart charging software for electric vehicles (EVs).
Ev.energy was established in 2018 by Chris Darby and Nick Woolley and is based in the UK and California.
How did you get the idea?
While working as a power systems engineer, Woolley was aware that EVs could play a massive role in helping to decarbonise the energy system. The sticking point was that EVs consume a lot of energy, which puts pressure on energy networks as the grid has a limited peak capacity.
According to the startup, the solution lies in connecting millions of EVs together and controlling the flow of energy. This creates a 'virtual power plant' where each EV consumes energy at different times, reducing overall grid consumption, the need for dirty-energy dependency and CO2 emissions for the planet.
Through smart charging, EVs charge when the grid has capacity, using low-cost renewable energy. This reduces carbon emissions by up to 30% and costs for the consumer.
The startup estimates that delaying charging until later at night can save consumers up to £800 a year, especially when combined with solar panels that take self-generated power straight to the car. This not only helps ease the load on the grid but also makes switching to EVs more economically viable for consumers.
When referring to his vision upon starting the company, Woolley says that his intentions were not only to help increase EV adoption by making charging greener and more affordable for everyone, but also to help pave the way for a more sustainable, low-carbon future for the world.
What problem are you solving?
The switch to EVs is placing enormous pressure on our existing energy grids to cope with demand, all while we attempt to transition to renewable and independent energy resources. According to the startup, countries are facing an ever-widening gap between demand and supply.
"With a simple charging app, ev.energy is making charging cheaper, greener and easier for EV drivers, businesses and grid operators inside and outside the home," the company says. "Not only is this removing the biggest barrier to adoption, but it is also boosting accessibility alongside managing demand – bringing transport in line with global climate targets."
The organisation's smart charging technology allows EVs to be integrated into the energy system sustainably. This eases pressure on the national grid, reduces carbon emissions and provides savings for the drivers.
ev.energy's smart charging software allows EVs to be charged automatically during hours of low electricity demand or increased renewable energy sources, including through personal solar panels. In the future, the company's platform will allow EVs to feed electricity back into the energy system at times of peak demand, creating the single biggest source of energy flexibility while providing further financial rewards for drivers.
What challenges are you facing?
The startup is facing three main challenges. Firstly, regulation needs to catch up with the current levels of technology advancement. Secondly, the charging infrastructure acts as a barrier: even though 80% of charging is done at home, the lack of public charging means some people are not comfortable switching to EVs.
Finally, the sector needs more trust in smart charging, as owning an EV can build a stronger relationship with the energy sources. Understanding this and automating the charging process requires consumers to trust a company, such as ev.energy, with their high-value and potentially high-cost asset.
What do you need to scale up?
The company says that it is essential for the UK to work towards developing a strong infrastructure for electric charging. With the petrol and diesel car ban coming in 2030, it is important that the UK's charging network is equipped to facilitate a clean energy transition in transport.
"We must close the 'adoption gap'. We need to adopt new standards and expand access to electric mobility. We also need to reach a state of energy independence, by having smart-grid technology in place to encourage self-sufficiency," it adds. "Government and grid support will encourage consumer confidence, and make both public and at-home EV charging more accessible and affordable."
Funding to date
ev.energy has so far raised $12.8m from investors, including Energy Impact Partners and Canada's Arctern Ventures. It has also struck deals with more than 20 energy and utility groups — among them Eon — as well as several network operators, including UK Power Networks and Southern Company in the US.
Who are your main competitors?
According to the startup, Monta, Green Flux, Fuuuse and WeaveGrid are its major rivals.
What is your next big milestone?
As EV adoption grows, so do the needs of different drivers. ev.energy wants to connect everyone to cheaper, greener, simpler EV charging in all situations.
The company recently launched a shared EV charging solution for residential buildings, workplaces and fleets so that drivers can use one app for all their charging needs. The solution is already being rolled out by the manufacturer waEV-charge, and ev.energy expects to reveal more launch partners soon.
Elsewhere, the startuo is expanding access to its carbon and cost-cutting tech through partnerships with charger manufacturers, including Stevie Chargers, which has designed and built a new charger aimed at property developers, and BG SyncEV, one of the UK's leading charger manufacturers.
Additionally, the company is working with utilities, original equipment manufacturers and policymakers to enable a cleaner, more resilient grid through demand respond and bi-directional EV charging programmes. With 25% of homes engaged in bi-directional charging, by 2040 EVs could give more energy to the grid at peak times that they remove, which could save billions in infrastructure costs and enable a low-carbon grid.