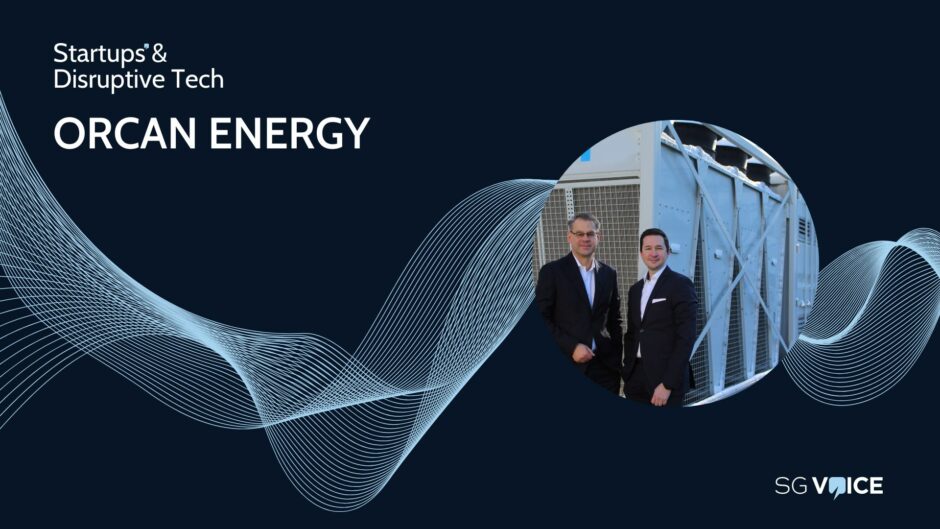 Orcan Energy has reinvented the waste heat recovery market by developing heat-to-power modules that can be used across a range of applications.
Orcan Energy was founded in Munich, Germany, in 2008 by Dr Andreas Sichert, Dr Andreas Schuster and Richard Aumann.
How did you get the idea?
Across different industries and sectors, companies wasted huge amounts of energy in form of heat, and most still do. According to engineering group Danfoss, excess heat in the EU alone amounts to 2,860 TWh per year, corresponding almost to the bloc's total energy demand for heat and hot water in residential and service sector buildings.
"Before we founded the company, we saw a major problem for which no sufficient solution existed," Orcan's founders say. "Waste heat is the largest unused energy resource in the world. We wanted to stop the waste of heat energy and unlock the enormous green energy potential. That's why we founded Orcan Energy."
What's your industry of operation?
The company develops, manufactures and market energy solutions for converting waste heat into clean electricity. Its products are intended to enable customers from a variety of industries to generate clean electricity and reduce their carbon footprint.
The technology is flexible when it comes to the waste heat source. Its energy modules can be installed wherever waste heat is generated, for example in engines, industrial processes, ships or even geothermal plants. This means that customers across the marine, cement, steel, geothermal, oil and gas, and power generation sectors can access clean electricity at "the lowest power generation costs in the world", according to the company. 
"We bring together the ecological need and the economic perspective of businesses. By stopping the waste of heat energy and enhancing energy efficiency, our solution saves CO2 and money at the same time," it adds. "Our baseload-capable carbon-free power generation forms a natural hedge against rising energy costs. The energy crisis shows that this topic today is more important than ever."
What is your product and how does it work?  
The Organic Rankine Cycle (ORC) for waste heat recovery was proven in power plant construction, but could not be applied to smaller waste heat sources or lower temperatures in everyday processes – which account for the bulk of energy. The traditional ORC plants can only harness big heat sources at a very limited scope. 
Orcan says it improved the technology and massively reduced its dimensions to make it more applicable, making waste heat recovery more cost-efficient and hence more commercially attractive. It calls it "second-generation ORC".
Technically, the waste heat vaporises an organic liquid at comparatively low temperatures. The pressurised vapour drives an expansion machine, which produces green electricity with the help of a generator.
Recovering the waste heat from all cement plants worldwide with Orcan's modules would generate power of a volume of around 67 TWh, which represents the electricity demand of all private households of around 27 million European citizens. 
The company reckons that the global market for its second-generation ORC waste heat solutions is worth more than €300 billion. With more than €100 billion each, the large potential lies in geothermal applications and in industrial waste heat recovery, including the cement industry.
"These figures reflect the fact that our technology turns previously untapped potentials into commercially attractive applications and markets," Orcan explains.
Funding to date 
The company has raised over €50 million in total in recent years. Its biggest shareholder is E.ON (ETR:EOAN), with a stake of more than 20%, while other investors include Air Liquide Venture Capital (EPA:AI), TiLT Capital, Generali Investments (BIT:G) and Wellington Partners. 
What do you perceive as being your biggest challenge?
"The modular heat-to-power solution is a no-regret move for every company with waste heat sources. The challenge is to now make everyone – industrial as well as political stakeholders – aware of our second-generation ORC solution and overcome prejudices related to the long-established, but very niche large-scale ORC power plant technology" the founders say. 
Orcan Energy is operational in Europe, the US and China and is now looking to expand in the Middle East, North Africa and the Pacific Region. It has already marketed around 600 heat-to-power modules, with revenue quadrupling in 2022 compared to the year before.
"The scale-up is happening right now. But there are many waste-heat sources still to be utilized, especially in the cement as well as the oil and gas industry worldwide," Orcan says. "Also, geothermal applications show enormous potential which we are just now tapping into on a large scale. A consistent definition of electricity from waste heat being green throughout the different regions and legislations would help on that path."
Who do you consider your biggest rivals?   
According to Orcan, there is no other solution like its second-generation ORC, which is already known in power plant construction. The company says that it has "massively reduced" the dimensions of the technology by a factor of around 1,000.
"We significantly increased the usability and reduced the cost at the same. Our innovations – protected by more than 160 patents – have enabled the company to develop a product that is commercially attractive for a broad range of applications. For the first time, with this technology, Orcan Energy makes smaller waste heat sources and/or lower temperatures commercially viable, thus leveraging previously untapped waste heat potential," it concludes.