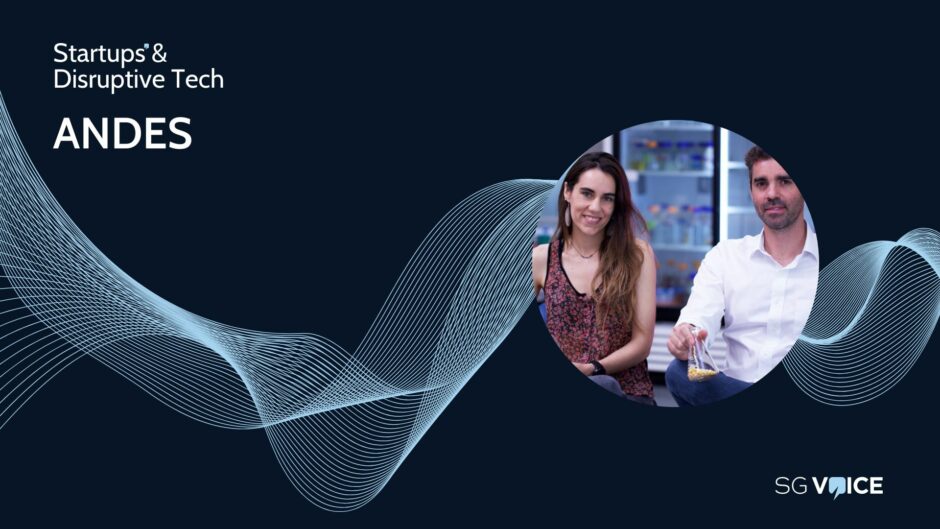 Andes uses beneficial microorganisms to remove carbon dioxide from the atmosphere and convert it into minerals in the soil.
Andes was established in Alameda, California, in 2018 by Tania Timmermann and Gonzalo Fuenzalida.
What do you do?
Andes is a climate tech startup leveraging carbon dioxide removal (CDR) solutions to help organisations achieve their net zero carbon footprint aspirations. It uses microorganisms to capture carbon dioxide and convert it into minerals in the ground, leveraging existing farmland to remove greenhouse gasses (GHG) from the atmosphere.
To date, the company says it has removed more than 50,000 tonnes of CO2 from the atmosphere. The beneficial microorganisms – which are naturally occurring bacteria, fungi and microbes that help plants with productivity and health – grow with the plant roots and can provide many benefits, including an increase in water permeability, aeration and the availability of nutrients in the soil, leading to healthier crops and soils.
They are added to the soil along with agricultural seeds, such as corn and wheat and, by growing with plant roots, they accelerate the conversion of CO2 into minerals. With rainfall, these minerals move deep into the soil, making room for annual CO2 removal.
In conjunction with its carbon removal technology, Andes is developing a biological nitrogen technology to be integrated with seeds, enabling farmers to transition to eco-friendly products.
What is the driving force behind your business?
"We are on the verge of a climate catastrophe that will affect everyone on our planet, some more drastically than others. Every year, human action releases the equivalent of 51 billion tons of GHG into the Earth's atmosphere," the startup says.
"At Andes, we share a passion for nature and the sense of urgency to act now to preserve our planet. We dedicate our work towards building something that is bigger than ourselves and to create tools and products that will have a global impact, for good. Our mission is to enable positive action against climate change by leveraging nature's smallest members: microorganisms."
Funding to date
Andes has so far raised $38 million from investors such as Voyager VC, Yamaha Motor Ventures (TSE:7272), Leaps by Bayer, Cavallo Ventures, KdT Ventures, Venturance, Germin8, and Accelr8, Builders VC, Wilson Sonsini and Fen Ventures.
What does the total addressable market look like?
The CDR market is primed for rapid growth as companies race to offset GHG emissions to meet their climate goals. Indeed, it is expected to reach $2 billion by 2031, with a compound annual growth rate of 17.7%.
When it comes to quantifying necessary reductions, the National Academy of Sciences estimates that 10 gigatonnes of carbon need to be removed annually in order to limit global warming to 1.5°C.
What is your next big goal?
According to Andes, the next milestone will be finalising its carbon project methodology with a third party and verifying its removals. It is also expanding within the US and internationally, establishing a Carbon Removal Program to partner with farmers throughout the Midwest to deploy its technology across 25,000 acres.
Ultimately, the company wants to achieve a gigaton of CO2 removed within a decade, which it expects will come with financial and operational challenges.
Who do you consider your biggest rivals?
There are many companies working on technologies to remove CO2 from the atmosphere. "We believe there is no silver bullet and we will need multiple approaches and companies to reach the scale to avoid climate disaster," says Andes. "It is projected that removal demand will outpace supply in the next 24 months."