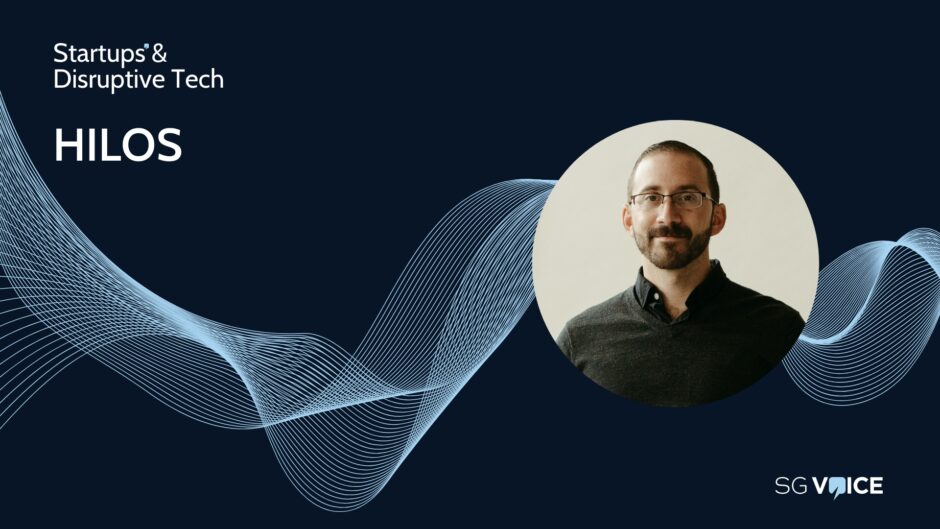 Founded by Elias Stahl and Gaia Giladi, HILOS is building an on-demand product platform that allows brands and designers to produce 3D-printed footwear without accumulating inventory or generating waste. Since its launch in 2019, the Portland-based startup has raised around $5 million to further its efforts. 
Company mission:
HILOS is on a mission to reduce the environmental impacts of the footwear industry. With between 22 and 25 billion pairs of shoes manufactured each year, this ambition is not to be taken lightly. 
The consequences of footwear begin with the labour, energy and resource intensity of the manufacturing process. A typical shoe contains around 65 parts, pieced together in 360 separate steps. Most of these steps consume large amounts of energy, water and other resources, while releasing various pollutants. 
At the other end of the supply chain, the footwear industry is responsible for an enormous amount of waste. Currently, only 5% of shoes are recycled while the remainder are landfilled or incinerated. 
3D printing enables more efficient production
These are the challenges that HILOS intends to address. The startup has developed a design and development platform that allows brands and designers to launch 3D-printed footwear collections without accumulating inventory or generating waste. 
"With our technology, brands shrink development times from the traditional 18 months down to as little as 90 days," explains Elias Stahl, HILOS' co-founder and chief executive. "3D printing helps companies avoid molds and tooling, eliminating up to a quarter million in upfront costs. Once a line is approved for launch, customer orders are linked to HILOS in real-time and sent to our printing and assembly partners based locally in-market. Products are printed, assembled, and drop-shipped directly to the customer within 72 hours." 
"Reducing labor requirements and part complexity is key to enabling on-demand at scale," Stahl continues. "HILOS' 3D printing patents take what was traditionally 65 parts assembled in 360 steps down to five parts assembled in twelve steps. Easy snap-together assemblies and digital tooling allow for minimal labor, making localized production viable at scale. This has enabled us to pioneer 3D printed footwear at commercial volumes." 
"Just as important as eliminating overproduction is avoiding landfill waste. Everything made on our platform is engineered for disassembly and recycled across our own reverse supply chain, allowing customers to send their products back for a second life," he adds, highlighting the platform's holistic approach to sustainability. 
HILOS' platform also offers several benefits to the company's clients. "Our technology is also flexible. With HILOS, brands can launch footwear across styles and seasons, from sandals and slides to mules, clogs, heels, boots, and sneakers. And with on-demand, they never miss a sale due to lack of stock, dramatically increasing sell-through while enabling expanded sizing and style runs," Stahl explains. 
"Taken together, we've aligned incentives across brands, our customers, and the environment for a rapidly new global supply chain to emerge, one built around efficiently meeting demand with supply for a low-waste economy." 
According to an evaluation by Yale's Center for Business, BASF Forward AM, HP, and AMT, HILOS' technology can reduce the carbon footprint of footwear manufacturing by almost 50%. Water consumption could be reduced by up to 99%, with a HILOS pair of shoes being produced with just 89.2 litres in comparison to the 8,000 litres required for its conventional counterpart. 
Target market:
The global footwear market is a multi-billion dollar industry, estimated to be worth almost $382 billion in 2022. Footwear consumption has been doubling every two decades since the 1950s, with the average individual now buying around three new pairs of shoes per year. 
Although the market continues to grow, consumers are increasingly searching for more sustainable options. Younger generations are more concerned by the environmental footprint of their purchased items and more eager to support less damaging alternatives. 
By using 3D printing to minimise waste and create a more easily recycled product, brands can secure their competitive advantage by accommodating this shift in demand. At the same time, the transition to on-demand production could allow them to reduce the burden of unsold products and the likelihood that they will be sold at discounted rates. 
With advantages spanning both environmental and economic concerns, HILOS' platform is likely to garner significant attention. As such, the company's target market remains largely unlimited. 
"Our vision for the future is one where entire market categories are made on-demand, only after a customer orders, and recycled at end-of-life," Stahl explains. "Every long tail market where there are low-volume, high-mix product categories – think lots of sizes and styles – is victim to massively inefficient overproduction." 
"A decade from now HILOS will be the technology platform allowing these markets to exist entirely on-demand. Just as five years ago there wasn't a single brand thinking about resale, five years from now we hope there will not be a single brand that cannot afford to make on-demand core to their business strategy." 
Breaking down barriers to future growth
Nonetheless, HILOS still has its hurdles to overcome. 
"3D printing has existed backwards," says Stahl, noting that most available printers have been released without having their materials or applications defined. He adds that material providers have struggled to prioritise and evaluate the right machines, while use cases have been difficult to extract from a fragmented market. 
"From where we sit, this is the greatest systemic challenge that hinders reducing costs and expanding product capabilities at the speed the market is asking for," Stahl concludes. 
Still, Stahl has high hopes for the company's success. Just recently, HILOS raised $3 million in funding from Better Ventures, Builders VC, XRC Ventures and several industry experts. It is now being supported by two retired Nike (NYSE:NKE) executives, who will help it to scale its technology and build out its company board. 
"We're currently revenue-generating and will use this investment to accelerate our work with innovative and sustainably-conscious brands while aggressively expanding into new product capabilities," says Stahl. "New brand partners are currently governed by non-disclosure, but they are some of the most exclusive fashion and luxury brands in the industry," he adds, hinting towards an upcoming announcement of future partnerships. 
Such partnerships are part of HILOS' ongoing strategy, with the company having previously partnered with Austin's HELM to launch its first collaborative industry product. HILOS will also exhibit at the upcoming Global Fashion Agenda Summit in Copenhagen this coming June, with the hope of connecting with likeminded designers, artists, creators, innovators, and influencers.