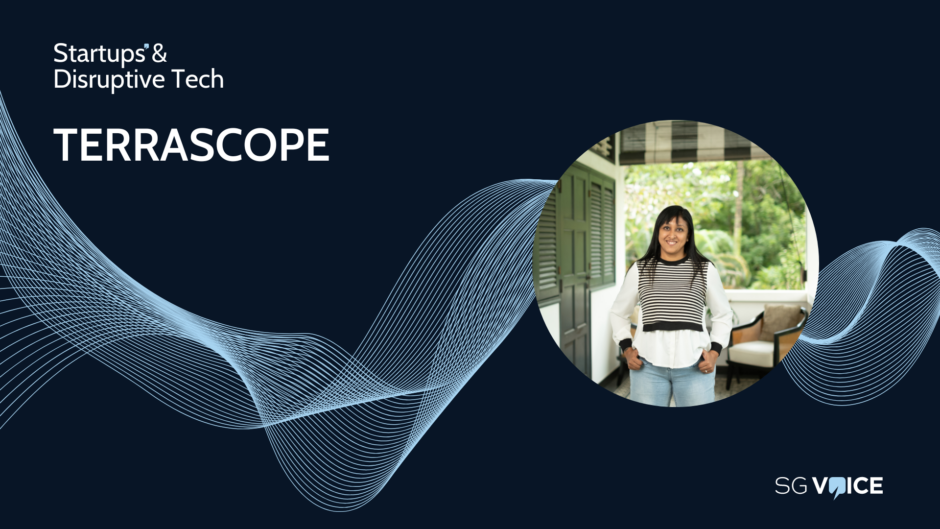 Terrascope is an end-to-end decarbonisation platform that enables enterprises to measure and manage their Scope 1, Scope 2 and Scope 3 emissions.
Terrascope was founded in Singapore in June 2022. It is a standalone corporate venture backed by Fortune 500 company Olam (SGX:VC2) – one of the world's largest food and agri companies – in partnership with BCG Digital Ventures.
According to chief executive  Maya Hari, this has created an advantage for Terrascope, as it has benefited from Olam's years of experience in measuring and managing Scope 3 emissions across its global supply chains.
What problem are you solving?
Terrascope provides businesses worldwide with data, analytics and digital tools to achieve their decarbonisation and net zero goals. Its Software as a Service (SaaS) offering, powered by data science, machine learning and sustainability expertise, is designed for large companies.
"We have a profound understanding of the complexities and challenges inherent to traditional carbon measurement and management, which is why Terrascope focuses on solving two major pain points: measurement inaccuracy and lack of actionability," says Hari. "Through custom AI and machine learning models complemented by deep sustainability expertise, we help companies accurately measure and manage all their carbon emissions, especially the elusive Scope 3 emissions that typically account for up to 85% of a company's carbon footprint."
According to Hari, while some may see Terrascope as a carbon accounting company, it is actually operating in a new and rapidly expanding space that sits at the intersection of the 'E' in 'ESG' and technology.
"This has traditionally been a playground for consultants, but the speed, volume and complexity of data management that is required to make real progress in the fight against climate change means that technology is a must-have. Terrascope aims to lead that disruption," she adds.
What is your product and how does it work?
The company's solutions are designed for sectors with global, complex supply chains, such as agri-food, consumer and retail, and technology, media, and telecom (TMT). The ultimate goal is to help clients reshape their supply chains, products, and services by integrating carbon reduction insights into the very design of their offerings.
Through a combination of SaaS services and sustainability expertise, the Terrascope platform allows companies to automate data collection and processing, understand areas of data uncertainty, and identify emissions hotspots. As a result, companies can determine the most impactful actions they can take in their decarbonisation journey.
Clients can use the platform to model and compare decarbonisation scenarios, commit to effective emission reduction initiatives, and track progress against science-based targets.
What is the driving force behind your business?
"At Terrascope, our mission is to drive decarbonisation at scale. The science has been unequivocal for years, and the latest installment of the IPCC report has only reinforced the message: we need to see deep, rapid and sustained greenhouse gas emissions reductions across all sectors and systems if we hope to secure a livable and sustainable future," says Hari.
"With our window of opportunity rapidly closing, large companies in key sectors have the power to make a significant impact on reducing emissions. That's where Terrascope comes in – we work with these enterprises to drive decarbonisation efforts that are crucial to our collective future."
What is your next big goal or milestone?
Terrascope plans to double down on its investment in AI and machine learning capabilities, as well as data transposing. It currently covers major markets in both APAC and Europe, including the UK, and is looking to expand into Australia and New Zealand later in 2023.
What do you perceive as being your biggest challenge?
Terrascope's biggest challenge is to meet the rapidly growing demand for decarbonisation solutions while maintaining high levels of capability and execution. It needs to both address the immediate needs of its clients, but also anticipate future demands.
Who do you consider your biggest rivals?
"We see the emergence of multiple actors in the climate tech and decarbonisation space as a positive indication of the market's continuous innovation and growth," says Hari. "The space is still very new and has tremendous potential for growth – which is crucial given the scale of the challenge. We are excited to be at the forefront of this movement."
There are a few solutions, each optimised for different sectors and needs. According to Harri, Terrascope stands out for its deep focus on global, complex supply chains and the ability to tackle Scope 3 emissions management with speed and scale.
She concludes: "Ultimately, we see ourselves as part of a global ecosystem of like-minded individuals and organisations who are all working towards the same goal of tackling one of the most pressing challenges that humanity has ever faced."