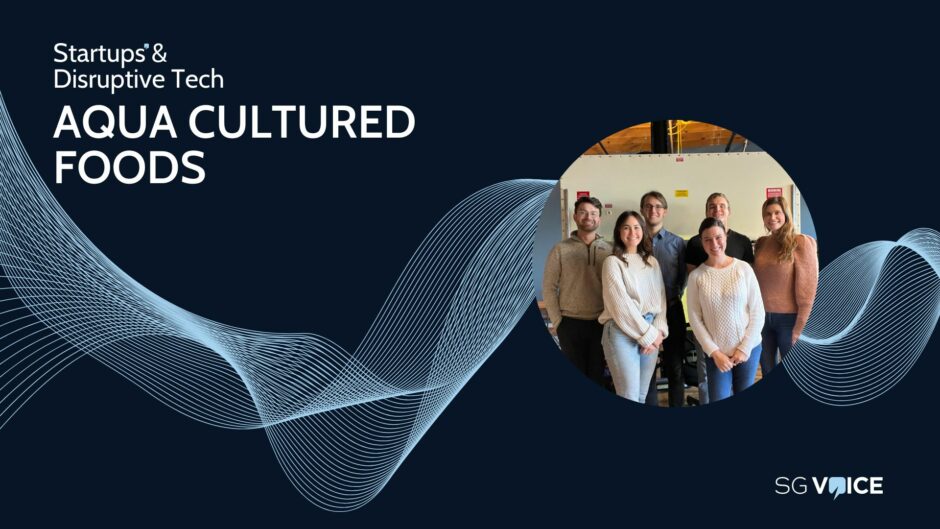 Based in Chicago, US, Aqua Cultured Foods uses its proprietary fermentation technology to produce sustainable seafood substitutes.  
Since launching their business in 2020, co-founders Anne Palermo and Brittany Chibe have raised a total of $7.6 million to further their efforts. Their most recent fundraising round, which closed with $5.5 million in April 2023, attracted a wide range of investors including Stray Dog Capital, H Venture Partners and Aztec Capital Management. 
Company mission:
Aqua Cultured Foods is driven by two of the world's most pressing challenges. 
"First, we must mitigate the environmental catastrophes caused by ceaselessly, unsustainably extracting protein from the sea," explains Anne Palermo, co-founder and chief executive, noting that ocean ecosystems are in dire need of protection if they are to continue their role in the mitigation of climate change. 
"At the same time, we must feed a growing global population," she adds, highlighting the contradictory crises of the 21st Century. "The only way to address this challenge is with technological advancements in food production and through plant-based diets. It is not hyperbole to say that we could see mass global starvation if we fail to take action." 
Palermo is not being overdramatic. The number of people experiencing acute food insecurity is consistently rising, with the UN Food and Agriculture Organization (FAO) warning that 670 million people will be lacking sufficient access to nutritious food by 2030.   
The FAO has identified seafood products as being "essential in the fight against hunger and poverty". According to its 2020 report, seafood consumption provides over 3.3 billion people with at least 20% of their average protein intake as well as a reliable source of fatty acids and micronutrients. 
Nevertheless, our dependence on seafood products has become highly problematic. The expansion of commercial fishery is impacting the health of the world's oceans, causing profound changes in the structure of marine ecosystems and compromising their ability to deliver vital natural services such as carbon sequestration or nitrogen cycling. 
Overfishing also contributes to the decline of fish populations. Wild seafood stocks are expected to be depleted by 2048, and more than 80 percent of the world's fish stocks are already fully or over-exploited. 
"Commercial fishing creates other environmental catastrophes in world oceans including ecosystem damage, plastic waste, and unintended 'bycatch'," says Palermo. "Fish farming, often touted as a solution, has led to habitat destruction, pollution and diseases spreading to wild fish, while also increasing the industry's reliance on antibiotics and the wild-caught fish used to make feed." 
Microbial fermentation for sustainable seafood substitutes
Aqua Cultured Foods intends to provide a solution, using its proprietary fermentation process to produce sustainable seafood substitutes. 
"Microbial fermentation is a food science process used for hundreds if not thousands of years," explains Brittany Chibe, co-founder and chief growth officer. "Basic building blocks like starches and amino acids are "digested" and transformed into foods we love, like miso, soy sauce, beer, and cheese". 
"We adapted this age-old system and added a proprietary microorganism strain to create seafood alternatives in an ultra-realistic, whole-cut form," she continues. "We have used this technology to successfully produce different varieties like calamari, shrimp, scallops, and filets of tuna and whitefish, all with the delicate texture of raw fish." 
Ultimately, the process yields an entirely unprocessed form of seafood that does not require any animal inputs, allergenic ingredients or genetic modification. Regarding the product's taste, Chibe says that: "Feedback so far has been wonderful. Our products are tricking even the most discerning palates." 
Target market:
The company's products will be targeted towards the global plant-based seafood market, which was valued at $42.1 million in 2021 and is projected to reach $1.3 billion by 2031. 
"We have every reason to believe consumers will be more accepting of alt-seafood than they are of other alt-meats," Palermo comments. "There is generally far more awareness of sustainability issues in the conventional seafood supply chain compared to meats or even dairy."  
"Consumers see a clearer through-line from environmental concerns to seafood consumption, and have shown they are very willing to change their seafood habits based on new information," adds Chibe.  
Overcoming market barriers
Chibe and Palermo go on to explain some of the barriers that their company has faced. The texture of their products came as a significant challenge, reflecting an ongoing limitation of alternative seafood products.  
"In alt-seafood there's a much higher bar for textures," says Chibe. "Seafood is inherently delicate, so we had to develop completely new production methods that yield a more delicate product with the feel of a whole-cut filet, shrimp, scallops and calamari. In terms of texture, what we've come up with is realistic enough, even for raw applications like sashimi, nigiri and ceviche."
"Increasing production capacity involves equipment and feedstock availability, finding affordable facilities, hiring an appropriately skilled workforce, and many other factors," adds Palermo, suggesting that the company has also had to overcome several of the practical issues that are endured by the majority of startups. According to Palermo, however, the company is on track to reach full commercial scale within the next two years. 
"We do have many advantages already," she claims. "Our novel fermentation technology is a highly resource- and energy-efficient system. We use a vertical configuration that is space-efficient, so a lot of product can be made in a relatively small footprint." 
By using standard equipment, rather than rare and expensive bioreactors, Aqua Cultured Foods is able to launch its protein fermentation factories almost anywhere in the world, so long as there is sufficient access to the necessary infrastructure and resources.  
"Because of these advantages, we expect our products will actually be more cost-effective to produce, and cost less to consumers, than wild-caught or farmed seafood," Palermo concludes.  
Next steps
In 2023, Aqua Cultured Foods plans to launch its products via a network of restaurants and foodservice distributors. SV Group, one of Europe's largest hospitality and catering companies, will trial the seafood substitutes in its smart fridges, cafeterias and event venues, while Swiss retailer Migros has requested an additional range to be developed and sold in its stores. 
According to Chibe, there will be plenty of opportunities for future partnerships. "A stroll down the supermarket freezer aisle reveals many potential collaborations," she says, giving the example of customised bulk products that could be used in Asian dumplings or filled pastas. 
Overall, Chibe believes that Aqua Cultured Foods strongly positioned to fill an urgent gap in the market. "Even traditional fish producers are increasingly looking for opportunities to partner with alt-seafood because they understand that they need to adapt to change," she says, reflecting on her company's role within a rapidly changing environment.