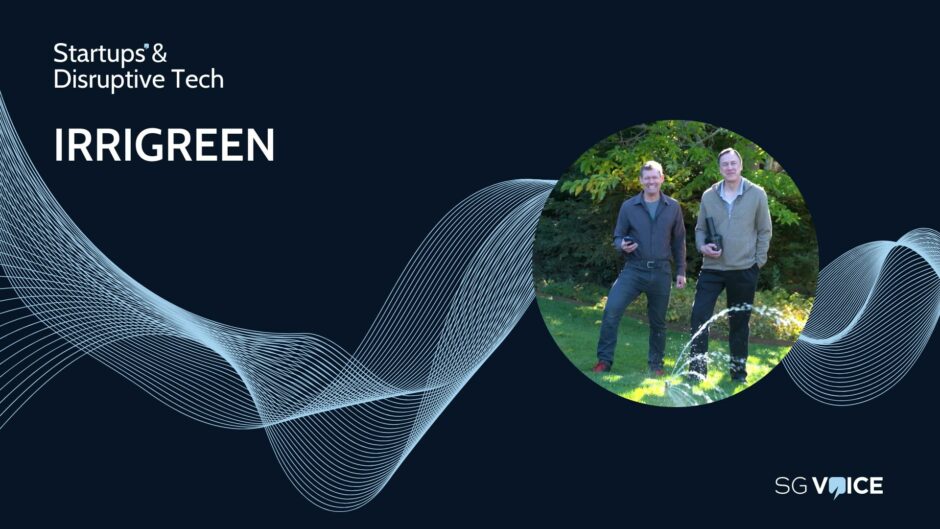 Irrigreen has developed a digital sprinkler system that saves up to 50% of the water consumed during traditional irrigation.
The US-headed company was incorporated in 2013 by Gary Klinefelter and Shane Dyer. Having raised $15 million in its latest fundraising round, led by Ulu Ventures, Irrigreen will continue to further its growth. 
Company mission:
"We want to save water on a large scale," says Dyer, indicating the company's raison d'être. He adds that traditional irrigation systems have barely been changed over the past 20 years, despite being extremely wasteful, prone to breakages and difficult to install. "Irrigreen is better for your lawn, your wallet, and the planet," he claims. 
With research to suggest that global water demand could outstrip supplies by up to 40% from 2030, Irrigreen's intervention could not be more timely. Already, a quarter of the population is dependent on unsafe drinking water while almost 50% are unable to access suitable sanitation services. 
Given that water plays a critical role in everything from economic activity to human survival, its scarce availability has been recognised as a major threat to sustainable development. Currently, however, the world's water supplies continue to decline.  
This worrying trend is being driven by various factors, including the steady climb of global temperatures, the increasing demands of industrial expansion and the ongoing growth of the population.  
Improving the efficiency of residential water consumption may be a surprisingly impactful solution. Indeed, turfgrass lawns compete with corn as the most expansive irrigated crop across the US. Outdoor water consumption, including lawn irrigation, accounts for around 30-60% of household usage, with the average American household using more water on lawns and landscapes than for showering and laundry combined.  
According to the Environmental Protection Agency, around 50% of this water is wasted due to the inefficiency of available systems. It warns that household with poorly managed irrigation systems may waste up to 25,000 gallons per year, contributing to global water shortages while adding a hefty cost to their personal bills. 
Precision irrigation provides an alternative
According to Dyer, Irrigreen's digital sprinkler system uses around 50% less water than conventional mechanical alternatives. 
"Irrigreen is the most efficient and precise sprinkler system on the planet," he says. "The Irrigreen digital sprinkler head prints water, as opposed to spraying it. It precisely places water where you need it, when you need it and doesn't put water anywhere you don't (your car, your driveway, the sideway, etc.). The smart controller measures weather patterns and adjusts the schedule to reduce water waste further." 
By using less water, the system also helps users to lower their annual bills. Furthermore, just five Irrigreen sprinklers can replace a traditional forty-head system, allowing for streamlined installation at a comparable price. 
Educating the target market
"People don't know there is a better way to water their lawns," says Dyer, noting that a lack of awareness has been the company's greatest challenge. "When people find Irrigreen, they love us, but they often don't know to look for a different solution." 
"There are 80 million lawns in America," Dyer continues. "Irrigreen is a better solution for all of them. Irrigreen creates greener lawns, wastes less water, and saves homeowners money on their water bills." 
In an effort to educate the market and overcome this lack of awareness, Irrigreen has developed an online tool that helps its prospective customers to assess the costs and benefits of installing its system.  
"We can show how much water they will save with the Irrigreen system and how much a system for their yard will cost," Dyer explains. "Once in the ground, we also measure water savings." This analytical approach could be vital in demonstrating the benefits of efficient irrigation, thereby encouraging its rapid adoption. 
With its product already available for landscape contractors and residential homeowners, Irrigreen is in a strong position to accommodate the demand it intends to create. "We are laser-focused on hitting our lofty growth targets for this year," says Dyer. "It's important for the planet that we get Irrigreen into as many lawns as possible, as quickly as possible."