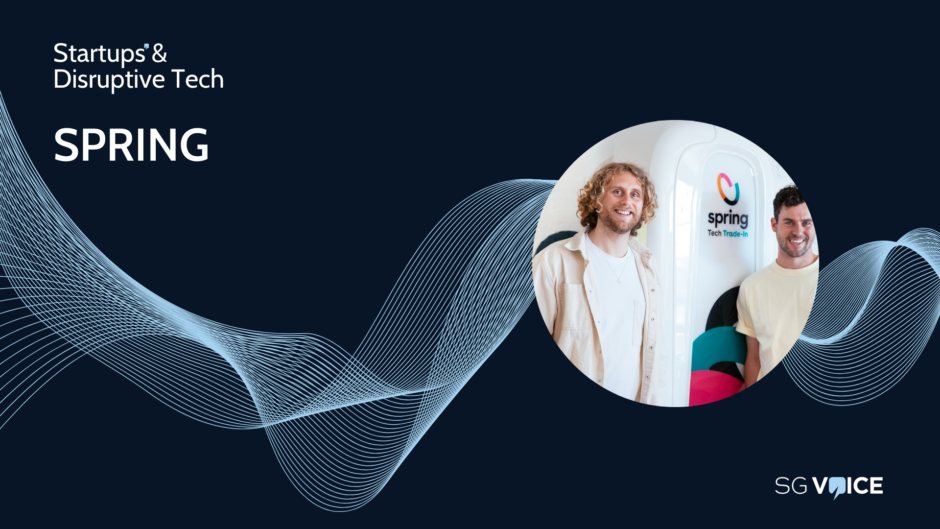 Spring intends to reduce e-waste by buying, refurbishing and re-selling consumer tech.
Spring was established in 2021 in London, UK, by Tom Williams and James Seear. It has raised over £12 million from investors including Apollo Global Management and the founders of York Capital.
What problem are you solving?
Spring offers a sustainable solution to the way people are currently consuming their technology. By creating an ecosystem of buying, refurbishing and re-selling consumer tech such as smartphones, tablets and laptops, the startup intends to slow the rate at which valuable technology is becoming e-waste.
"Most people don't realise that there's value in their old technology but they also don't realise that it's e-waste regardless of whether it's at home or in landfill," the founders say.
"The lithium, copper, cobalt or any other rare earth material inside of devices could be used for other important devices instead of laying dormant in an unused device. That's why it's so important to create a circular economy of use and reuse, removing the stigma of second-hand electronics."
What is the role of the device brands in the circular economy?
There are some brands such as Apple (NASDAQ:APPL) and Samsung (KS:005930) that have started making moves in the right direction towards more sustainable production, but Spring says that the reality is more needs to be done. Apple, for example, has recently committed to using 100% recycled cobalt from 2025, however, this is a small drop in the ocean.
"While looking to support current production volumes is positive, we should be looking at the relentless release cycles that these companies continue to push, offering only iterative upgrades each to fuel unnecessary and harmful global mass manufacturing of new products," the founders add.
"Now imagine that if this is a snapshot into Apple, which deserves some credit for taking steps in the right direction, what the outlook is for all the brands that haven't even started to act on their sustainability pledges."
What is your product and how does it work?
The company has two products. Spring Post operates via water-proof padded envelopes reusable up to 2,000 times. People can either request online or collect one at Spring's pick-up locations to take it home, insert their tech and then send it to its tech experts for free to assess the device and receive payment within three days.
Spring Pods is an in-person drop-off for the same service, fully developed and manufactured by Spring. The self-service machines, now placed in over 60 locations across the UK, including via partnerships with retailers Co-op and Morrisons, for people to drop off their unwanted tech.
What is the driving force behind your business?
Spring wants to change the way people interact with their technology. Shifting people's mindsets away from having a disposable preconception and towards a system of multiple ownership for devices to extend the lifecycle. It's about creating an understanding of the importance of the circular economy and moving away from outdated ownership systems.
What is the total addressable market?
According to Spring's own research, the average UK household has £795 of unwanted technology. There are a total of 19.3 million households in the UK with new devices being bought regularly meaning the number of unwanted devices is always increasing.
Indeed, the country is set to become Europe's biggest e-waste contributor by 2024. "There is no shortage of unwanted but perfectly usable tech that's a testament to why Spring needs to exist," the founders comment.
What do you perceive as being your biggest challenge?
"Currently, we are focused on overcoming barriers to entry for customers. A lack of widespread knowledge about the value that used devices hold, both for the current owner and future owners means that people don't realise they could be reclaiming significant money from their original purchase," the founders say.
"Furthermore, the dangers of rising e-waste volumes aren't fully acknowledged as governments and voices of authority don't talk about it as much as some other environmental issues. This means that there's a lack of awareness around the issue we're on a mission to solve."
"We are also aware that people have legitimate concerns about the data security of their devices when sold, which is preventing some people from using re-sell services. To combat this, Spring has created a full-proof security protocol to wipe the data of every single incoming device before refurbishing and selling back onto the market."
What do you think it will take to scale up your product and on what timeline?
According to the startup, a big step is raising awareness for the service that it is offering, so that as many people as possible can realise the benefits of both selling their pre-loved devices and buying second-hand. This is paramount to building a circular economy at scale.
What is your next big goal or milestone?
Following the launch of Spring Post, the next goal is to continue to scale sustainably, looking at new services to offer customers and developing systems in which people are able to enter the second-hand market with as little friction as possible
Who do you consider your biggest rivals?
"When you're working towards a mission that's centred on sustainability, we don't consider anyone operating in the same sphere as competitors because the scale of the challenge is so vast," the founders say.
"Our main competition is the drawers and cupboards in people's homes used to hide away unwanted technology. The goal is to instil a mindset where recirculating technology is the default, rather than stashing it away or worse, sending it to landfill."