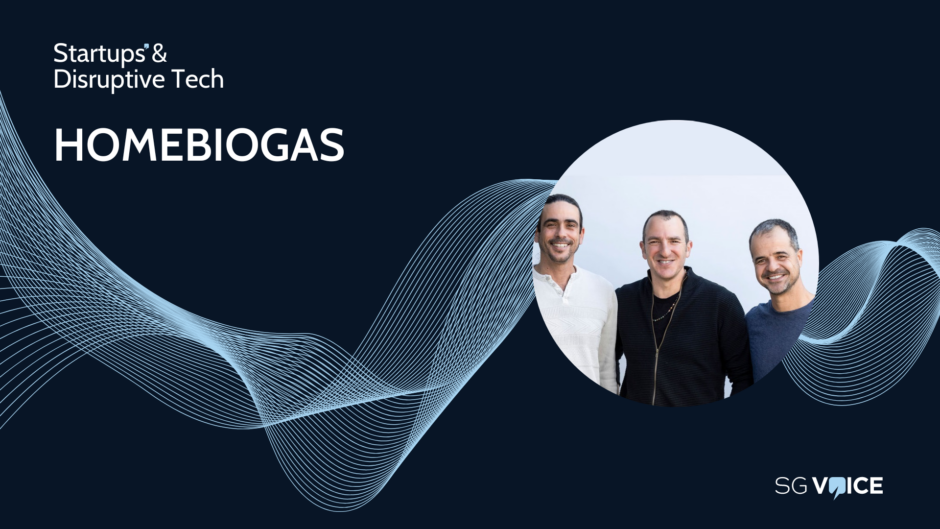 HomeBiogas specialises in creating compact, waste-to-energy systems to convert organic waste into biogas and liquid bio-fertiliser.
HomeBiogas, based in Israel, was founded in 2012 by three long-time friends: Oshik Efrati, Yair Teller and Erez Lanzer.
What problem are you solving?
"The world has reached a critical point in the transition to a circular economy, which offers a solution to many environmental and social challenges," says Efrati. "We at HomeBiogas are committed to making a positive impact on the world by leading the change towards a circular economy when it comes to organic waste management."
HomeBiogas systems tackle several challenges, according to Efrati, including reducing methane emissions and food waste, as well as converting organic materials into fuel for cooking or hot water and fertiliser.
In 2022 it prevented 124,591 tons of CO2 equivalent of methane from entering the atmosphere, and kept 6,812 tons of food waste in circulation. Both are major contributors to climate change: methane has more than 80 times more warming power in the near term than CO2, while food waste accounts for 10% of global greenhouse gasses.
The company's fuels can also be used to replace coal and wood when cooking, especially in developing countries. HomeBiogas estimates to have powered over 26 million hours of cooking with clean energy in 2022.
What industry are you disrupting and how?
"We are disrupting the waste industry, the fertilizer industry and the energy industry. Instead of waste being sent to landfills and releasing emissions to the air, we make waste matter: we turn it into clean energy," Efrati says. "Instead of using fuel, gas or open fire to cook, we provide biogas which is clean energy. The system produces organic fertilizer as well which has shown a 200% increase in the amount of the macro nutrients in the soil and a well-balanced level of the micronutrients and organic matter."
Humans generate over two billion tons of solid waste annually, a number expected to grow to 3.4 billion tons by 2050, 44% of which is made of foods and organics.
"That's where the HomeBiogas solution comes in," adds Efrati. "Landfills are the most common resting spot for your garbage. When organic waste decomposes in landfills, it naturally produces a gas called methane."
"In an era of rapid urbanization and population growth, waste management is critical for sustainable, healthy, and inclusive cities. If no action is taken, the world will be on a dangerous path to more waste and overwhelming pollution. The time to act is now."
What is your product and how does it work?
The company uses anaerobic digestion to convert organic waste into biogas and bio-fertilizer on-site. Its systems are used in homes, buildings, farms and restaurants, removing the need to use biogas plants, which require hauling the waste in trucks that create pollution.
Users feed their kitchen leftovers or any organic waste into the system, then inside bacteria decompose the scraps in a natural process called anaerobic digestion. This in turn releases biogas that is fed back into the kitchen and liquid bio-fertiliser to grow a healthy garden, completing the cycle.
HomeBiogas 2, the company's smallest system, can handle up to 1.5 gallons of organic waste daily and generates up to two hours of free cooking gas per day. It also produces tens of gallons of bio-fertiliser every month, which can be used to enhance soil quality.
This model is estimated to save up to six tons of CO2 emissions annually, which is equivalent to the annual carbon emissions of a typical vehicle. There are other models available in various sizes, including a larger version designed for farmers who deal with larger amounts of farm waste and animal manure.
The company has also developed a BioToilet, which decomposes waste and transforms it into renewable biogas for cooking. According to the World Health Organization, 2.3 billion people in the world have no access to basic toilet facilities. The Bio-Toilet solution connects to the HomeBiogas biogas system, enabling the human waste from the toilet to be converted into cooking fuel in a user-friendly way that does not require a connection to the sewage or water grid.
While flush toilets use an average of nine litres per flush, the HomeBiogas toilet only requires 1.2 litres, allowing for savings of up to 40,000 litres a year. Efrati says that this solution can help significantly decrease water footprint and overall environmental impact since reducing water usage also reduces energy use, pollution, and resource use.
Funding to date
HomeBiogas is a publicly traded company (TASE:HMGS). It floated in Israel with a $94 million offering in 2021. New York-based investment firm Closed Loop is the main shareholder.
What's the total addressable market?
According to research by Frost & Sullivan, HomeBiogas can tap into various markets, such as the cost of handling organic waste created by institutions in the US which is around $55 billion; global expenditures on wood fuel for cooking, which is worth around $50 billion; the anaerobic digestion market which hit $15 billion by 2025 with an annual growth of 10.62%; and the global market of new sanitation technologies designed for low-resource settings, expected to reach $6 billion by 2030.
What's your next big goal?
The company is close to launching a new product designed for businesses and multifamily residential houses. It has so far sold over 30,000 systems in over 100 countries, signing distribution agreements in several countries including India, Pacific Islands, Colombia, and El Salvador. Its customers include suburbanites, off-gridders, tiny houses, refugees in UN camps in Africa or CSR projects in India.
Who do you consider your biggest rivals?
"Our biggest rival is by no doubt.. A garbage truck. Every piece of food waste that finds its way to a landfill by a garbage truck is a waste of the waste," concludes Efrati.