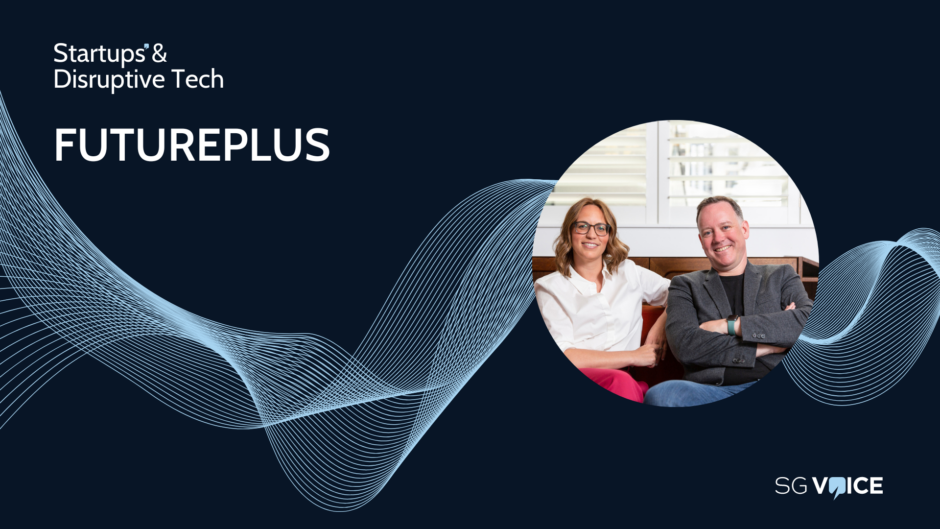 FuturePlus is an ESG platform to support businesses of all sizes in their sustainability journey across supply chains, products and services.
FuturePlus, part of The Sustainability Group, was launched in London in February 2022 by co-founders and partners Alexandra Smith and Mike Penrose. It has raised £1.6 million so far and currently has over 150 clients across finance, hospitality, technology, the built environment and retail.
What problem are you solving?
"FuturePlus' mission is to make sustainability management accessible, affordable, achievable and trackable for every business – not just the 1% that are able to jump through expensive, laborious hoops to win a coveted badge," Smith says.
Alongside recording actual progress, the startup wants to quantify intent and track sustainability ambition. When it comes to corporate goals, the focus is always on historic data, but FuturePlus wants to bring accountability and transparency to pledges, too. Its ESG model taps into consumer demand and investment market data requirements to provide this same transparency for organisations, with the ultimate goal of improving marketability and create better returns.
"With sustainability, measurement is the first point on the journey to transform a business into one where it becomes resilient and authentic," Smith adds. "The problem is that many use measurement as the final goal, which is when we see illustrations of greenwashing. What many fail to realise is that it's the continued improvement and often the actions you take after getting your badge or score, which is a more important contribution to the greater good."
"In the world of sustainability, there is no real measure of what is deemed 'good' and achieving a badge of honour mustn't be the end goal of a tick-box exercise or be presented in a way that indicates the company wielding it is in any way 'sustainable' or 'ethical' in their practices, as none of us are; we are all just starting out on a journey to 'becoming better'."
According to Smith, until now, sustainability issues such as climate have been treated in a silo, with net zero targets and associated financial strategies that rarely take other aspects of associated consequence – particularly in relation to social impact – into consideration. Addressing individual issues without considering the wider impact will not contribute to the systemic changes we need to achieve global sustainable development goals.
What is your product and how does it work?  
FuturePlus has developed a sustainability management and ESG reporting platform that allows companies of all sizes – particularly micro, small and medium sized organisations that are underserved in this area – to measure, evidence and substantiate their impact and demonstrate it to investors and customers.
Its measurement tool has approximately 200 indicators for micro and small businesses, defined as under 50 employees and under 250 employees respectively, and about 250 indicators for medium to large organisations. 
These are grouped into five themes: Climate, Diversity & Inclusion, Environment, Social and Economic impact. These themes are then split across the subcategories of Governance, Leadership, Workforce, Supply Chain, Ecosystem, Carbon Footprint, Manufacturing and Industry and Global Goals.
These subcategories allow for a weighting of the indicators from Governance at the highest weighting to Global Goals, producing an overview of an organisation's social, environmental and ethical policies and the outcomes its procedures and products create. The startup's algorithm is designed to compare organisations of different sizes and sectors.
In addition to understanding the current sustainability status and score of an organisation, the portal will allow organisations to create an ambition for the sustainability objectives they are yet to achieve. This allows them to both understand where they are now and where they want to be over the following three years, while tracking both profitability and impact over the same investment period.
This ambition rating gives them the opportunity to commit to action within a defined timeframe, according to Smith, and provides the basis of a sustainability roadmap which can integrate with project management platforms, and access to specialist advisory services provided by FuturePlus to guide clients along their journey.
As the measurement process requires engaging with the organisations, rather than 'scraping' data from external sources, the score is dynamic and can be updated by an organisation on a continuous basis, allowing them to showcase the changes they make and consistently improve their ESG score and positive impact. It also allows for scores to be reduced should ambitions and requirements not be met.
What is the driving force behind your business?
Smith and Penrose identified a gap in the market for accessible ways to weave sustainability practices into the fabric of commercial business, no matter what the size of the company. They started The Sustainability Group in 2019 with the mission of helping all businesses to contribute to meaningful and effective social and environmental change, regardless of their circumstances.
"We noticed that some of the most popular ESG measurements and ratings available were either extremely difficult to achieve, very expensive and / or required specialist knowledge. Some were simply lacking the governance required for certification, whilst others lacked transparency and accountability, thereby rendering the companies that do sustainability well under the same contentious umbrella," Smith says. "Surely there had to be an easier and fairer way to embed sustainability into a business which clearly demonstrates the results and ambitions of that journey? That's why in February 2022, we launched FuturePlus."
What do you perceive as being your biggest challenge?
"As we grow, we need to make sure we are scaling effectively to be profitable and sustainable," Smith says. "Scaling is always a challenge, but we want to grow to reach more organisations and support their sustainability journeys, which is why we are placing resources into PR, marketing and talent acquisition."
In fact, the company plans to invest in these areas over the next 12-24 months. Its total addressable market includes all businesses and all non-retail investors who have a commitment to sustainability or are required to report on their ESG performance.
What is your next big goal? 
Opening an international office due to market expansion across the Middle East, India and mainland Europe.
Who do you consider your biggest rivals? 
"Whilst we are the only company that quantifies intent and ambition and helps embed sustainability practices through the business, there are companies that look at ESG reporting, but many are thematic and sector-focused," says Smith. These include PlanetMark, Ecologi, Ecovadis and B Corp.