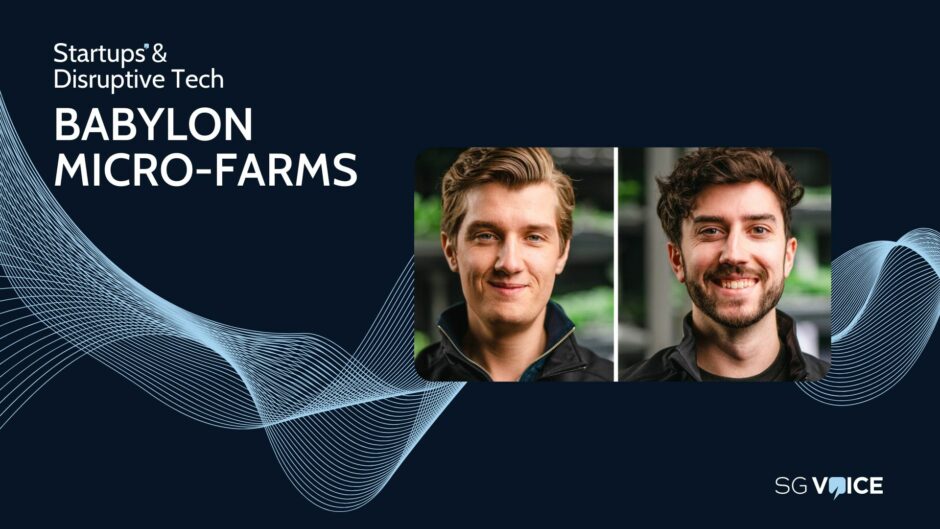 Babylon Micro-Farms was established in 2017 by Alexander Olesen and Graham Smith. Furthering their work at the University of Virginia, the company has developed an all-in-one solution for simplified indoor farming. 
Company mission:
"We strive to help people grow food, anywhere and with any skill set, while using less space, fewer resources, and reducing their impact on the environment," says Alexander Olesen, co-founder and chief executive of Babylon Micro-farms. 
It's a lot for one company to achieve. Today's agricultural industry has come to be recognised as one of the most significant drivers of climate change, with its resource-intensive practices consuming enormous amounts of land, water and chemical inputs. 
Vertical farming requires just a fraction of these resources. On vertical farms, food can be produced at any time of year under carefully controlled conditions that deliver optimal lighting, temperature, moisture and nutrition while mitigating the risk of external damage. 
Still, the adoption of vertical farming has been somewhat constrained by the high costs of the technology, construction, equipment and expertise required to establish each unit. Once set up, vertical farms are also expensive to operate, with skilled labour accounting for almost a third of their typical running costs. 
As the climate changes, conventional farms are beginning to suffer significant losses. Rising temperatures, extreme weather, declining resources and shifting patterns of pests and disease are posing a major threat to global food supplies. 
Recognising the scarcity of healthy, fresh, and sustainably grown food, Babylon set out to find a solution. With its vertical farming technology, it claims to create a simplified farming experience that allows its customers to produce their food on-site while avoiding the costs and complexity of competing alternatives. 
How does it work?
"Each Babylon Micro-Farm is packed with sensors and advanced technology that helps us remotely manage the Farms by adjusting the nutrient levels, water, and light 24/7," says Graham Smith, Olesen's fellow co-founder and the company's chief technology officer. "We receive the farm data through cellular service or hardwire, allowing us to ensure the plants in the farm stay healthy." 
"The plants sit in one of the 20 trays that fill regularly with nutrient-rich water using a technique called flood and drain. At the bottom of the Micro-Farm is where the water reservoir lies, along with bottles of a custom blend of nutrients and a balancing solution which ensure the plants survival." 
When clients receive their Babylon Micro-Farms, they simply scan a QR code on each batch of seeds. The seeds are pre-placed in an optimised growing medium, with each species including step-by-step instructions on when and how it ought to be harvested. Guidance is provided via an accompanying app, which was developed in-house over the course of two years. 
Notably, Babylon's units are extremely low maintenance, requiring just a single clean per quarter. Although their trays should be cleaned more regularly, they can simply be put through the dishwasher. 
"We pride ourselves on our easy-to-use Micro-Farms that remove the green thumb out of farming," Smith concludes. 
A growing market with ongoing challenges
Having been valued at more than $34 billion in 2022, the global indoor farming market is expected to expand at a compound annual growth rate of 12.9% from 2023 to 2030. Vertical systems have gained particular attention, with increasing support from both private and public investors. 
"We cater to forward-thinking sustainability-focused dining operations, some of which include senior living, hospitality, centers of learning, and hospitals," explains chief strategy officer Marc Oosterhuis. "Our biggest challenge is that we are introducing a new way for people to procure greens, as most people are used to greens coming from a grocery store that sources them from industrial Farms." 
"We are tasked with convincing people that this different method is a great option and changing their habits accordingly. Another one of our biggest challenges is that a lot of companies have created vertical indoor farms in the past that required a higher skill-set than ours does. Consequently, many people have had negative or difficult experiences with these units and might be hesitant to experiment with ours." 
Initial traction and future plans
Despite these challenges, the startup venture is beginning to see some traction. Initial clients include recognisable names such as IKEA, Neiman Marcus, LinkedIn, MSC Cruises and Dartmouth College.  
"Our current product has already been commercialized and we are able to handle triple plus the capacity that we are currently," says Olesen. "We also offer add-on services to the Micro-Farms like an all micro-green producing farm option."   
"Our next big milestone will be building a self-sustaining company that can set the global standard for turnkey vertical farming solutions and empower businesses and communities to grow their own food on-site." 
This goal of achieving self-sufficiency would allow the company to continue its growth without depending on external backing. While this may be an overarching ambition, Olesen notes that Babylon has so far succeeded in raising $8 million from investors including Venture South, Virginia Venture Partners, Hull Street Capital and New Theory Ventures.