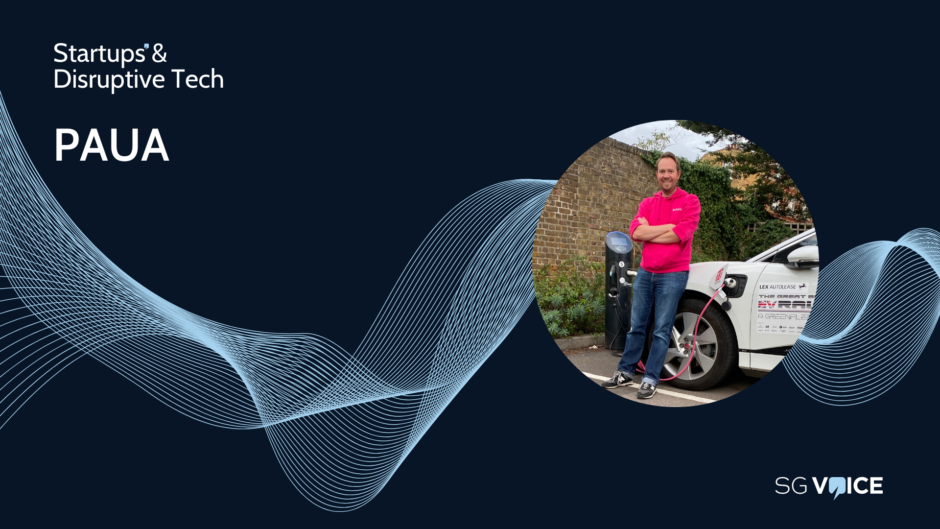 Paua wants to make electric vehicle (EV) charging easy for businesses, so that the transition to a low-carbon fleet is simple and appealing.
Paua Tech Limited was founded in the UK in April 2021 by Niall Riddell and Andre Pinho. It is backed by Seedcamp, SpeedInvest, Octopus First Cheque Fund and angel investors include former directors from SSE (LSE:SSE), OVO and RWE (ETR:RWE).
What problem are you solving?
Business drivers do a much higher mileage than private motorists so electrifying fleets is key to decarbonising transport. Companies often have incentives to do this, such as the implementation of clean air zones in cities such as London.
The charging and billing process for an EV, however, is currently more complex than petrol or diesel fuelling. For EVs, the equivalent of the petrol station has been split into multiple locations, each requiring different management.
Public charging
Business drivers need to find an available, compatible charger and pay for charging. Unlike fuel stations, which are clearly visible on main roads, EV charge points can be more scattered. They might be on a fuel forecourt, in hotel car park or down a country lane.
There are over 80 charging networks in the UK, many requiring motorists to have their app, their card, or sign into a website. The issue is compounded by the fact that each charging network has its own set of tariffs based on factors ranging from charging time to location. Drivers also need to supply their manager with a VAT-compliant bill, which can be difficult to source.
Home charging
Business drivers need to be fairly compensated for their home electricity use. This includes both dedicated fleet drivers and the 'grey fleet' who use their vehicle for business and personal use.
What is your product and how does it work?
Paua offers a suite of solutions to help businesses charge their electric fleets. This includes the Paua card, the 'one card to charge them all', to access the largest charging network in the UK, with over 25,000 charge point connectors and more than 20 partners including Osprey, Ionity and Mer.
Through its digital platform, drivers have a mobile app which allows access to charging point networks and also enables the management of home charging compensation. The fleet manager has a dashboard providing insights into the fleet operations and breakdowns of charging transactions, right down to overstay fees. Revenue is generated by charging fleet managers for access to the mobile app and solution via a subscription model. Paua has also white labelled their proposition to offer a solution for large enterprises such as Moove and cinch.
What's the total addressable market?
Paua has calculated that the total European roadside refuelling market is of the order of £632 billion. The startup reckons that the transition from liquid hydrocarbon fuels to lower emissions fuel types will see this entire market transition over the next 15-20 years.
What do you perceive as being your biggest challenge?
"Some potential customers haven't yet begun the transition to electric and aren't fully aware of the challenges that lie ahead. They don't yet realise how much easier and more cost-effective their shift to electric will be if they take advantage of Paua's platform and solutions," the company says.
"However, many businesses are very much aware of the value we offer. Paua's current fleet partners include leading companies such as National Grid (LSE:NG), Royal Mail, Tier Mobility and all-electric delivery companies Packfleet and HIVED."
What is your next big milestone?
Paua has a few goals in sight. Firstly, it wants to create a near-universal public charging solution and has the ambitious target of having 80% of UK public chargers in its network by the end of the year. It also plans to deliver on its ambition to present the three key charging locations for business drivers (public charging, home and workplace) into a single experience.
Who do you consider your biggest rivals?
Paua's biggest rivals are the existing fuel card providers. Many of these fuel card businesses have existing customer relationships. Key competitors in this space are AllStar (owned by Fleetcor), BP (LSE: BP) and Shell (LSE: SHEL).
The startup says its digital solutions offer insight into a fleet that other legacy players can't provide.
What is the most important issue businesses need to consider as they transition to EVs?
According to Paua, it's all about time. With EV charging, it takes longer to get energy into their vehicles, impacting both journey time and their drivers' time. For example, drivers need to know the charger they are headed towards is the right speed for the time they have available – 50 kW for a 20-30 minute charge, 7 kW for a couple of hours. There's no point in a driver heading for a 7kW charger if they've only got 20 minutes to charge.
"Time management is crucial. Paua's solution can help with this by allowing drivers to find, charge and pay for charging as efficiently as possible and by supplying fleet managers with all the live data in a digital dashboard," the company concludes.