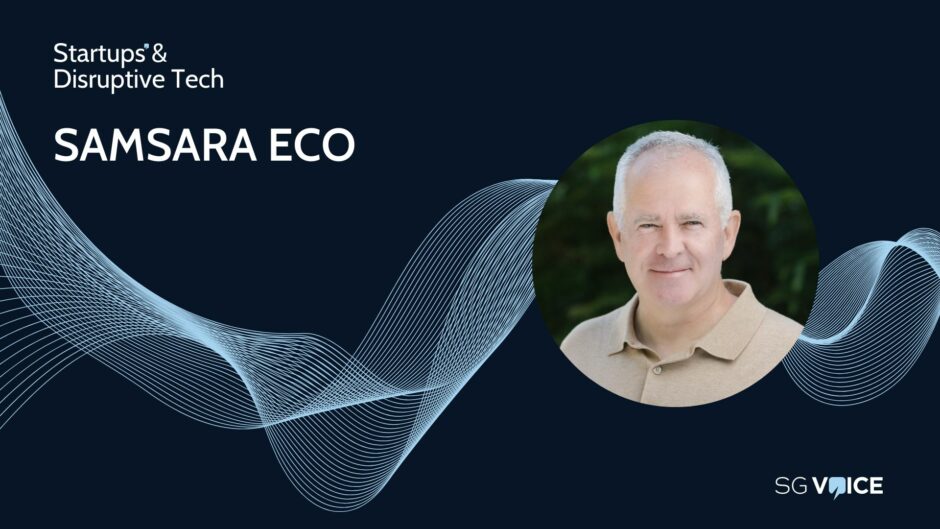 Samsara Eco has developed an advanced recycling technique that enables complex plastics to be processed again and again without ever losing their quality. Headquartered in Sydney, the startup was founded in 2021 by Paul Riley and Australia National University. 
Company mission:
Plastic waste has grown to be one of the biggest challenges of the 21st Century.  Almost 400 million tonnes of plastic are produced per year, with estimates suggesting that the continuation of business as usual would see around 1.2 billion tonnes having been made by 2060.  
Alarmingly, less than 10% of this plastic is currently recycled. The rest is mismanaged, landfilled or incinerated, destroying the world's most valuable ecosystems while endangering the health of humans and animals alike.  
Plastic recycling is typically limited to mechanical methods, which are only able to handle certain types of feedstock and generally produce low-quality recycled materials that have few applications. After a few cycles through conventional processes, these materials go on to be landfilled themselves. 
Although there are some more advanced technologies that can be used with a wider range of different plastics to produce better quality results, these have yet to become commercially viable. Furthermore, they may not be the silver bullet they appear, having have recently been criticised for their potential trade-offs and release of micro-pollutants.  
"You can't solve the climate crisis unless you solve the plastics crisis," says Riley, founder and chief executive of Samsara Eco. "The problem we are solving is clear." 
"With Samsara Eco and infinite recycling, we are able to reproduce plastics infinitely whilst remaining carbon neutral, cleaning up our landfills and oceans in the process," he continues, summarising the company's mission.  
"Samsara Eco creates value out of waste plastics and textiles, providing a huge boost for the waste collection and recycling industries, and the many businesses involved therein. The commercialisation of our technology will create new markets for waste that is not currently recycled – generating jobs, economic growth and sovereign capability." 
How does it work?
"We use enzymes that can attack complex plastics, reverting them back to their original chemical building blocks," explains Vanessa Vongsouthi, the company's research founder and head of Protein Engineering. "Through reverting complex polymers into simple monomers, we can make new, virgin-grade plastics without ever needing fossil fuels again." 
The process is fully circular, and can be repeated on an infinite basis. Its tolerance for dyes and other common contaminants allows it to handle mixed bales of plastic waste, tackling everything from rigid materials to synthetic textiles including nylon and polyester. 
"Unlike other alternative recycling practices, Samsara Eco's innovation improves the competitiveness, productivity and sustainability of the recycling and plastics production industries," claims Riley. He adds that the company's technology is scalable, flexible and valuable both to the industries in need of quality recycled materials and those that are committed to environmental protection or carbon reduction. 
Target market:
Despite its notoriously polluting footprint, plastic is an undoubtedly useful material. Reflecting its near-limitless applications, the global market is expected to be worth over $810 billion by 2030.  
Within this market, however, there is increasing demand for recycled alternatives. Driven by the preferences of conscious consumers, the pressure from cautious investors and the continuous wave of new legislation, companies are searching for sustainable solutions. 
Samsara Eco intends to meet this demand. Its flexible technology can accommodate feedstocks that may be rejected by conventional recyclers, unlocking a diverse range of commercial opportunities. 
"Earlier in May, we announced that lululemon has come on board as our first textile partner," Riley confirms. "Together, our two companies will create new recycled nylon and polyester made from apparel waste, bringing to life lower-impact alternatives to important materials in the performance apparel industry." 
"The partnership with lululemon comes as Samsara Eco gears up for commercialisation to bring the potential of infinite recycling to the fashion industry. It's a key milestone on our roadmap towards recycling 1.5 million tonnes of plastic annually by 2030."  
Challenges to be overcome
"Our biggest challenge is moving the dial on plastics and traditional recycling methods," Vongsouthi comments. Currently, Australia's recycling is dominated by mechanical methods that require substantial amounts of heat and energy to produce a downgraded material. The emergence of bioplastics has provided a more sustainable alternative to virgin plastics, but their high costs are extremely prohibitive. 
"It's important to understand that when it comes to climate and emission reductions, legislation has a role to play in driving behaviour change," Vongsouthi continues. "Legislation will help jumpstart the supply chain cycle and drastically help move Australia toward its climate change goals." 
"We have the ideas, talent and drive to solve the problem, but we need government support and corresponding investment to achieve the goals set out in corporate, national and global climate roadmaps." 
From early stages to commercial expansion
Despite these ongoing challenges, Samsara Eco is steadily gaining traction. In late 2022, it secured its largest investment to date with the close of an AUD$56 million series A raise backed by Breakthrough Victoria, Temasek, Assembly Climate Capital, DCVC, INP Capital and several returning investors. 
In addition to its collanoration with Lululemon (NASDAQ:LULU), the company has formed a close relationship with Australia's Woolworths Group (ASX:WOW). As an initial product partner, Woolworths has integrated the recycling technology into its packaging value chain. 
"In recent years, Woolworths has removed thousands of tonnes of plastic in its brand packaging from circulation," says Riley. "Where plastic can't be removed altogether, Samsara Eco can help make it sustainable, using the plastic that already exists to make 100% recycled packaging that can be recycled again and again." 
The startup's ambitions do not end there, with Riley confirming an ongoing search for new partners with existing recycling operations and an interest in establishing an enzymatic facility at commercial scale. 
"As companies like ours receive greater investment, we need to work together, up and downstream, to test our methods and innovate at scale," Riley concludes. "We need to find a mutually beneficial relationship between the innovators and the incumbents." 
"Whilst traditional recycling and waste management remain economical, we need to synergise a means of prioritising sustainable solutions and kick-start the transition to infinite recycling, sustainability and net zero."