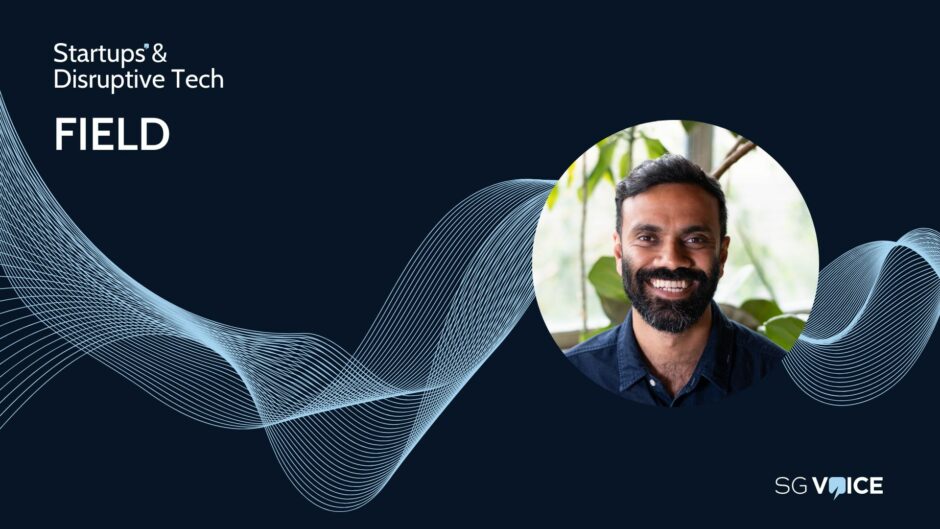 Field, a London-based startup founded by Amit Gudka, is building the infrastructure of tomorrow with its focus on grid-scale energy storage.  
Since launching in 2020, originally known as Virmati Energy, the company has raised a total of £38 million in equity investment from backers including Taavet Hinrikus, Ian Hogarth, Jonathan Petrides, Phil Sutterby and Richard Henson. Its latest fundraising round included Plural and Local Globe, complemented by a £47 million debt facility led by Triple Point Energy Transition. 
Company mission:
Gudka is on a mission to deliver the transition to renewable energy. Cognisant of the infrastructure that this will require, he established a company to help him achieve these goals. 
"Field was founded to solve the fundamental structural issues with our energy system," Gudka explains. "To reach net zero, we need the biggest global transition of energy infrastructure ever seen, in the shortest amount of time." 
 "To do this, we have to solve big challenges, like storing energy, reducing grid intermittency, and decarbonising our heating supply. Field is developing, building, and operating the grid-scale infrastructure needed to tackle these challenges. 
Energy storage enables the use of renewable resources
If the world is to meet its net zero goals, then global power grids must be decarbonised. Fossil fuels must be replaced by renewable resources such as wind power or solar energy.  
Unfortunately, however, these resources are not always reliable. Solar panels are of little use on cloudy days, and wind turbines remain barren in quiet conditions. In sunnier or windier periods, however, more power is generated than is wanted or needed. This excess power is essentially wasted, while fossil fuels remain as back-up for the next time that demand outstrips supply. 
But what if we could store that excess energy and use it at a later time? This would allow us to maximise the use of renewable resources while reducing our dependency on dirtier fuels. 
With its focus on battery storage, this is the solution promised by Field. Already, the startup is developing, building and operating its grid-scale sites across the UK and Europe. 
"We're already making fast progress," says Gudka. "Our first 20 MWh battery storage project, located near Manchester, came online in under 15 months. It has already helped to stabilise the grid by providing a number of critical ancillary services." 
"Typically, the infrastructure industry moves extremely slowly," he continues. "Because of the way Field has been set up we can move quickly.  "Field develops, builds and operates our sites ourselves, including our own in-house optimisation platform. This allows us to build a more comprehensive view of the energy market than that of a typical infrastructure development business." 
Initially, Field has focused its efforts on short-duration battery storage. Its sites are charged up when the grid's proportion of renewable energy is high before being discharged when local demand would otherwise require the consumption of fossil fuels. By maximising the use of renewable resources, Field's assets can lower the costs of power supplies. Its sites are also equipped for the provision of additional services including stabilisation, frequency regulation and voltage support. 
"This helps to create a more reliable, flexible and decarbonised national grid," claims Gudka. "Battery storage really is the swiss army knife of the energy system." 
Target market:
To date, Field has around 230 MWh of storage capacity either in operation or under construction. Its assets are spread across the UK, with pipelined projects scattered through Europe. 
According to the International Energy Agency, batteries are the most scalable type of grid-scale energy storage. As the gradual transition to renewable resources drives the demand for storage capacity, grid-scale batteries are projected to account for the majority of global requirements. 
Still, battery storage capacity must be rapidly expanded if the net zero shift is to be achieved. Estimates suggest that around 680 GW must be installed by 2030, with 140 GW being installed in that year alone. With this in mind, Field's target market is unlikely to be overly constrained. 
Every startup faces its battles
Nonetheless, Field's area of business comes with more specific challenges to be addressed. In recent years, for example, supply chain bottlenecks and rising competition for critical materials has made it difficult to secure a reliable input.  
Getting connected to the grid is also a struggle. Gudka explains that National Grid (LON:NG) is working alongside the UK's regulators to accelerate the process of grid connection before adding that the industry itself must also make further improvements. 
In terms of competition, Gudka says that a successful energy transition will rely on global cooperation and coordination between actors across the board. 
"We need to build a lot of infrastructure," he points out. "There are a number of great companies building technology and infrastructure across the renewable energy space, but we don't really see them as rivals – this is not a 'winner takes all'." 
Future goals
Despite this lack of competitive spirit, Gudka holds lofty ambitions.  
"We have big plans to become one of the new big green infrastructure companies in Europe," he says. "Our goal is to scale to 11 GWh of storage by 2030, preventing 60m tonnes of CO2e from entering the atmosphere over 20 years." 
Holding true to his collaborative values, however, Gudka refers to the company's ESG ratchet clause as being fully open source for replication by any interested party.  
"This clause supports the growth of companies accelerating the transition to net zero," he explains. "It is the first known open-source interest ratchet mechanism in the UK & EU renewables sector that is linked to measurable, objective carbon savings. By publishing the clause, we're aiming to support more investors and businesses in developing robust impacting investing practices."