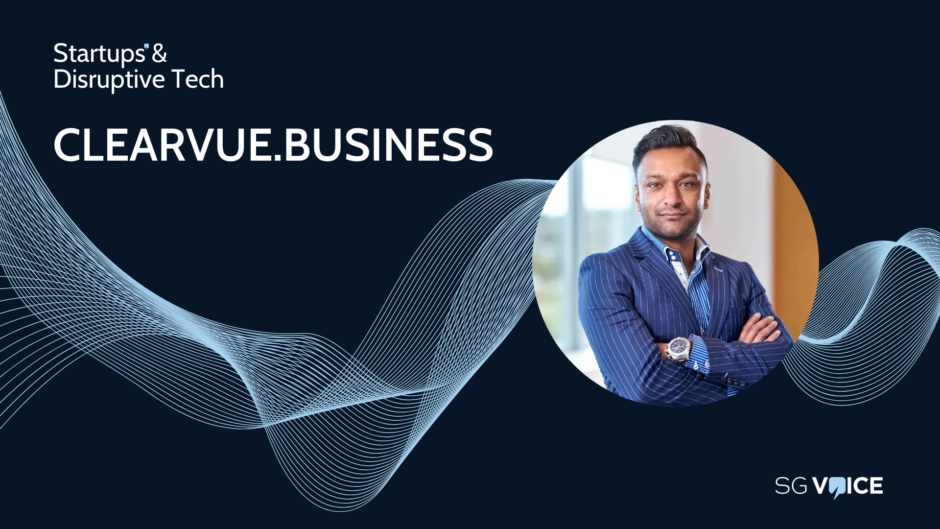 ClearVUE.Business collects data to improve decision-making in businesses' daily operations, with the support of a dedicated team of sustainability experts.
ClearVUE.Business was founded in 2017 in Gateshead, England, by Fokhrul Islam. It is privately owned, operating as a subsidiary of Global Procurement Group, and receives no funding from any other entities.
What problem are you solving?
Businesses worldwide understand the urgent transformation towards sustainability. Now that most are aware of the problem, industries need to evolve to both mitigate the climate crisis and ensure their own longevity and success.
"The main barriers impeding progress are in fact internal visibility and control over energy usage, the challenge of meeting compliance requirements and ineffective energy and climate strategies," says Islam. "Compliance specifically is found to be particularly disincentivising, when data needed for reporting requires complicated extraction or is simply not accessible."
ClearVUE.Business is an energy and net zero consultancy that addresses these challenges, by demystifying the sustainability journey and helping companies achieve real progress. It has created an energy and carbon accounting platform to accelerate sustainability objectives and simplify compliance obligations.
What is your product and how does it work?
The company has developed a hybrid approach, whereby consultants use the ClearVUE.Zero platform to develop tailored business models that reduce the operational impact on the environment and enable quantifiable participation in the energy transition.
Its services begin with understanding the operation, including the priorities, obstacles, and desired trajectory in line with sustainability goals, to establish a baseline for current energy consumption and carbon emissions. Energy and carbon data are collected from circuits and meters using ClearVUE.Zero, and can be accessed in corporate reporting format on any web-based device. It identifies operational touchpoints, such as machinery, that have the capacity for improved consumption efficiency.
Then, its team of specialist sustainability consultants create a comprehensive strategy for carbon reduction, energy efficiency, and risk mitigation, with an emphasis on simplicity and avoiding additional burdens on resources. They prepare a detailed action plan in collaboration with the business to ensure practicality, reform their capacity to meet compliance obligations and reduce their energy costs.
What is the driving force behind your business?
"The urgent need for innovation to secure a future for our planet, is unfortunately the alarming reality we are facing," says Islam. "We believe in the power of data for ground-breaking progress in sustainability."
"ClearVUE.Business also values and places great emphasis on the benefits a business enjoys when making the transition to reduce their carbon footprint. Increased efficiency means reduced operational costs. Real-time access to energy data means simplified compliance reporting. Dedicated sustainability consultants mean tailored, expert and appropriate advice."
What's your industry of operation?
ClearVUE.Business says it is disrupting multiple industries, including energy services, energy management, sustainability consultancy, and corporate auditing.
"Real-time visibility of energy usage and emissions through ClearVUE.Zero allows businesses to identify opportunities for reduced consumption. This data is used to improve decision making in businesses' daily operations," adds Islam. "This, combined with support from a dedicated expert sustainability consultant, reinvents traditional energy management, giving control back to the business by removing convoluted processes with limited access to observable or documentable results."
What's the total addressable market?    
A report by Global Market Insights estimates the UK energy management system market size was valued at over $1.2 billion in 2020 and is expected to grow by over 11% from 2021 to 2027. The report cites the increasing demand for energy-efficient solutions, the adoption of IoT and AI technologies, and the implementation of government regulations as key drivers of market growth.
Another report by Navigant Research estimates the UK energy management system market size will grow from £568.8 million in 2020 to £1.2 billion by 2028, at a growth rate of over 9.7% during the forecast period. The report cites the increasing need for energy-efficient solutions, the adoption of smart grid technologies, and the implementation of government policies as key drivers of market growth.
In the present day, nearly every industry sector prioritises reducing carbon emissions and highlights its eco-friendly efforts. As a result, companies benefit from enhanced brand recognition, which can generate new business opportunities and foster B2B partnerships and collaborations. 
What do you perceive as being your biggest challenge?
Many companies are aware of terms such as sustainability and net zero, but few have truly embraced the transformation that is required for their operations and activities, according to ClearVUE.Business. As such, one of the biggest challenges involves educating companies about their moral and legal obligations towards preserving social and natural environments. 
What is your next big goal or milestone?   
"Our focus is on expanding our reach and increasing our client base, through our demonstrated commitment to innovation, sustainability, and client satisfaction. Becoming the leading energy management and carbon accounting platform for businesses worldwide is in ClearVUE.Business' horizon," concludes Islam.
"To achieve this goal, we are continuously investing in research and development to improve our product offerings and maintain our position as the flag bearers and leaders in our space. We are also expanding our partnerships and collaborations to build a strong network of industry players and experts to support our growth."