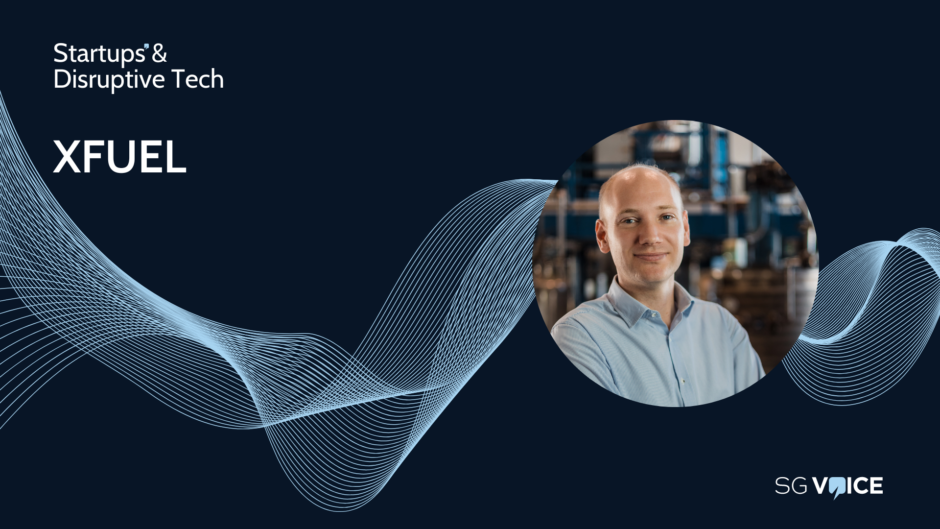 XFuel makes sustainable fuel for hard-to-abate sectors with a wide range of waste feedstocks.
XFuel was founded in 2010 in Dublin, Ireland by Dr Nicholas Ball, Thomas Gunther and José Antonio Pérez. It is now headquartered in Mallorca, Spain.
What problem are you solving?
XFuel is a technology company making sustainable fuel for hard-to-abate sectors. It uses using newly-developed processes and technology to create zero-carbon, or carbon-negative, fuels from a wide range of waste feedstocks. Scaling sustainable fuel is a real challenge for industries that won't be able to fully convert to electric power in the energy transition.
"A worthwhile question that our customers are concerned about is whether this is an interim solution or a long term solution to the energy transition challenge of so many transport sectors," Ball says.
"We offer an immediate solution to a serious problem that owners of assets that rely on ICEs face – the stranding of their assets as emissions regulations tighten. However, it's clear that there are sectors in the transport industry that will struggle to decarbonise their fleets in a cost-effective manner, even in the very long term, such as with long-haul aviation or long-distance shipping. In that event, a carbon-neutral fuel, of the kind XFuel supplies, will be essential."
What's your industry of operation?
XFuels' energy conversion technologies produce sustainable drop-in fuels for the aviation, marine and road transport sectors from waste feedstock; the net result is a sustainable fuel at a cost comparable to other fuels in the market and is quickly scalable globally, according to Ball.
While the number of electric vehicles and the charging infrastructure to support them is rapidly scaling up, the heavy goods vehicle (HGV) market is particularly suited to sustainable fuels, the company says. Even as battery technology develops, they will not be able to meet the needs of hauliers, on weight, size, usability, scalability and safety grounds.
XFuel can produce drop-in fuels for the maritime industry. Ocean vessels transport nearly 90% of goods worldwide and contribute approximately 3% of man-made greenhouse gasses (GHGs). Vessels built today to expand capacity or replace vessels that are retiring, will still be operating in 2050. XFuel says that its drop-in sustainable fuels can prevent owners from having to retire their vessels early because they fail to comply with ever-tightening emissions regulations.
Even more than marine industries, aviation is limited in the options it has available for scalable, cost-effective low-carbon transport. Moreover, very high safety standards require fuel to be of the highest quality and compliance standards. Sustainable Aviation Fuel (SAF) produced from sustainable feedstocks offers a reduction in carbon emissions compared to the traditional jet fuel it replaces over the lifecycle of the fuel.
What is your product and how does it work?
One of XFuel's core technologies is based on the development of smaller, flexible and easy-to-construct refineries. This modular approach unlocks a new, low-carbon model for sustainable fuels based on widely available feedstock, that is replicable and scalable virtually anywhere in the world, Ball says.
"Our technology converts waste bio-feedstocks from forestry, agriculture and construction, as well as waste oils, into sustainable drop-in fuels. As a byproduct, our process also produces biochar – a material rich in carbon and with a stable structure, contributing to carbon sequestration," he adds.
"The use of a wide range of feedstocks prevents GHG emissions and other environmental harms that would happen if the feedstocks were left to decompose in landfill or elsewhere, while biochar production lowers the lifecycle GHG emissions of the fuels we produce. Depending on the type of feedstock used in the process, fuels produced in this way have the potential to be carbon negative, which means we sequester more carbon in our projects than they emit."
Its benchmark for this comes from comparative figures on the carbon intensity of fossil fuel, which is, for example, 94gCO2e/MJ in the EU. The company's fuels are able to be used in existing fuel infrastructure, which lowers the costs of distribution, storage and transportation, and being drop-in fuels, can be used in existing engine technology.
What's the total addressable market?
The company's market is the entire liquid fuel market across road, aviation, marine and rail, plus the sectors that use specialist machinery such as mining, agriculture and construction.
In terms of transport alone, BNEF estimates there is a fleet of around 80 million medium and heavy commercial vehicles on the world's roads, struggling to decarbonise because technology doesn't exist to allow them to. In the marine environment, the investment required to reduce shipping emissions by 50% by 2050 is estimated to be $50-70 billion per year. With more than 10,000 vessels at risk of being stranded by emissions regulations by the end of the 2020s, there is a significant market for a fuel that can drop into current technology and produce net-zero lifecycle emissions. Following the coronavirus pandemic, consumption of jet fuel continues to revive, reaching around 182 million tonnes in 2022, which is still a long way short of record consumption levels in 2019.
What do you perceive as being your biggest challenge?
Regulation is the biggest challenge faced by XFuel due to the ever-changing regulatory landscape, particularly regulatory uncertainty and speed of implementation. Access to cheap capital for projects and scaling the technology is another challenge.
What do you think it will take to scale up your product and on what timeline?
XFuel is currently building four production modules in the UK that will produce 4.6 million litres of fuel. It says that its technology is easily scalable, because its modular approach to building facilities, and the wide range of feedstocks that can be used, means that its infrastructure is not tied to a location-specific source of waste.
Ball adds: "This makes our production facilities attractive to a range of potential investors and operators. From financial players who want to invest in the technology, to companies up and down the value chain who might want to invest in or co-locate a production plant to support their own energy transition or decarbonisation goals."
What is your next big goal?
The company's next milestone is the upgrading of our demonstration plant in Spain, and the development of our first commercial project.
Who do you consider your biggest rivals?
"Decarbonising transport is a huge challenge. Whether the business is a consumer automotive manufacturer, a start-up like us who has chosen a different approach to produce a fuel, whether recycled, renewable, bio or electro- or an oil major who has their eye on our market," says Ball.
"Competition is vital to the energy transition, and is what has driven us at XFuel to continue innovating to develop our technology. When we first started out, it helped us to keep a focus on maintaining a low cost of production, which in turn means the end product can be priced competitively with the fossil fuels it aims to replace. We must remember fighting climate change is a collaborative effort, where different approaches and solutions are going to have to work together in order to achieve our common goal."