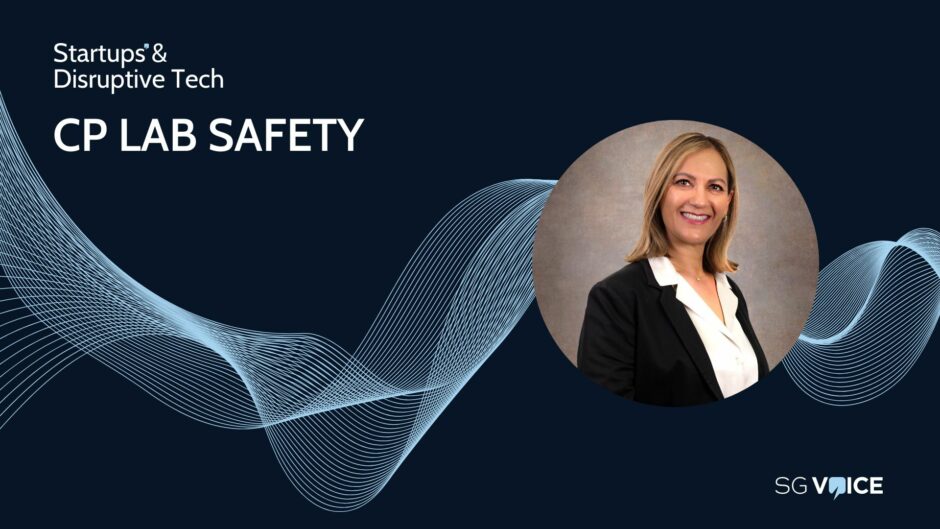 CP Lab Safety specialises in the safe management of solvents in laboratories.
CP Lab Safety was established in Novato, California in 1996. It was founded by Dr. Ron Najafi and Kelly Farhangi-Najafi and remains privately funded. Kelly Farhangi-Najafi is now chief executive, while Dr. Ron Najafi is now an advisor.
What does CP Lab Safety do?
CP Lab Safety is simultaneously addressing accidental spills in labs, while at the same time ensuring the safe, proper disposal of harmful chemicals and toxins. Its proprietary lab safety products are made with minimal impact to the environment.
Kelly Farhangi-Najafi says: "Our signature products, ECO Funnel and TELLI, are preventing chemical spills and chemical vapor evaporation which can harm the health of people and can escape outdoors into the atmosphere causing environmental harm. We are solving the problem of open chemical waste containers in laboratories."
What the company is basically doing is disrupting the lab safety industry with simple yet effective methods of spill containment and laboratory safety equipment. Farhangi-Najafi says: "Many of our products were created to address systemic problems in the lab such as overfilling of liquid receptacles, and the 'open waste container' problem that allows toxic fumes to escape into the lab, and inevitably into the environment."
The ECO Funnel has a tube that inserts into standard sized waste containers and is shaped like – you guessed it – a funnel, with a latchable lid. Historically, labs will just hang a tube loosely into the waste container (glass or plastic jugs). As waste chemicals drip in, the containers emit fumes back into the lab.
The ECO Funnel solves this problem, allowing scientists to latch the lid and trap the fumes. Farhangi-Najafi adds: "We've since created multi-colored lids to help lab workers segregate chemicals easily. Flammable, toxic, corrosive – many of these waste chemicals should not be mixed, and multi-colored ECO Funnels give scientists an easy visual representation of which waste containers hold which specific type of chemical."
CP Lab Safety is also the inventor of TELLI, Talking Electronic Liquid Level Indicator. It's a small, radio frequency, banded device that fits around the outside of a waste container. TELLI will verbally indicate to scientists when a container is about to overfill, solving the accidental spill problem in labs around the globe.
What's the addressable market for your product?
Farhangi-Najafi says: "If we narrow down our look at the market forecast to even one piece of in-demand lab equipment, we'll see the scope of the market we can address."
The HPLC (High-Performance Liquid Chromatography) equipment market is forecast to hit almost US$7B by 2030. Each of these costs roughly $50,000 and they are used in labs to analyse chemicals. The resulting waste must be stored and disposed of properly.
That's where CP Safety's products come into play. Widely, the global lab supplies market is expected to hit $47.1 billion by 2027, due to the increasing growth of testing labs around the world.
What do you think it will take to scale up your product?
The company's latest product is the TELLI, which addresses the 'accidental spill' problem. CP Lab Safety believes clients who have seen the benefits of the ECO Funnel will quickly understand the value of TELLI.
CP Lab Safety anticipates that within the next year or two, TELLI will take off and be as widely used as our flagship product. News of chemical spills, lab accidents, and solvents escaping into our environment will spur lab leaders into taking action and finding practical solutions to address lab safety issues.
What is your next big goal or milestone?
Farhangi-Najaf says: "Our biggest goal is to see our ECO Funnels, Telli and other safety products we manufacture be integrated into every single lab worldwide. We've helped companies stay compliant with federal and state regulations regarding clean air, hazardous waste exposure, secondary containment, and fire safety.
"We want to continue our mission of keeping lab workers safe, preventing toxic chemicals and vapours from entering our environment, and ultimately mitigating the effects lab accidents have on the public."
What do you perceive as being your biggest challenge?
While the company has rivals, most of them also happen to be distributors for the company's manufactured products – and include such major players as Cole-Parmer, VWR, and ThermoFisher Scientific.
According to Farhangi-Najafi, the biggest challenge is getting labs to understand that even the smallest of accidents can have dire consequences. It's very rare to report 'small' spills in the lab, and oftentimes, labs simply let the liquid evaporate and exit through the fume hood.
These vapours then find their way into our air, water, and soil. A recent study showed that 330 species of animals across the globe are contaminated with PFAS, also known as 'forever chemicals' because they are toxic substances that take hundreds of years to break down.
What is the driving force behind your business?
The company's mission is advancing lab safety for the health of the staff, and preventing toxic chemicals from entering the environment.
Years ago, founder Dr. Ron Najafi was working in a lab that allowed spills to simply evaporate, and the vapours to escape through the fume hood. Unknowingly, those same toxic fumes were being recycled back into the building via the HVAC system. A pregnant colleague inside the building alerted him of a 'smell' that was affecting her senses. That's when he realized the impact small spills were having on the environment and people's health. It drove him to create CP Lab Safety and its flagship ECO Funnel.
CP Lab Safety itself also does its part to limit harm to the environment. We are constantly striving to make our products in an environmentally conscious way. CP Lab Safety has brought 100 percent of its manufacturing back to the US to reduce emissions associated with shipping and transportation.