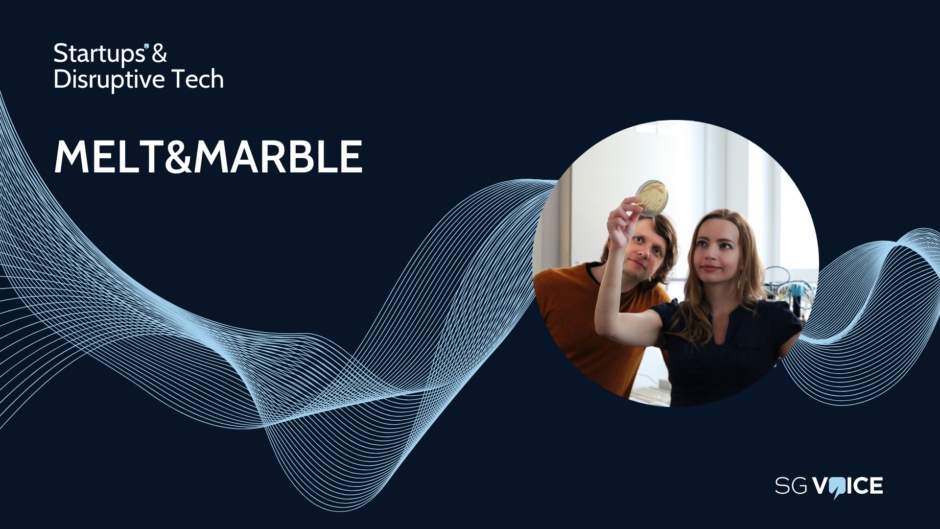 Melt&Marble uses patented technology to rewire yeasts' metabolism and produce fats that mimic the taste profile of animal fats. 
Melt&Marble was established in Göteborg, Sweden, in 2014, though it has been focusing on developing animal-like fats for about two years. The platform has been in development for more than a decade as founders Anastasia Krivoruchko, PhD, Florian David, PhD and Prof. Jens Nielsen, PhD have been doing research on metabolic engineering.
As such, the company already has an extensive IP portfolio, including a number of granted patents. So far it has secured €5.75 million between pre-seed and seed rounds from investors including Lever VC, Nordic FoodTech VC, PINC (Paulig Incubator), BE8 Ventures, Good Startup, and Chalmers Ventures. 
What problem are you solving?
Melt&Marble's goal is to produce ingredients to make animal-free foods "irresistible".  
Animal farming is responsible for 14.5% of the CO2 equivalent of emissions globally and, with the population rising and protein demand projected to increase by 50% by 2050, there is a strong need to find sustainable animal-free alternatives, use our resources in a smarter and more efficient way and limit the impact on our environment. 
According to The Good Food Institute, taste is still the primary consumer purchase driver for plant-based or animal-free foods. Yet, the industry of sustainable meat and dairy alternatives is still struggling to close this 'taste gap' and deliver products with the same scrumptious taste and mouthfeel as animal-derived ones.
"That's where Melt&Marble comes in," the founders say. "We leverage precision fermentation to produce fats that deliver the same experience as animal-derived ones – without the need for animal farming."
How are you planning to disrupt your industry?
The food tech ecosystem is being disrupted and advanced by many players from cultivated meat – that only recently received USDA clearance for commercialisation – to alternative dairy products, fungi and plant-based meat alternatives.
"We all push boundaries driven by the same common purpose of building a more sustainable food system," the founders note.
"Melt&Marble's fat ingredients will play a critical role in combination with any of the aforementioned new food categories. We can increase the juiciness of a plant-based steak, provide scalable and cost-effective fats that can be integrated into a cultivated meat burger or give that heavenly mouthfeel to a mycelium-based chicken nugget"
What is your product and how does it work?
The challenge with fats such as coconut oil is that they don't deliver the same sensory experience as bovine or porcine fats. Melt&Marble uses patented technology to rewire yeasts' metabolism and produce fats that mimic the taste profile of animal fats. 
Furthermore, the plant-based fats that are most commonly used in meat and dairy alternatives are linked to deforestation and loss of biodiversity. This negative impact can be reduced by producing fats via precision fermentation, since the production of fats in bioreactors has much lower land requirements. In addition, fermentation-based production can be decentralized, offering geographically-independent production regardless of the climate/weather conditions. 
What's the total addressable market?
BCG & Blue Horizon estimates that, in 2030, alternative proteins could take up around 10% of total meat and dairy demand – which would equate to a total addressable market for alternative protein products of around 65 million metric tonnes.
On average there will be 7% fat inclusion in these products, translating into around 4.5 million metric tonnes of fat. At an average price of $5 per kilo, this would be around $22 billion in 2030.
In general, total protein consumption will continue to grow given the increasing population and increasing wealth of that population (meat and dairy consumption rises as incomes rise) and the market size for alternative proteins will be a function of how much and how quickly alternative protein products can take market share from animal-based proteins. For reference, the 2022 penetration rate of alternative meat products is around 1% and milk around 20%. 
What do you perceive as being your biggest challenge?
Reducing production costs will be a key challenge to overcome, according to the startup. Its primary focus is achieving cost competitiveness and economies of scale, to ensure that its alternative fats rival the affordability of plant-based alternatives. By maximising efficiency, it reckons it can meet increasing demand and make an impact on the global food system. 
Additionally, consumer acceptance of new production technologies poses a crucial challenge. Melt&Marble aims to bridge the gap between cutting-edge science and public perception through education and transparency. Demonstrating the safety, sustainability, and benefits of its methods is vital in gaining trust and understanding. 
"Our journey involves disruption, urgency, and transformative change. Overcoming these obstacles will pave the way for a future where our alternative fats are embraced by individuals and industries alike. Through relentless innovation, collaboration, and a steadfast dedication to our mission, we will create a more sustainable and delicious food landscape," the founders add.
What do you think it will take to scale up your product and on what timeline?
Scaling up the company's product requires two essential factors: access to production infrastructure and regulatory approvals in various geographies. These elements play a pivotal role in expanding its manufacturing capabilities and reaching wider markets. Collaborating with partners and stakeholders who can provide the necessary resources and support is crucial for successful scaling. 
Furthermore, the timeline for scaling up is influenced by consumer demand for sustainable foods. As the demand for environmentally conscious and ethical products continues to grow, it creates an impetus for expedited expansion. By aligning with the evolving needs and preferences of consumers, the startup plans to accelerate its scaling efforts and make a meaningful impact within a shorter timeframe. 
What is your next big goal?
Melt&Marble's next significant milestone is the commercial launch planned for 2024.
Who do you consider your biggest rivals?
The company considers animal-based meat and dairy products as its biggest rival.
"There is no denying that traditional animal agriculture is one of the largest contributors to climate change," the founders comment. "This is largely driven by methane emissions from cows, deforestation in places like the Amazon and overall resource intensity."
They conclude: "To have any hope of tackling climate change, there needs to be a large shift away from the high-intensity animal farming that makes up 90%+ of the industry today. Therefore we aim to help create sustainable products where consumers do not need to sacrifice anything in terms of taste and cost so that we can facilitate the transition away from high intensity animal agriculture to a more sustainable food system."