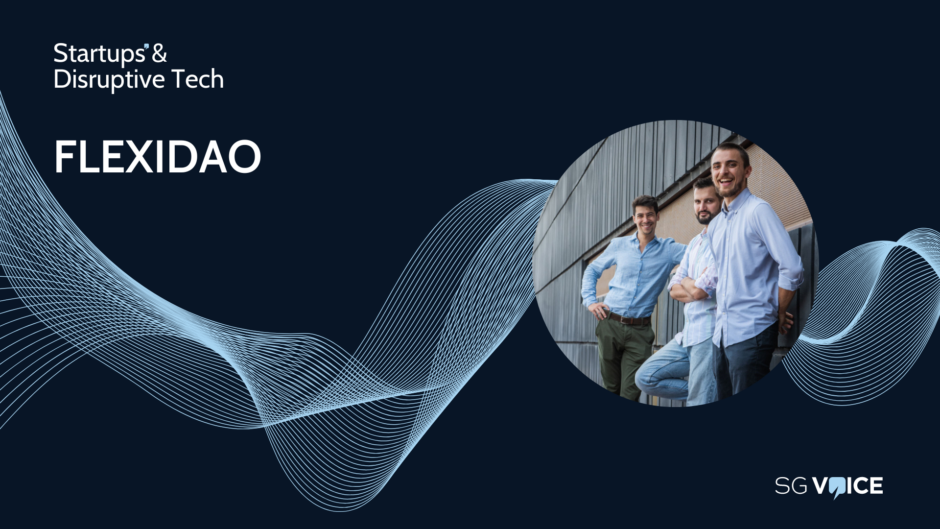 FlexiDAO has developed carbon accounting software to help corporations track and eliminate their energy-related emissions.
FlexiDAO was founded in November 2017 by Simone Accornero, Grzegorz Bytniewski and Joan Collell. It is located in Barcelona and the Netherlands and operates in 15 countries.
It closed a $6.5 million Series A investment round in 2022 led by SET Ventures, with investment from Google (NASDAQ:GOOG) and the Microsoft Climate Innovation Fund (NASDAQ:MSFT), and existing investor EIT InnoEnergy.
What
problem are you solving?
The company says it helps organisations overcome two key operational and sustainable challenges: saving time and increasing accuracy on Scope 2 reporting, and making better energy decisions by digitising their renewable portfolio.
Its technology automates the collection of energy metering data, certificates and emissions, creating automated Scope 2 reports . FlexiDAO says this increases credibility and auditability by using data from the source that complies with new CSRD and SEC regulations.
Users can check how they are progressing against their renewable objectives on a daily basis. This can help them take faster energy procurement decisions that have more accurate carbon data to maximise impact.   
What's your industry of operation?
The company operates in the energy sector, an industry where markets are rapidly changing due to technological transition and consumption behaviours.
"The industry is already being disrupted and our software solution is helping to smooth the transition for major energy consumers, to help them make greener and more efficient choices," the founders say. "Our software revolutionises Scope 2 reporting, making it more efficient. Users can adhere to annual metrics or embrace next-generation approaches like 24/7 CFE and avoided emissions accounting."
What is your product and how does it work?  
FlexiDAO has two products. CFE Inventory is a granular Scope 2 inventory and portfolio management tool, acting as an enterprise resource planning system for renewable energy contracts, certificates and emissions. Users can keep all the information on their energy origin and its emissions in one place. Data can be refreshed monthly, or hourly, to ensure quick and accurate energy decisions and reports.  
CFE Diagnostic is designed to understand and improve "Carbon Free Energy" (CFE) performance by uploading information on energy contracts (such as industry, countries of operation, contract type, renewable energy technology). The algorithms generate insights that help businesses gauge information on energy procurement and its impact on various metrics. By leveraging these data-driven insights, organisations gain the ability to assess exposure to emissions-related risks, compare CFE performance across different countries of operation and prioritise actions that will ultimately eliminate emissions altogether. 
What's the total addressable market? 
According to FlexiDAO, its total addressable market includes any organisation that accounts for its energy emissions. Over 13,000 companies currently voluntarily disclose their environmental impacts via CDP. The EU regulatory frameworks on mandatory emissions reporting will affect approximately 50,000 companies, and many more in the US will be affected by the Securities and Exchange Commission's proposed rules to enhance and standardise climate-related disclosures for investors. 
A report compiled by FlexiDAO found that, with more stringent carbon accounting rules, corporate emissions reporting could lead to much higher levels of carbon emissions than is currently reported. Respondents admitted that they might be reporting less than half of their emissions using the current Scope 2 accounting principles compared to what would be reported using a more granular approach with more stringent time and location energy origin requirements. Moreover, ‍42% of the respondents who claim zero market-based emissions using the current Scope 2 guidelines have not signed any electricity supply contract that can meet more granular requirements. 
According to the company, the gap risks a culture of false confidence due to current accounting. To move towards genuinely carbon-free economies globally, businesses need to harness accurate data to procure clean electricity and account for energy-related emissions.  
What do you perceive as being your biggest challenge?
"Our biggest challenge as a company is changes in energy emission regulation and carbon accounting taking time to be implemented, slowing corporate evolution towards more accurate and data-informed carbon accounting," the founders say. "Also the energy crisis is putting pressure on electricity costs for businesses which can delay climate leadership actions."
What do you think it will take to scale up your product and on what timeline?  
The company is already present in 15 countries and plans to continue expanding its US and European business. It will also develop new technology to foster the adoption of carbon-free energy for the world's largest renewable energy buyers and sellers, allowing them to digitally match, certify and report clean electricity production and consumption ahead of anticipated changes to emissions reporting regulations.  
Its next endeavour is to develop a CFE Optimization product, helping businesses not just with tracking but also with strategic decision-making when it comes to energy procurement options. With this product, companies will be able to assess and compare different options scenarios to improve my performance score and plan a CFE procurement strategy and roadmap. 
Who do you consider your biggest
rivals
?  
"There are a number of organisations operating in our space, with a few such as Cleartrace offering similar services," the founders note. "But what is exciting about our industry is the collaboration between different organisations within the 24/7 CFE movement – from Google to Microsoft to EnergyTag we're all united in our belief in the need to achieve 24/7 CFE economies, and that data and technology will help us get there."
Other competitors include WattTime, Clean Energy Buyers Association and EnergyTag.
What is going on in the regulatory
and
governance landscape that is pushing businesses to
consider
a more data
-led and granular approach to their energy and emissions accounting? 
The GHG Protocol is the foundational guidance for voluntary carbon accounting programs such as CDPR and leadership schemes such as RE100 and SBTi. It also underpins EU and US regulatory frameworks on mandatory emissions reporting for large-size businesses. The WRI and WBSCD have recently opened a public consultation requesting businesses, regulators, NGOs, activists, and other stakeholders to respond on whether the GHG Protocol needs to include additional guidance.
"If more granular criteria is included in Scope 2 emissions accounting, then this will have a significant knock on effect for both the voluntary and mandatory emissions reporting for thousands of companies," the founders say.
"As carbon accounting inevitably becomes more strategic, sophisticated, and complex, this exposes companies to new risks – but also opens up new opportunities for climate leadership. FlexiDAO recognises that reliable, granular energy and emissions data is crucial for evolving corporate  renewable energy accounting. By leveraging data-led solutions like ours, energy and sustainability teams can confidently tackle decarbonization challenges, protect themself against upcoming regulatory change and achieve organisational climate objectives."