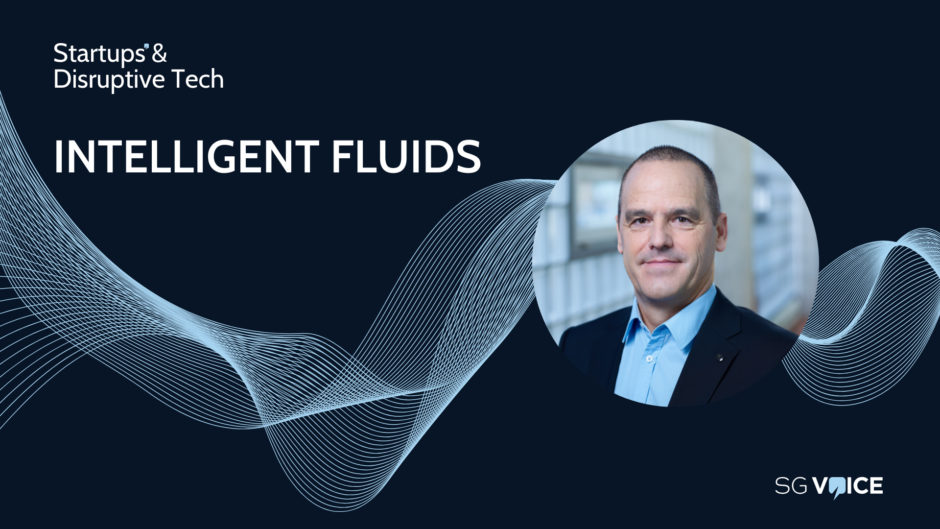 intelligent fluids has developed a cleaning technology that physically removes any organic contaminant, rather than dissolving it with chemicals.
intelligent fluids was founded in Leipzig, Germany, in 2017 by Christian Römlein. It closed a €10 million Series A funding round in March 2023 led by Wave Equity Partners with participation from its existing institutional investors, High-Tech Gründerfonds and IBG Sachsen-Anhalt. 
What's your industry of operation?
"A common misconception is that only aggressive chemistry can clean effectively. intelligent fluids changes that assumption," says Römlein. "Our products mark the beginning of a new era of professional cleaning materials for industrial applications that combine optimal performance with sustainability."
"With the help of our cleaning technology, millions of tons of toxic, hazardous, and aggressive solvent-based cleaners can be replaced with human and environmentally-friendly formulations that outperform traditional products and enable significant cost savings," he adds. 
What is your product and how does it work?
The company provides industrial cleaning products that are performant and environmentally friendly. Instead of aggressive and harmful chemical dissolving, it uses a new science-based technology that physically removes any organic contaminant.
Its drop-in products work with existing equipment and provide solutions for industrial cleaning needs such as paint, adhesives, oil and dirt. They are non-flammable, pH-neutral, thermodynamically stable, contain no toxic ingredients and are dermatologically tested. 
What is the driving force behind your business?     
Around 40 million tons of toxic and 64 million tons of harmful chemicals are produced annually in the EU. Although many cleaning substances are classified as carcinogenic, mutagenic and toxic to reproduction, there has been a lack of suitable substitutes for professional cleaning materials in the industrial sector. intelligent fluids intends to offer an alternative to transform industrial cleaning from one of the most polluting sectors globally into a clean one.
What do you perceive as being your biggest challenge?
"We're targeting three massive industries: microelectronics, oil and gas, and industrial maintenance. Awareness of green cleaning products is still minimal in the B2B sector, and markets are slow to respond to new products," says Römlein. "In the B2C/FMCG sector it's a little different, with the public more aware of sustainable cleaning products. The challenge for us is to cut through the greenwashing prevalent in the FMCG industry and show how our products deliver real impact."
What do you think it will take to scale up your product?
Römlein adds: "We've been on the market since 2017 and see a rising demand for our products. Our ambition is to further accelerate our growth. Therefore, we must constantly educate the market about our solution and show that sustainability goes together with economic efficiency and cleaning performance. We're well prepared to react to the further rising demand we expect in the near future, as ESG balance is becoming an increasingly important topic globally."
The plan is to double growth each year for the next five years.
What is your next big goal?   
The company is currently growing its team, increasing manufacturing capacity at its German plant to cover market demand, and initiating expansion into global markets.
To keep its carbon footprint as low as possible while serving customer demands with short transportation routes, intelligent fluids is looking to establish manufacturing entities in the US, India, Taiwan, the Middle East and North Africa. 
Do you consider your business sustainable? 
intelligent fluids' technology offers a sustainable substitute to conventional industrial cleaning products and actively contributes to 10 UN Sustainable Development Goals. The company is also a member of the UN Global Compact. 
"Our manufacturing is highly sustainable and produces up to 70% less CO2 than the manufacture of an equal amount of typical solvents would create. Our products are made from renewable and bio-degradable feedstock," notes Römlein.
"Furthermore, for every liter of product we sell, we contribute 3.9 cents to one of the 13 sustainability-focused non-governmental organizations we support. We've also recently started a program to make the entire team carbon-neutral."  
Who do you consider your biggest rivals?
The company's main competition comes from traditional players such as Dow Chemicals (NYSE:DOW), BASF (XETRA: BAS) and Du Pont (NYSE:DD), although any company that manufactures industrial cleaning chemical products is a rival and potential partner.
"Industrial cleaning is challenging, and often one product may not solve every problem. As our products outperform the competition in terms of effectiveness and sustainability, our main challenge is building awareness for our solution," comments Römlein. "We're convinced we will gain a substantial global market share if we achieve this. The market is humongous at approximately $60 billion annually." 
What do you mean
by a new cleaning technology, instead of a new cleaning product?
Cleaning technology has remained pretty much the same for decades – solvents, acids or bases, which dissolve away dirt layers. One easy-to-understand example is nail polish remover. 
"Our technology combines friendly components: water, organic oils, surfactants, and activators (even sugar!) into equally friendly dynamic phase fluids. The particles in these fluids constantly move at a micro-level, dislodging dirt from the surface with no chemical reaction. This is the basic principle behind all our products, whether removing photoresist layers from semiconductor wafers or grease from your hands," says Römlein.  
He concludes: "It is a technology because it is a platform with the basic building blocks that can be assembled in various proportions to create new solutions. We can design a product for a new application within three to four weeks – none of our solvent-based competitors can match this speed. This is what gives us a unique opportunity to disrupt an established market."