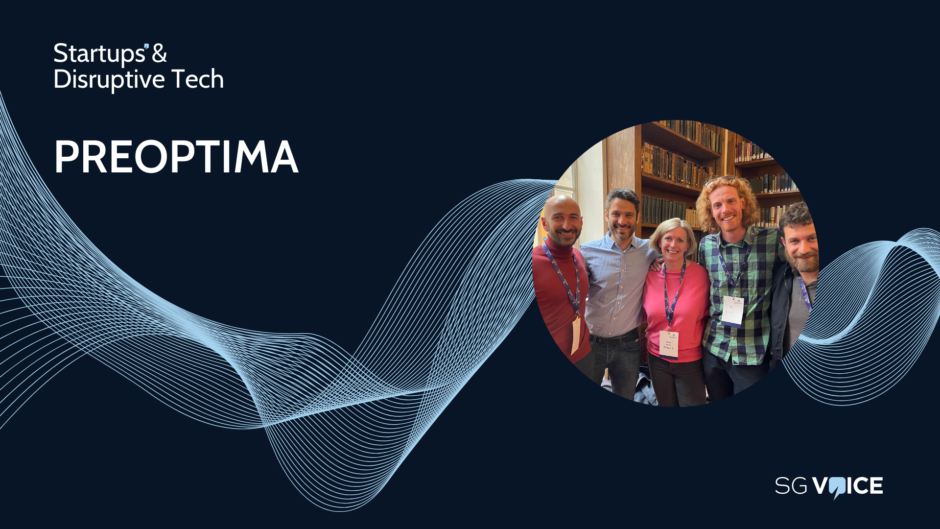 Preoptima has developed a carbon analysis platform for sustainable building design.
Preoptima was established in 2022 in London, UK. Its founders are Aileen Ryan, Francesco Pomponi, Bernardino D'Amico, and Jay Arehart. It closed a £1 million pre-seed round in March 2023 led by Nemetschek, joined by Nomea Investments, Climate VC, Carbon13 as well as climate tech angels.
What is the product and how does it work? 
Pomponi says he's among the first people to be sceptical about software solving the climate crisis. "The reason why I believe we are a very essential tool in solving problems is because we enable something that today is not possible and that's avoiding carbon emissions in the first place in the built environment."
According to Preoptima, the current market operates by designing a building first and then assessing its impacts, identifying areas for improvement, and redesigning it accordingly. This process, however, is time-consuming, labour-intensive, and struggles to keep up with the fast-paced workflow of design and construction.
"Preoptima completely flips the paradigm because we use artificial intelligence and generative design to preoptimise design in the first place – something that takes weeks or months gets done in seconds or minutes. It basically allows you to minimise the carbon emissions linked to your project upfront before you actually start designing buildings, because it provides a high level design of the building for you in a very accurate way," Pomponi says.
What problems are you solving?
"We're solving the issue of having accurate figures early on and then throughout. Because at the moment you have design tools that were born with completely different aims in mind," Pomponi says. "There are design tools that are trying to have sustainability as an add-on. And then you have sustainability tools that are trying to assess design as an add-on. But actually you need to change the mindset with which you approach it, because those tools were actually reflecting the times when they were created. So when design was really important, the full focus was on that."
"What we're doing is to approach it from a fresh pair of eyes and say how can we start from design and sustainability at the same time as the starting points."
How are you disrupting your industry?   
Preoptima describes a paradigm shift in building design assessments using artificial intelligence and generative design. Traditional assessments often come too late in the process, limiting the potential for significant carbon reduction. Its approach evaluates numerous design options and offers optimal solutions for carbon reduction, even allowing for benchmarking against existing designs. 
This technology, according to Pomponi, is capable of handling vast combinations that would be impossible for the human brain. Additionally, with changing regulations, having accurate carbon assessments early in the design process becomes crucial for obtaining planning permission and ensuring a smooth building process.
Target market
Preoptima aims to bring together three different markets: the software market for the architecture, engineering, and construction space; the ESG software market, whose opportunity was valued at $9 billion in 2021 in Europe and North America; the construction as an asset class, valued at $10 trillion in 2022 and expected to grow to $15 trillion in 2028 due to increasing construction activity, particularly in Asia; and the retrofit and renovation wave in Europe and North America.
Global commitments to carbon neutrality need sustainable design and assessment, with cities requiring carbon information for every building. Preoptima envisions a dynamic carbon tag for each building, evolving through its design and construction phases, creating a significant market for tracking the carbon journey of every building globally.
What's the total addressable market?
Preoptima has calculated a £7 billion total addressable market by looking at architectural practices and developers in the UK, as well as organisations that are in the real estate space that will need to manage their portfolios consciously and transparently. It then followed the same bottom-up approaches for other geographies such as the US and Europe.
The 'total addressable carbon' presents a vast opportunity, encompassing a range of five to 20 gigatons annually, Pomponi adds. This includes five gigatons being the embodied carbon in global construction, and the remaining 20 gigatons in the built environment.
What do you see as your biggest challenges?
"I think educating customers and users that this is a possibility and ensuring that they have confidence in accurate numbers early on. Because the questions that we get are, how can you be so accurate so early?" Pomponi says. 
He believes that when something truly disruptive is presented, the human mind tends to question its simplicity, wondering if there's a catch. He contends, however, that the reason this idea hasn't been implemented before is that sustainability has often been treated as an afterthought. In his case, sustainability has been a primary focus in his area of work for over a decade.
What will it take for you to scale up, and in what timeframe?        
The software is designed to scale up globally and is already operating in the UK and the US. When entering new markets, such as France, the company integrates local building codes, regulations, weather data, and supply chain information into the software, making it a one-stop shop for companies operating in different regions with diverse data requirements. 
With the ability to roll out to new geographies, the software intends to achieve global coverage within a couple of years, making expansion to Europe, Asia, and other regions feasible. Preoptima is actively seeking users to support and drive this expansion.
What's your next big milestone?   
Exciting developments are on the horizon for the software, Pomponi says. New features include the ability to design and assess building services, custom wall assemblies and custom roofs, enabling users to optimise carbon options effectively. A new product for the Global North is in the works, focusing on assessing refurbishments rather than new builds. 
Understanding renovation is crucial, as it's not always beneficial; it must pay back its embodied carbon to truly be environmentally friendly. "When you renovate a building, there is a common misconception that it's always good. But actually, it only makes sense if the renovation pays back its embodied carbon. If it doesn't, the planet is worse off," Pomponi concludes.