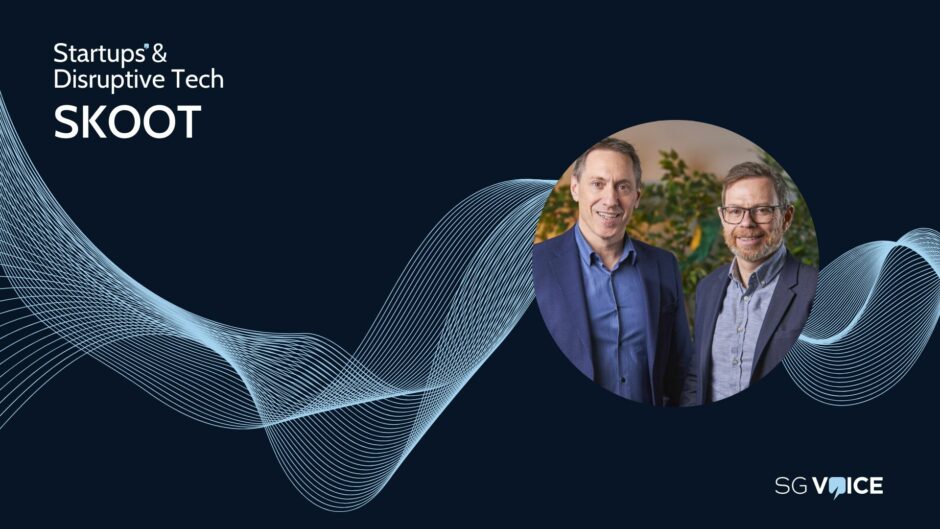 SKOOT has developed a streamlined platform that helps brands and individuals to take small steps towards reducing their climate footprint. The London-based startup was founded in 2019 by Greg Gormley and Mark Stringer, building on the success of their previous business. 
Company mission:
"At the heart of our mission is a commitment to rebuild eco-systems," says Stringer. "This includes responsible tree planting, tree conservation and ocean plastic removal." 
With the world as we know it on the brink of collapse, this mission could not be more urgent. The devastation of natural ecosystems has resulted in the decline of the vital services they provide, from climate regulation and food production to the provision of globally traded commodities. 
By rebuilding and cleansing these ecosystems, however, we may be able to turn things around. The task may not be easy, but SKOOT believes we can all play our part.  
"SKOOT's approach is that we all need to take more responsibility for how we behave and the choices we make," Stringer adds. "Tackling climate change is a shared responsibility." 
Target market:
With this in mind, Stringer hopes that SKOOT's platform will one day be used by a wide range of businesses and individuals. For now, however, the company is primarily focused on the hospitality sector.  
Although the industry's footprint is difficult to quantify, we can be sure that it is well worth addressing. The production, distribution and wastage of food account for around a third of global emissions, before we even begin to consider the impact of running an outlet or ferrying diners to and from their desired location. 
Research suggests that consumers are becoming increasingly aware of these issues. According to a survey of around 2,000 British consumers, 73% would now consider sustainability when deciding where to dine out. Many felt that there was not enough information available, and wished they had more support in choosing sustainable options. 
Climate action does not have to come at a cost
SKOOT's technology empowers hospitality businesses to capture this shift in demand while making a positive difference to the planet at large.  
For every diner or bill, its platform will automatically plant a new tree. Over the course of its life, the tree will capture up to one tonne of carbon, offsetting the impact of the customer's outing.  
In order to deliver immediate benefits, each planted tree is paired with an accredited project from SKOOT's portfolio. Currently, its funded initiatives include reforestation, renewable energy and the prevention of ocean pollution. 
The technology can sit across any conventional till system, with full integration into various point of sale platforms such as Micros or Oracle Simphony. There is no cost to the business itself, with contributions instead being added to the customer's bill. 
According to SKOOT, consumers are more than happy to pay this additional charge, with around 75% of adult diners being willing to revisit a restaurant that took a 50p contribution to offset their meal. 
Increased awareness is key to success
Gormley conceded that education and awareness will be key to the startup's success. Without a clear understanding of carbon offsetting, its clients will not be convinced.  
"Carbon offsetting is a key part of a comprehensive sustainability strategy," he explains. "Reduction alone will not help in reaching Net Zero on time." 
"We work closely with our clients to provide information about the role of offsets, the importance of emission reductions, and the need for a holistic sustainability approach. By fostering understanding and promoting responsible offsetting practices, we aim to ensure that our clients make informed decisions and take genuine action to reduce their carbon footprint."
Recent progress and future steps
Despite these challenges, SKOOT appears to be gaining traction. With more than £5 million in funding to date, it has already partnered with local restaurants including Amazonico, COYA and Isabel's Mayfair. Thanks to its collaboration with GloriaFood, owned by Oracle Corporation (NYSE:ORCL), its platform is now available to 350,000 smaller independents and takeaways. 
"We've eliminated over 4,500 tonnes of CO2 and 30,000 plastic bottles," Stringer exclaims, adding that more than 900,000 trees have been planted so far. "The 1 million mark is fast approaching! That will be a real 'pinch-me' moment for us." 
He goes on to explain that SKOOT has ambitions of building a global community. With initial clients spread across three different continents, this seems a reasonable goal. 
As the company grows, it will continue to build out its consumer-facing solution. The SKOOT Life platform follows a similar process, enabling customers to calculate their footprint and offset their impact through an affordable subscription service. 
SKOOT will also expand its offering to include various different types of event. Although the requirements of a major fashion show will differ substantially from those of a small outdoor festival, Stringer intends to deliver tailored solutions as needed. 
"Our goal is to be the go-to climate platform for businesses and individuals alike," he concludes. "There is no planet B, and we all need to do what we can." 
"We celebrate all the small actions we can take to make a huge positive impact via affordable in-the-moment solutions," adds Gormley. "Our dashboards allow users to see the tangible impact they make." 
"By sharing this dashboard with others, we can encourage a ripple effect of positive change, as well as track customer loyalty and drive further engagement."