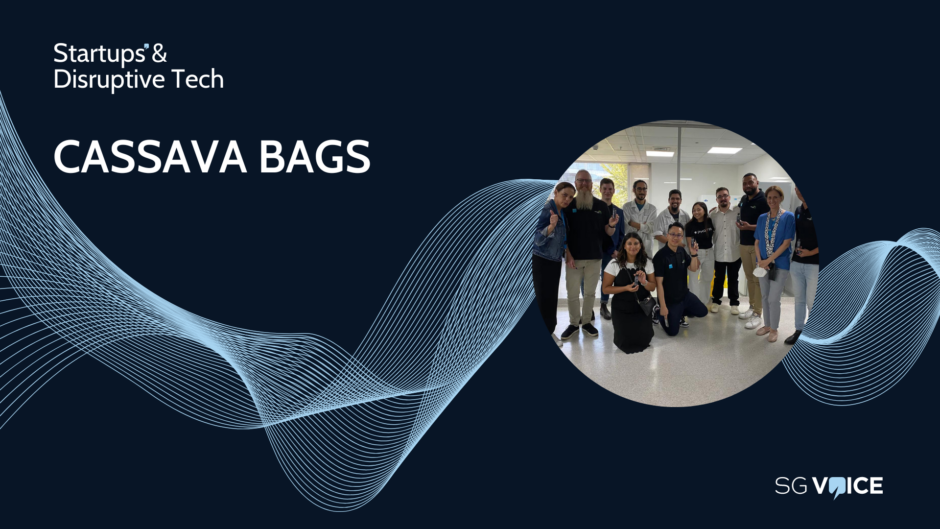 Cassava Bags has designed natural, biodegradable and compostable bags made with the Cassava root, in a bid to replace single-use plastics.
Using starch from the Cassava root, which grows in abundance, Cassava Bags has created 100% natural, biodegradable and compostable bags that mimic plastic. The bags can hold up to 25 kilogrammes and completely dissolve in boiling water within minutes. 
How are you disrupting your market?
The company is focused on addressing the issue of plastics and the adverse effects it has on health and the environment. Without removing the positives of plastic products, it is researching new ways to imitate these utilities by developing new natural bio-resins to take their place. 
"Cassava Bags was founded on the belief that businesses can be a force for good and that the single actions of individual people, collectively, have the power to change the world," the startup says.
"We utilise the United Nations Sustainable Development goals not just for Cassava Bags Australia but also for companies we partner with and supply to and together integrate for a larger positive impact on the planet." 
What's the product and how does it work?
Cassava Bags' approach involves utilising starch from the abundantly growing Cassava root to create 100% natural, biodegradable, and compostable bags that closely resemble plastic. They are designed to be versatile and can withstand weights of up to 25 kilogrammes while remaining sturdy and reliable. They dissolve completely in water (boiling water within minutes, waterways within several weeks), leaving behind no harmful residue such as toxins or microplastics).
What's your
target market?
More than 300 million metric tonnes of plastic waste are produced each year, while 95% of plastic packaging material value is lost after first use, which equates to $80-120 billion annually. In 2021, the global plastics market was valued at $593 billion and is projected to grow to reach a value of more than $810 billion by 2030, registering a CAGR of 3.7% during the forecast period of 2022 to 2030.
The target market for cassava bags would primarily consist of environmentally conscious consumers, businesses, and governments looking for sustainable packaging solutions. This market segment is likely to be concerned about reducing plastic waste and its environmental impact, according to the startup.
What are your biggest challenges?
According to the startup, market adoption is a key challenge as convincing consumers to switch from traditional plastic bags to cassava-based bags may be difficult. People are often accustomed to using plastic bags, and it might take time to change behaviour. 
Raising awareness about the environmental impact of plastic bags and the benefits of cassava bags can also be challenging. Investing in educational campaigns and marketing efforts may be necessary to reach a wider audience. 
What will it take for you to scale up, and in what timeframe?
The company says that scaling up will require working in partnership with companies to design and develop Cassava versions of current products. 
It adds: "With the current growth rate we are experiencing through the assistance of partnerships with companies such as Bupa, WWF and Edelman we are excelling towards being a leading sustainable solutions provider in the very near future." 
What's your next big milestone?
Cassava Bags has already been applied to multiple uses, including coffee cups, mail bags, pet waste bags, bin liners and retail bags. Future developments include laundry bags, dental headrest covers, bed covers, trays and even tattoo parlour accessories. 
Bupa and Cassava Bags Australia have signed an agreement that gives the healthcare provider access to Cassava Bags' biodegradable bags and other products.  As part of this engagement, Cassava Bags Australia has already begun replacing bin liners across Bupa's Australian offices. 
The startup will be launching zero plastic pet waste and bin liner products across Amazon's (NASDAQ:AMZN) global e-commerce network. It also has a strategic collaboration with the ASEAN Retail Association Group, which will promote eco-friendly practices and reducing plastic waste. The partnership is intended to serve as a catalyst for further developments in the sustainable retail space.  
What do you consider to be your biggest competition?
The company says that its main competitors are still single-use plastics and paper bags.