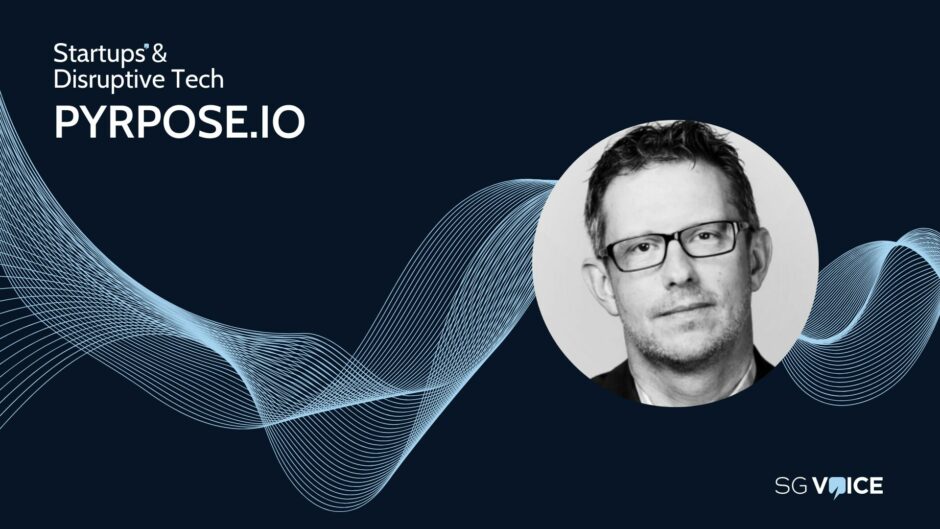 Pyrpose.io wants to connect environmentally-conscious consumers across Europe with viable carbon emission reduction solutions that also offer investment returns.
Based in Geneva, Switzerland, Pyrpose.io was founded in May 2022 by chief executive Kevin Kyer and chief technology officer Oleg Kudrenko. Backed by angels around the world and CVVC in Zug, Switzerland, the startup secured $1.1 million in 2023.
What problem are you solving?  
Kyer and Kudrenko found that climate-conscious consumers are largely excluded from existing sustainable finance solutions, while there is a funding gap for the innovation required to transition away from fossil fuels for energy. In order to address this disconnect, Kyer says that Pyrpose was founded "on the premise that doing good for the planet and making a return is the model to solve for the climate crisis".
The problem, he says, is that existing solutions are either inaccessible, built for the climate finance elite or not engaging. "Our platform solves for this by breaking down traditional barriers in finance providing an open, engaging and transparent means to invest," he adds.
What does the company do?
Pyrpose is a marketplace at the intersection of fintech and climate tech. Its objective is to connect environmentally-conscious consumers across Europe with viable carbon emission reduction solutions that also offer investment returns.
The platform aggregates invested funds and extends crucial working capital to small and medium-sized enterprises (SMEs) focused on climate innovation. These SMEs pay competitive interest rates on the loans, and the accrued interest is subsequently shared with the platform's community of investors.
At present, supporting climate solutions often entails making purchases such as electric cars or donating to charitable organisations, according to Kyer. While individuals of higher financial means or those affiliated with large institutions can access companies driving the transition, addressing the climate crisis demands a broader approach.
"To solve the climate crisis, we must bring these solutions to everyone who cares about the climate in an easy to understand, engaging and affordable way," Kyer adds.
What's your target market? 
Being a marketplace, Pyrpose has two target markets. The first is the climate-conscious consumers; a 2023 study by the European Commission found that 93% of EU citizens believe climate change is a serious problem, suggesting great potential for a company tapping into this opportunity.
The other is represented by the companies that will receive the funding from Pyrpose's platform. According to the Climate Policy Initiative, businesses focused on the energy transition need $2.3 billion in investment every year – and joining the platform can be an attractive prospect to raise the much-needed funds.
What do you perceive as being your biggest challenge? 
According to Kyer, the main challenge for the startup is establishing trust within the community. Even though the team has a strong track record, customers are unlikely to look into it, for example by using social media.
"We need to earn that trust by executing against our vision and showing it's working," says Kyer. "We leverage a bit of blockchain to help in building the trust and transparency. It opens up how things work better than other tech that is more closed."
"I come from a product background and have seen over the years just how important that is in building your business," he adds. "We want our users telling their friends about what they did on Pyrpose, unprompted."
What are your next steps as a company?
Pyrpose has laid out a timeline that encompasses several key phases, starting with a private beta by the conclusion of the summer, allowing it to fine-tune and enhance the platform based on initial feedback. Following this, the aim is to gradually extend access to a wider audience.
This expansion is a step-by-step endeavour, characterised by an iterative approach. The objective is to achieve full availability to the general public within the company's target markets by the end of 2023.
How can you create synergies in your sector? 
"Climate Tech and Fintech is a pretty small community, but growing like crazy and everyone is pretty open," Kyer says. "It's not as if either sector is brand new, so we are getting more and more lessons learned and growing up a bit."  
He expects to see more collaboration with large corporations. There is recognition that startups have the advantage of agility, enabling swift testing and iteration, while some corporate entities lag behind in addressing their net zero strategies – engaging with climate-focused startups presents a valuable opportunity for them to accelerate their involvement, according to Kyer.
Collaboration with such startups could allow corporations to leapfrog into the realm of climate action. This is especially important considering the demands from their shareholders, employees and customers, all of whom are increasingly vocal about their expectations in terms of sustainable practices.