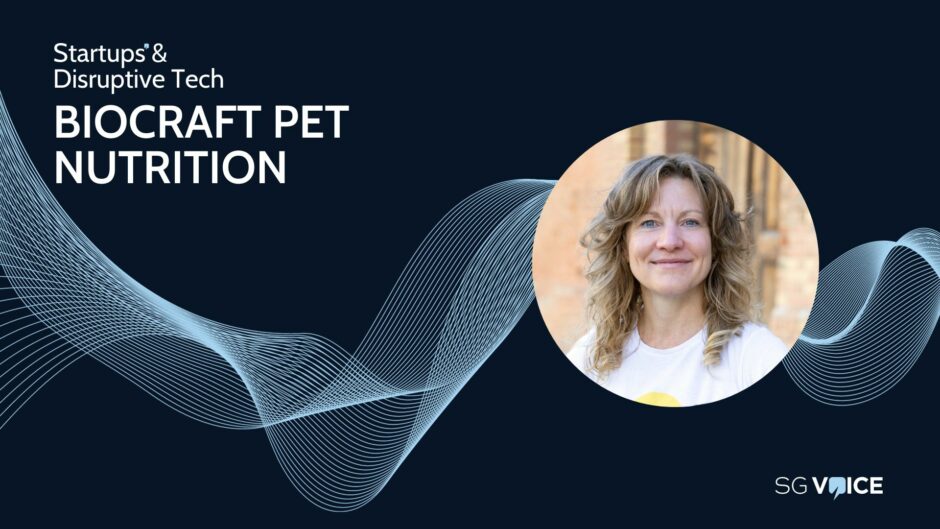 Founded in 2016, BioCraft Pet Nutrition is disrupting the global pet food industry with its development of lab-cultured meat products. The company has raised just under $10 million to date, funding its operations across the US and Europe as well as its ongoing research in Vienna. 
Company mission:
"I started this company with a single objective," says Dr Shannon Falconer, founder and chief executive of BioCraft Pet Nutrition. Motivated by her ethical and sustainable values, she established her firm with the sole intention of reducing the number of animals used in the production of food. 
As things currently stand, the global food system is responsible for around a third of the world's greenhouse gas emissions. Although this includes everything from transport emissions to the methane released during decomposition, the impacts of livestock farming cannot be ignored. 
Indeed, estimates suggest that animal agriculture accounts for almost 60% of the emissions associated with food production. It also results in the destruction of natural ecosystems, with intensive practices having been linked to deforestation, biodiversity loss, resource scarcity and several different forms of pollution. Of course, this is before we even consider the ethical implications of animal farming or the potential health risks of industrialised meat supplies. 
"It was during my postdoctoral studies at Stanford University that I realized I could apply my scientific training and PhD in chemical biology to solve this problem," Falconer continues. "While it may seem like we'll only supplant meat intended for the pet food supply chain, in reality, we can impact the entire animal agriculture industry." 
She goes on to explain that most available pet foods are made from the parts of animals that humans do not wish to eat, as well as those that have died during transportation or from disease. Though these cuts of meat are deemed unfit for human consumption, their sale to pet food producers is a highly lucrative business. 
"Without this profit, the animal agriculture industry as we know it simply couldn't exist," Falconer claims. "Pet foods are not merely byproducts of the human food system, they are a product in their own right." 
By capturing a share of this market, Falconer hopes to lessen the need for conventional meat products while providing a sustainable and ethical option for conscious consumers. 
Lab-cultured meat offers sustainable, ethical option
"The technology for growing animal cells outside of an animal has existed for decades," Falconer explains. "For nearly 50 years scientists have cultured animal cells for disease research and a better understanding of biology. Our process is based on this long-established method." 
BioCraft's products are created by taking a minute sample from either a single animal biopsy or from inside a chicken egg. Cells from each sample are isolated within a specialised bioreactor, allowing precise control over conditions such as temperature or humidity. 
Here, the cells are fed with a proprietary growth serum – a mixture of vitamins, minerals and amino acids that provides the nutrition they need in order to reproduce. Once a sufficient mass has been reached, the lab-grown meat is removed from the bioreactor and the entire process can begin once again. 
The company is differentiated by its uniquely formulated growth medium. Rather than relying on foetal bovine serum, which is extracted during the slaughter of impregnated cows, BioCraft has developed a cheaper and more ethical option. 
"Cultured meat is the only truly environmentally sustainable and humane option for feeding pets the diets they require," Falconer argues. "In addition to cultured meat being far more environmentally sustainable, we expect it to be safer. Our meat cells are grown in a sanitary environment that is free of all common contaminants." 
Target market:
In the US alone, there are over 163 million domestic cats and dogs that rely on animal protein for most of their dietary intake. According to a study from 2017, their consumption accounts for up to 30% of the livestock industry's overall footprint, including land use, water consumption, fossil fuel combustion and the distribution of chemical inputs. 
"People are slowly but increasingly becoming aware of the significant environmental pawprint of pet food," says Falconer. These are the conscious consumers to whom she hopes to appeal. 
With global pet food sales forecast to reach around $144 billion in 2023, the opportunity is not to be sniffed at.  
Moreover, producers of conventional pet foods are experiencing significant supply chain disruptions. If current trends are allowed to continue, there will come an inevitable shortfall. With this in mind, Falconer believes that pet food manufacturers are starting to explore alternative sources of protein, driving demand for lab-cultured products. 
"Along with demand-based shortages and price fluctuations, there are farmed animal diseases and even labor issues that impact supply," she warns. "I expect that climate change, drought, wildfires, and related problems will create entirely new vulnerabilities." 
"In contrast, cultured meat will be a more stable, reliable, and efficient resource that can free manufacturers from the vagaries of Big Ag and the animal agriculture marketplace." 
Regulatory barriers en route to market
"As a startup, access to capital continues to be our biggest roadblock," Falconer acknowledges. "With enough capital, we could overcome most of the other challenges!"  
Nonetheless, there is one particular challenge that cannot be resolved with additional funding. According to Falconer, the drawback of pioneering new pet food ingredients is the burden of being the first company seeking official approval. BioCraft frequently checks in with regulatory experts and relevant authorities, but ultimately it cannot control the timeline of its products' commercialisation. 
Forthcoming plans for scaled-up production
"We're on the road to scale-up and price parity," Falconer says. "Our next step is pilot-scale production. We feel that with the right strategic support, that could be established within a few months. From there we move on to larger and larger batches. At each step we will validate that the nutritional content, texture, moisture levels, and other characteristics remain uniform." 
Falconer explains that this is a critical step, as pet food manufacturers will need a large enough supply to experiment with their recipes and develop their own range of products. Rather than see this as additional pressure, she chooses to focus on the collaborative opportunities it presents. 
"Pet food manufacturers also have sustainability goals," she points out. "As a B2B company, we aren't interested in creating a consumer brand that competes with conventional pet food. Instead, we will partner with those companies, and serve almost as a vertically integrated source of meat ingredients."