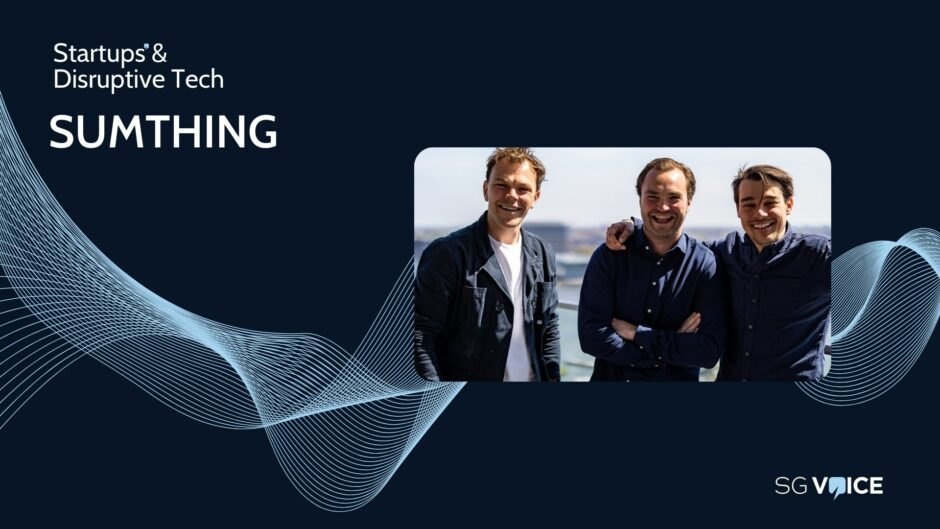 Founded in 2022, Sumthing has developed a streamlined platform for investing in the restoration of nature. From its headquarters in Amsterdam, the startup connects businesses and individuals to carefully monitored projects all over the world. 
Company mission:
Sumthing was established by three environmentalist entrepreneurs – Mike Odenhoven, Gijs Schuringa and Guido de Rooij. Tothether, they set out to make investing in nature an engaging, accessible and meaningful experience that delivers exactly as promised. 
"After experiencing first-hand the complete lack of feedback and visibility upon donating to a tree planting project, we decided that nature deserves better," says Odenhoven. "We're redefining the way that people and businesses make a positive an impact, by making the impact of every single donation visible through our technology." 
"If everyone plays their part and does something, the sum of things will be a huge positive impact. We were fed up with standing by doing nothing, so we decided to start Sumthing, the platform where people come together." 
The sheer necessity of such a platform is hard to deny. Nature is declining at an unprecedented rate, with tens of thousands of species endangered and vital ecosystems being carelessly overexploited. Without natural services such as the provision of valuable commodities, the cycling of water and carbon or protection from extreme weather events, human health is beginning to suffer while more than half of the world's GDP is at risk. 
By strengthening our protection, conservation, restoration, and management of natural resources, there is some hope of regaining control. Ultimately, such projects will be vital in addressing the global climate crisis while preserving the health of the planet and all of its occupants.  
Such approaches also offer an immense economic opportunity, with markets that value and trade in nature already being valued at an estimated $10 trillion per year. Globally, nature-based solutions could create 20 million employment opportunities, providing socio-economic benefits as well as improvements in ecological resilience. 
Despite the obvious benefits of investing in nature, global funding has stagnated at approximately $154 billion per year. When compared with the $722 billion to $967 billion that will be needed each year in order to put an end to nature's destruction, we are left with a significant shortfall.   
Transparently monitored investment in nature
"Sumthing is the platform where you restore nature and follow the progress first hand," Odenhoven explains. "We connect businesses and individuals to a curated selection of nature restoration projects across the globe, and visualize the impact made with each donation using the best that technology has to offer." 
Users can invest in a wide range of projects, including regenerative farming in India, kelp forests in Portugal, tree planting in the UK and plastic removal in coastal parts of Cambodia. When selecting its projects, Sumthing applies a stringent due diligence framework based on advice from its expanding "dreamteam" of ecologists and experts on social and ethical issues.  
Projects that are awarded a high enough score on its matrix are then approached to establish a binding contract that sets clear expectations for what will be delivered in return for donations. Each contract includes clear specifications on the proof that should be provided, as well as transparent details on the project's timeline and pricing. 
With these contracts in place, Sumthing is able to offer its users verifiable evidence that their investment is delivering as promised. Using novel technologies such as satellite imagery, biomass analysis and artificial intelligence, it displays real-world insights into each project's impact.
"Not only does this make donating more engaging, but it also enables us to run a few checks," comments Odenhoven. "For example, we can use the metadata in a picture to check whether the location and date correspond with the invoiced order, as well as any previously shared permits." Similarly, Sumthing has been able to analyse photos of its coral restoration and reforestation projects to ensure that a diverse range of species is planted. 
Target market:
Sumthing's platform is primarily targeted towards businesses, reflecting the role of corporate investment in the restoration of nature. Indeed, the international agreement of last year's conference on biodiversity laid out a clear need for engaged support from both private and public stakeholders. 
With the Taskforce on Nature-related Financial Disclosures having recently released its final recommendations, companies will soon be expected to transparently report on their relationship with the natural world. Those that are able to demonstrate their support of credible restorative efforts are likely to gain the favour of investors and consumers alike. 
Bringing Sumthing's platform to scale
Already, Sumthing is beginning to establish its place in the market, with initial users including Deloitte, EcoChain, HappySoaps and O My Bag. The startup has recently raised around half a million euros from investors aligned with its mission, following steward-ownership principles that enable it to prioritise its positive purpose. 
Steward-ownership brings certain nuances to the company's commercial model. Voting rights are held by people involved in the company and cannot be sold to external stakeholders. Investors and founders are compensated fairly, but only within predefined limits. Any surplus profits are quickly reinvested in support of the overall mission. 
Odenhoven believes that commercial operation is the only way to scale the restoration of nature within the necessary timeframe. This setup ensures that it remains focused on delivering value to clients while being able to attract initial investment. With the assurance of steward-ownership, the founders can be sure that their end goal will never be sacrificed. 
He adds that the company's expansion will depend on businesses stepping up their ambitions and adopting a transparent approach to the restoration of nature. From then on, Sumthing's biggest challenge will be expanding its platform while remaining nimble enough to manage its operations within narrow commercial margins.  
Despite the potential hurdles, Odenhoven is optimistic. 
"Our next milestone is to reach the point where our total platform income matches the initial investment," he says, noting that this target should be achieved by the end of 2024. As the platform grows, he envisions a future of meaningful, collaborative action. For its part, Sumthing is committed to sharing its knowledge, expanding its network and gathering evidence of best practice initiatives.