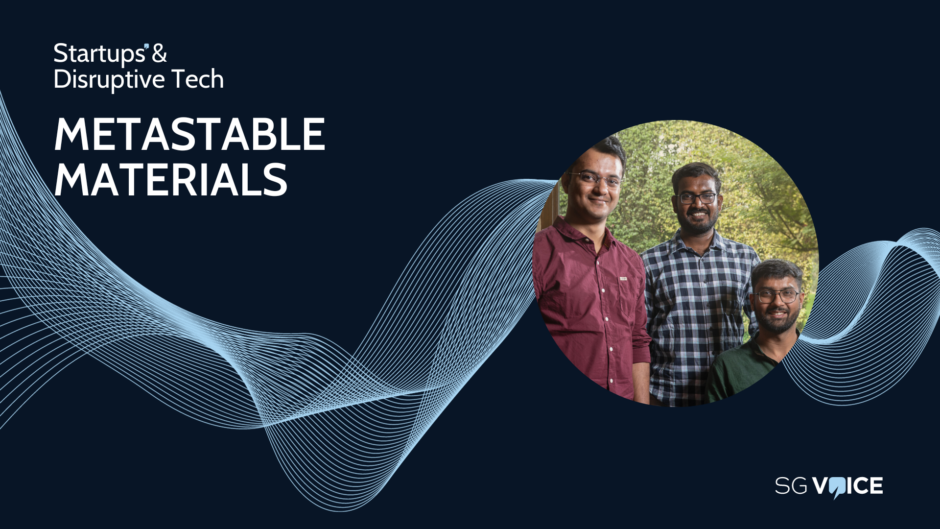 Metastable Materials hopes to revolutionise recycling for electronic waste, starting with the widely used lithium-ion batteries.
Metastable Materials was founded in Bengaluru, India, in 2021 by Shubham Vishvakarma, Manikumar Uppala and Saurav Goyal. To date, it has completed two rounds of funding from investors including Akshay Singhal and Kartik Hajela at Log9, Archana Priyadarshini at fwdSlash Capital, PeakXV Partners, Speciale Invest, Theia Ventures and Climate9ers.
What problem are you solving?
"Lithium-ion batteries not only power our electric vehicles and arguably, every portable consumer electronic device, they are also the beacon ushering us into an era of clean energy and sustainability," says Goyal. "However, lithium-ion batteries are notorious to handle and have a tendency to degrade over the period of their lifecycle. As a result, it is imperative that mechanisms that can handle and grow in tandem with the increasing penetration of the Li-ion batteries into our daily lives be put into place."
The relatively recent foray of Li-ion batteries into the limelight has put us on the back foot when it comes to dealing with the storage and transportation of batteries, according to Goyal, especially the scrapped ones that have reached the end of their useful life. The lack of policies and guidelines and the inherent nature of the batteries to either explode or catch fire puts everyone involved in the value chain at risk, he notes.
Metastable is tackling these issues by developing new and improved technologies for recycling Li-ion batteries and storage solutions for the safe transportation of scrap materials.
What's your industry of operation?
Metastable hopes to revolutionise recycling for electronic waste, starting with Li-ion batteries. It claims that its technology has drastically reduced total energy usage, water consumption and several other inputs that have been traditionally required in the recycling of Li-ion batteries until now.
"This means that we have a lower carbon footprint in recycling per tonne of battery waste as well as better unit economics and less waste generation. We are able to extract up to 90% of the materials inside a lithium-ion battery, while releasing absolutely zero air and water effluents into the environment," says Goyal, adding that this makes it "one of the highest-yielding processes globally".
What is your product and how does it work?
The primary offering of Metastable is its patented recycling technology that can extract critical materials such as cobalt, lithium and nickel, along with copper, aluminium and even plastics, without using any chemicals. This is intended to ensure that the processes are clean, environment-friendly and sustainable for continued usage as the demand for recycling grows in the future. Combined with other inventions in material processing and effluent treatment, it ensures that no air or water effluents are generated or released into the environment.
Goyal comments: "The roots of our path-breaking inventions can be traced back to how we think the entire problem of recycling should be approached. 'One man's trash is another man's treasure'; rather than looking at end-of-life batteries as waste, we consider them like any other ore of the critical metals that we need."
"A typical lithium or cobalt ore has less than 1% concentration. In contrast, lithium-ion batteries contain up to 7% of lithium carbonate and up to 13% of cobalt, making them the richest ores of these metals on the planet. If these batteries end up in trash or landfills, it is not only a waste of valuable resources, but they also pose a harm to the environment."
An evolving market
As companies seek a proper approach to handle end-of-life Li-ion batteries, the industry for recycling them is predicted to hit $36 billion by 2030, with an annual rate of 36%. Current recycling technologies for extracting and reusing metals from end-of-life Li-ion batteries present some issues, such as the logistics of transporting them to recycling facilities, which can be costly due to the extremely flammable nature of lithium and rigorous packing laws.
Efficient metal extraction is also a demanding process that involves disassembly, separation, and recovery, and it necessitates major investments in facilities and engineering, which have proven difficult for corporations to carry out successfully on a large scale, according to Metastable.
"Meeting these issues we aim to provide the world with clean, sustainable and cheaper recycling technologies that ensure a cleaner, greener future of tomorrow, starting today," says Goyal.
What do you perceive as being your biggest challenge?
"The good thing about recycling lithium-ion batteries is that several companies are cognizant of the need of recycling to support the decarbonisation of mobility. However, there is still a long way to go to establish collaborations between multiple stakeholders and ensure smooth operations," Goyal notes.
"There are a lot of constraints when it comes to managing battery health, collection of end-of-life batteries, its transportation and finally, environment friendly recycling of the waste that could otherwise be catastrophically damaging to the environment."
Who do you consider your biggest rivals?
There are several companies and startups working on recycling Li-ion batteries and other kinds of e-waste, such as Redwood Materials, Li-Cycle, Umicore and Northvolt.
What is your next big milestone?
Metastable is working on operationalising its pilot facility in India which has an annual capacity of over 1,500 metric tonnes per annum. Its success will be crucial for developing a deeper understanding of the company's technology operating on a large scale and help us set up a full-fledged recycling unit, 10x the size of this one, to cater to the demand expected over the next few years.
Once the standard operating procedures have been established, the startup's next goal would be to set up a larger recycling centre to cater to the demand for recycling Li-ion batteries at a global level.