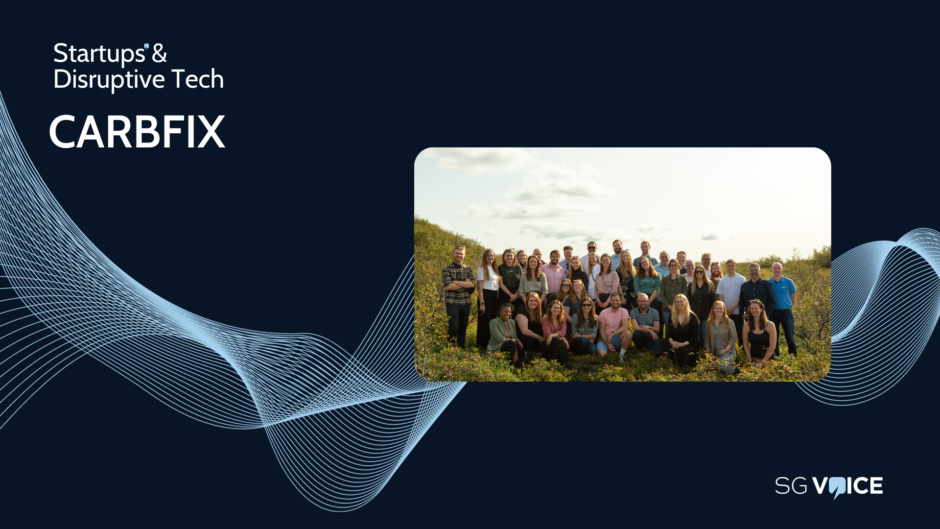 Carbfix has developed a novel solution that involves dissolving CO2 in water and injecting it into basalt, commonly found across Iceland.
Carbfix originated as a project in 2006 and was formally established in 2007 by its four founding partners: Reykjavík Energy, the University of Iceland, CNRS in Toulouse, and the Earth Institute at Columbia University.
The project's progression was spearheaded by Project Manager Hólmfríður Sigurðardóttir, Dr Sigurður Gíslason, and Dr Eric Oelkers. Since its inception in 2007, numerous universities and research institutes have collaborated on the project, with many participating under the aegis of EU-funded sub-projects.  
What problem are you solving?
Carbfix addresses the increasing levels of carbon dioxide (CO₂) in the atmosphere, which contribute to global warming and the associated climate change effects. The company claims to be the world's first CO2 mineral storage operator as well as the first to demonstrate that underground mineralisation of CO2 actually works, with results published in Science in 2016.
"The abundance of basaltic rock around the globe means that it has far greater capacity to store CO2 than we would need to get rid of all the CO2 produced from burning all remaining fossil fuels on Earth," says the team. "Our site in Hellisheiði in Iceland is the world's only commercial underground mineralization of CO2."
Since 2012, Carbfix has mineralised over 90 thousand tons of CO2 in Iceland using proprietary technology. Its largest current project is Coda Terminal, recipient of a €115 million grant from the EU's Innovation Fund, with an expected capacity to mineralise three million tons of CO2 annually.     
"This proven, safe, permanent, and cost-effective carbon storage solution is ripe for significant upscaling both in Iceland and worldwide," the team adds.
What's your target market?
The company primarily caters to sectors that are challenging to decarbonise with significant operations in the US, Asia, and Europe. These include hard-to-abate industries such as steel, cement, and petrochemicals.
A further point source target market is represented by the geothermal energy sector, which holds particular significance for Carbfix, as it's where the technology originated. The business is also actively involved in creating and deploying mineral storage hubs, designed to accommodate CO2 transported by either vessel or pipeline. Another prominent application is Direct Air Capture, where CO2 is directly extracted from the atmosphere and securely stored underground. 
Finally, Carbfix provides expertise to industries willing to explore its carbon capture and mineralisation storage technology through each phase of the development up to implementation and commercialisation.       
How does the technology
work? 
It's a carbon capture and storage (CCS) solution where carbon dioxide is captured, typically from large emission sources, and then injected deep underground. Once there, the CO₂ reacts with basaltic rock formations and undergoes a natural process that turns it into solid carbonate minerals, effectively mineralising the CO₂. This ensures the CO₂ is permanently and safely stored, preventing it from re-entering the atmosphere.  
According to the company, the method is considered benign to the environment, given that it mimics and accelerates a natural process, and there is potential for scaling it up given the abundance of basaltic rock formations on Earth.
In addition to the primary technology, Carbfix provides its expertise in carbon capture and mineral storage (CCMS), project development, and other related services to industries and entities interested in implementing CCS solutions.
"So, while Carbfix's 'product' isn't a physical item one might buy off a shelf, it's a crucial technological solution and service aimed at mitigating the adverse effects of climate change by reducing atmospheric CO₂ levels," the team notes.  "The Carbfix technology is thoroughly tested and proven by science and has been demonstrated to have considerable advantages over the more conventional way of storing CO2 as a gas phase in underground formations as typically carried out within the oil and gas sector." 
What sort of company do you want to become? 
"Carbfix is dedicated to fighting climate change by advancing the technology and practice of underground CO2 mineral storage," the team says. "Carbfix has a clear vision and a long-term strategy to play an important role in the fight against climate change, with the brand recognised as a seal of quality – being the world first company that managed to turn CO2 into stone and doing so for more than a decade."