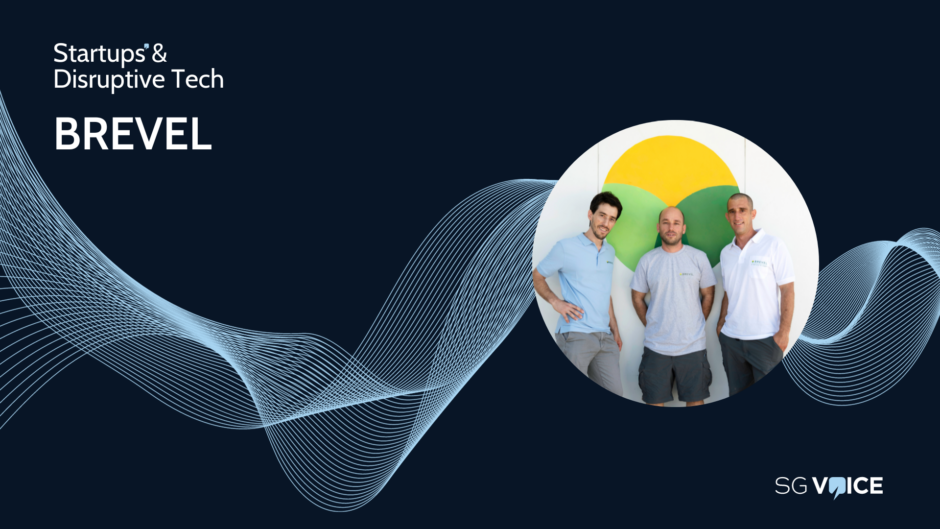 Brevel produces an alternative protein that it expects will be price competitive with pea and soy.
Brevel was founded in 2017 by the three Golan brothers, Matan, Ido and Yonatan. Their grandfather, George, emigrated from Germany to the US in the 1930s with next to nothing to his name. A hard worker, he founded Brevel, a company for slow-turning motors, which was acquired by larger manufacturers and who inspired the three brothers to name their business.
Established in Israel, Brevel has raised $18.5 million in a seed funding round to provide an alternative protein that is neutral-tasting, functional, highly sustainable and affordable to the mainstream food industry. The round was led by NevaTeam Partners and supported by the European Union's EIC Fund, as well as other food and climate funds and strategic partners from the food industry.
What problem are you solving?
Matan trained as a surgeon and wanted to help people live a more healthy and nutritious life, before they get to the point of needing a doctor. Because many vegan foods have low amounts of protein, it can be challenging for vegans to maintain a healthy lifestyle if they consume plant-based products.  
Ido is an engineer with a background in microalgae and invented a new way of producing microalgae efficiently. Finally, Yonatan is a vegan physicist who believes that microalgae can become the ultimate solution.
"To date no one has been able to solve the cost and quality barriers to make this vision become a reality," says Yonatan. "The current alternative protein market has many problems when it comes to cost, flavor, functionality, quality and sustainability. Microalgae are the ultimate source of protein in terms of sustainability, but unfortunately the existing options for microalgae as an alternative protein have very high costs and taste barriers. Brevel's solution for microalgae-based protein has managed to solve these challenges."   
How are you disrupting your market? 
Brevel uses non-GMO microalgae grown in a breakthrough technology which enables tasty and sustainable protein production at cost levels comparable to pea and soy, the leading sources of plant-based protein today. 
Microalgae are normally produced either by photosynthesis in outdoor (or indoor) ponds or closed reactors which are very labour-intensive, suffer from contaminations and produce at low yields and high costs. The alternative is to use fermentation tanks where sugar is added to the process and then the microalgae grow and significantly lower costs and higher yields. 
Brevel claims to be the first company globally that has been able to combine sugar-based fermentation and light in a single process, producing microalgae at very high yields which are rich with all of the functionalities, ingredients and nutrients that are only produced in the presence of light. Its technology is based on indoor, sterile and fully automated systems which are illuminated from within at high intensity.  
According to Boston Consulting Group, the consumption of microorganism-based food will increase dramatically over the next decade, jumping by 45% by 2025 and by 111% from 2025 to 2030, reaching 20 million metric tons of protein annually. This market is expected to be worth $60 billion by 2030.
Finding alternatives to dairy
The company is primarily targeting the dairy alternative sector, which faces a significant challenge in protein content. Other plant-based protein sources such as soy are allergenic and often have overpowering flavours, making them less efficient for use in plant-based milk and cheese products. In contrast, Brevel claims that its protein can be seamlessly incorporated, significantly boosting nutritional value and enhancing texture without compromising on taste, colour, or cost. 
It is focusing on food applications including plant-based dairy, egg, fish and seafood.
"Our protein comes as a dry powder which can be simply added directly to formulations. Our partners today add it in different forms – either directly as powder, or apply some processes such as homogenization, secondary fermentation, etc. to increase its solubility, extract additional flavors and more. This depends on their specific needs and preferences," explains Yonatan. 
"In terms of functionality – at the moment, for our first segment of partners, we actually try to be as inert as possible – increase the nutritional profile of products without changing taste, color, texture or cost for the end consumer. One of our piloting partners described it as a 'ghost protein' – it increases protein content without you noticing it is there. In the second stage, we will be looking to provide functionalities such as gelation, texturing, emulsification and more, which are mostly suitable for fish and seafood alternatives." 
What are your biggest challenges?         
Brevel's biggest challenges are taking the technology and product developed to the next stage of global-scale manufacturing.
"This is a similar challenge in scope to a parallel industry – electric vehicles. It is one thing to develop an electric vehicle that can run a decent mileage, is reliable and is affordable. It is a completely different scope of challenge to electrify all of the gas stations on a national and global scale in order to make electric cars usable and attractive enough," notes Yonatan.
What's your next big milestone? 
The company is scaling its manufacturing capacity with a commercial factory in Israel, as well as preparing for the construction of a much larger facility with a total capacity of 900,000 litres planned for 2025. It is also piloting with a variety of food manufacturers worldwide to develop plant-based food applications with Brevel's protein. The first products incorporating Brevel's protein inside are expected to be on shelves in 2024.
Presently, the company runs a 500-litre reactor in its existing R&D centre. It will soon relocate to its new manufacturing site, where it has installed a new 5000-litre reactor, which will commence production in the last quarter of 2023. 
How can you create synergies in your sector?
Brevel sees all other businesses operating in its field not as competitors, but as collaborators on a shared mission. Thus, the possibility of synergies and collaborations are "almost unlimited", according to Yonatan.
"For example, companies who are developing alternative protein from other plant-based sources, from precision fermentation or even cultivated meat companies are excellent partners for us to develop hybrid products with different sources of protein combined," he adds. "This is especially true with cultivated meat and precision fermentation solutions where the cost of production is too high to be a stand-alone product and who are actively looking for additional sources of protein which will complement their final consumer products."  
Additional synergies in the short and mid-term are around manufacturing facilities. Brevel is actively looking for companies that are already producing different products based on fermentation, with existing facilities where the company can join in with its own production lines and benefit from that same underlying shared infrastructure. 
Whom do you consider your greatest competition?            
Brevel sees three potential areas of competition/collaboration opportunities.
"The first is other startups developing microalgae-based protein. However, none of them are using or developing fermentation+light systems and have a disadvantage in terms of commercial value of their biomass," concludes Yonatan. "The other group is startups developing protein from other microorganisms, namely yeast, bacteria and mycelium. Some of these are amazing and inspiring companies, however they have challenges in terms of flavor and texture which limit them to specific segments of the food industry and will limit very wide adoption. Lastly, the biggest competition will come from the incumbent sources of alternative protein which are mostly pea and soy. These are very large deep-rooted industries which we are ultimately compared to as the bench-mark and which we will have to compete with for market dominance in the mid and long-term."