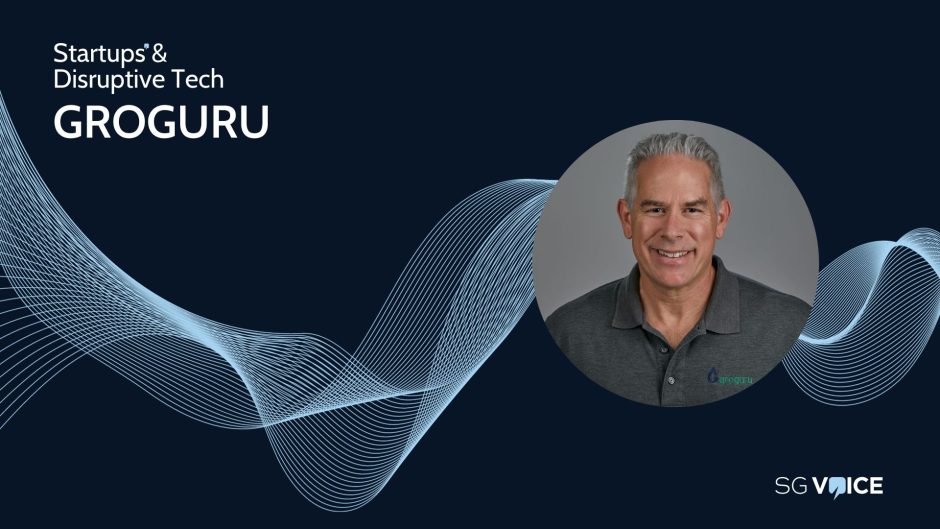 Founded in 2014, GroGuru has developed a patented wireless technology that enhances its provision of soil analysis and irrigation advice. Based in San Diego, US, the company was established by Patrick Henry, Jeff Campbell and Farooq Anjum. 
Company mission:
"We are working to create a more sustainable planet for our children and grandchildren," says Patrick Henry, GroGuru's president and chief executive. "We don't have enough fresh water and nutritious food to feed a growing planet without innovation and new technologies." 
While this may sound dramatic, Henry's warning is one to take seriously. According to the UN Food and Agriculture Organization, around 670 million people will be faced with some degree of malnourishment by 2030. Overall food demand is on course to increase by over 50% before 2050, but the necessary resources for its production are increasingly threatened by climate change. 
Water is one of the most crucial inputs of food production. Changing weather patterns, however, are severely reducing the availability and reliability of its supply. Agricultural soils are drying out as temperatures rise, leaving crops unable to grow. Already, the agricultural sector accounts for around 70% of all freshwater withdrawals, up to 40% of which will have to reallocated for other purposes as competition increases. 
"Water scarcity and usage is a critical issue for farmers," Henry continues. "GroGuru helps commercial farmers to increase their crop yields and use water and other scarce resources in a more sustainable way." 
Wireless technology enables optimal irrigation
GroGuru's Wireless Underground System (WUGS) enables the permanent installation of soil sensors, avoiding the need for annual replacement. The sensors are deployed at the root zone of the soil, gathering data which is stored in the Cloud and aggregated with additional insights from the company's partners, such as weather forecasts or recorded rainfall. 
Data is gathered in real time before being analysed by artificial intelligence. The software then generates strategic advice, empowering farmers to optimise their irrigation according to the specific needs of each plot. 
The company also offers an alternative field telemetry system for crops that wouldn't typically benefit from the permanence of the WUGS. Root vegetables, for example, tend to have their root zone disrupted during harvest. For these types of crop, GroGuru's InSites software service can be integrated with third-party hardware such as Sentek's Drill-and-Drop or AquaCheck's probe sensors. Other configurations are available for perennial crops such as grape vines or citrus trees. 
As well as enabling more sustainable water consumption, GroGuru's technology helps farmers to lower their irrigation costs while also saving on the expense of annual sensor deployment. By optimising their practices, they may be able to increase their overall yields and improve their profitability. 
A market opportunity worth billions of dollars
According to GroGuru's research, the technology pays for itself before the first growing season has come to an end. For many farmers, it seems a no-brainer. 
The company will primarily target commercial farmers from within the US, a market it values at approximately $2 billion per year. These farmers tend to be growing field crops such as soy beans or corn, which are ideally suited for WUGS installation. 
Beyond the US, GroGuru estimates that the worldwide market amounts to an annual $5 billion. With the flexibility of its products accommodating various farming priorities, there is little to stop its expansion across the globe. 
Securing funding for growth
"Our biggest challenge to-date has been raising capital in a tough environment," Henry proclaims, adding that the firm's next big goal is to reach $2 million in annual recurring revenue.  
"Market demand for our solution is off the charts. So, our primary objective now is to continue to develop enhanced solutions based on customer feedback and market needs, and to continue to develop our market channel partnerships." 
Despite the challenge of securing funds, GroGuru has raised around $9 million since its inception. Its latest round of investment closed at a total of $2.3 million, led by Cove Fund and Impact Venture Capital. 
"Another major milestone that we expect to achieve in the mid-term is one million deployed acres," Henry continues. "GroGuru already has over 200,000 acres under management and our existing farmer customers represent one million deployable acres. Our channel partners cover 20 million acres. So, our focus is to educate our channel partners and end customers." 
Initial partners include Google (NASDAQ:GOOG), Verizon (NYSE:VZ), Amazon Web Services and a number of big players in the agricultural industry, such as NutraDrip, EcoDrip, Valley Irrigration and PivoTrac. GroGuru intends to keep forming synergies, and is actively seeking partners in big data, agricultural equipment, agricultural inputs and the retatil of irrigation equipment.