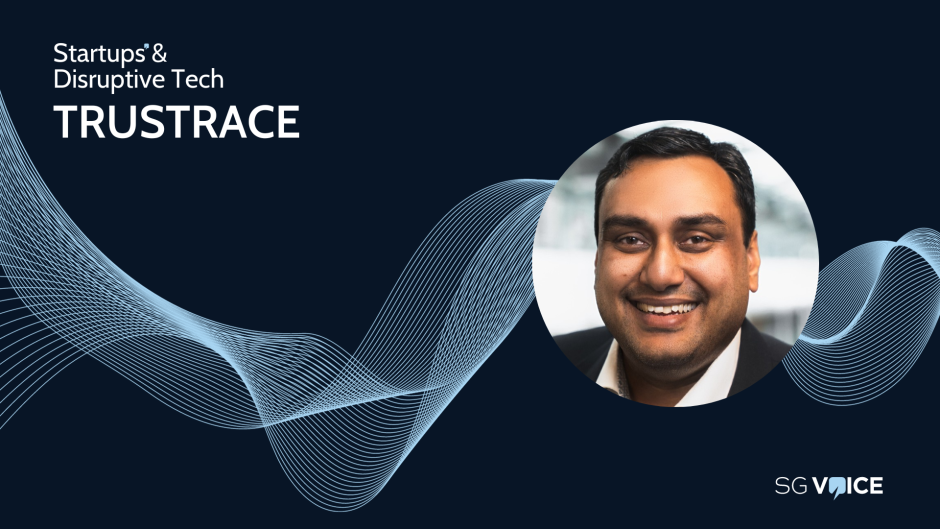 TrusTrace provides verified supply chain data for brands to help brands navigate global regulations and reach their sustainability targets.
TrusTrace was founded in 2016 by Madhava Venkatesh, Shameek Ghosh, Saravanan Parisutham and Hrishikesh Rajan. It is headquartered in Stockholm, with offices in India, US and France.
The company is at a scale-up stage with plans to go into a Series B funding round. TrusTrace secured $6 million in its Series A funding round in 2021, which was led by Industrifonden and Fairpoint Capital, together with previous investors BackingMinds, and with support from Fashion for Good.  
Its customers include major brands such as Adidas, Brooks, ASICS and Tapestry, and partners on projects such as Trace4Value and industry guides include: Marimekko, Kappahl, Elis, SIS Swedish Institute for Standards, GS1 Sweden, TEXroad Foundation, Circularista, 2bPolicy, Trimco Group, Rudholm and Haak and Aalto University.  
What does the company do?
Pushed by the increasing number and complexity of global laws and regulations, voluntary ESG targets, and growing consumer demands for insights on product-level risk and impact, primary supply chain data on individual product performance is becoming a must for brands worldwide.
This requires a new standard of supply chain data collection – TrusTrace enables brands to map and understand the ESG credentials of their supply chain network, as well as capture data for individual production batches in real-time, as materials and finished goods move through the supply chain.  
What is the product and how does it work?
TrusTrace is a SaaS company with a platform for product traceability and compliance, providing many of the world's largest fashion and retail brands with verified supply chain data. It enables brands and suppliers around the world to standardise how supply chain and material traceability data is captured, digitized and shared.
Through providing access to validated supply chain data, brands know, prove and improve the impact of their supply chain. The data can then be used for risk management, compliance, product claims and footprint calculations, and gives brands the ability to share data about a product's origin, impact, and much more.  
Along with the platform itself, TrusTrace offers industry guides to help create a more circular and sustainable supply chain. The first iteration, the Traceability Playbook, was published in June 2022, and the second iteration launched in 2023 at the Global Fashion Summit in Copenhagen. Both outline the business case for implementing traceability and the wider considerations for brands, including government regulations, material innovation and the circular economy, while empowering organisations with the tools needed to identify their traceability needs, successfully implement the right solutions, and standardise and scale traceability efforts industry-wide. 
A market for transparency 
TrusTrace taps into the supply chain sustainability software market, which is expected to grow to nearly $4.3 billion in 2027 at a CAGR of 28%.
"While there are many solutions on the market for mapping suppliers or gathering insights on supply chain networks, few can collect and validate primary data from the supply chain at scale, and many rely on secondary data, but cannot verify whether the data collected is for a specific product or purchase order," TrusTrace says.  
The company is piloting several innovation projects with European brands and standards bodies to define the best solutions for future regulatory and circularity requirements. For examples, it has worked with the European Commission to pilot the upcoming Digital Product Passport, which incorporates defining the infrastructure for collecting the necessary data, including distributed data, sourcing logic, and API-based data sharing from third parties. 
What are your biggest challenges?
"The major challenge we see in accelerating the pace of adoption of traceability, and hence the ability to know, prove and improve the impact of your supply chain, is more organizational than anything else," the company says. "Implementing traceability is a transformational project, and has to be treated as such. But the space is still so new, with no defined 'way of doing things', that it can leave companies wanting to take a 'wait and see' approach, rather than take immediate action. This proves to be counteractive, as immediacy is necessary to ensure compliance with upcoming laws and regulation."  
Indeed, brands need to involve counterparts from all the relevant departments to align on common objectives, prioritise these objectives, and ensure they are ready to embark on their journey towards traceability and circularity. The lack of up-to-date internal data, such as quality data in ERP and PLM systems, often creates roadblocks to this goal. Data on purchase orders, styles and material compositions is crucial to have in systems to automate the whole traceability flow, and oftentimes that data is not well maintained, thus requiring it to be 'cleaned up' before progressing with automated traceability.  
Another prevalent challenge, according to TrusTrace, is the lack of leaders with enough traceability experience to implement these transformations from the brand side successfully.
"There's a lot of companies hiring traceability managers now, but few have overseen a large-scale traceability implementation before, so the road may be a bit bumpier than with more experienced managers. This is why we're focusing heavily on education and expectation setting, so companies know what they're getting into and can prepare properly to successfully achieve the right outcomes," the company explains. 
W
hat has your scale up strategy been?
The company has been focusing on its EU and US operations, where it has experienced exponential growth in interest from brands. It has been positioning itself as an expert on the regulations affecting the fashion sector, which TrusTrace deems the driving force for brands needing deeper insights and verifiable data on their supply chain. 
"It's critical not to try to solve for one regulation in specific – although it is of course necessary to gather data that proves compliance – ultimately, it's most important to ensure that the right data infrastructure is built to collect, validate and analyze that data needed for any regulation," the company notes. "Essentially, global laws and regulations will ask for a lot of the same type of data, so if you have that data at the ready in one place, extracting the relevant parts for specific laws and regulations becomes easy."  
Its current goal is to extend the benefits not only to its customers but to the broader industry as well. Part of this effort stems from sharing insights through its playbooks and knowledge hub. Additionally, it is actively engaged in collaborations aimed at standardising and automating data gathering and validation.
W
here would you like to see collaboration?
"One of the most effective ways to create a circular and traceable supply chain is through data and insight sharing. It doesn't matter who makes change happen as long as it happens; enabling the whole industry to make a change garners greater results than individuals hoarding knowledge to get ahead on their own," TrusTrace says.
What do you consider to be your biggest competition?
"If you look at what typically happens in RFP processes, which is usually where we meet competition, we are seeing quite a broad group of solution providers still, which is a testament to the market and the positioning of the different players not being well-understood yet," TrusTrace concludes. 
"However, if you think about the market at large – the vast majority of brands still gather this data manually, using existing systems combined with emails, excel and data storage options, so in terms of volume, the biggest competitors are brands not implementing solutions to achieve a circular and traceable supply chain."