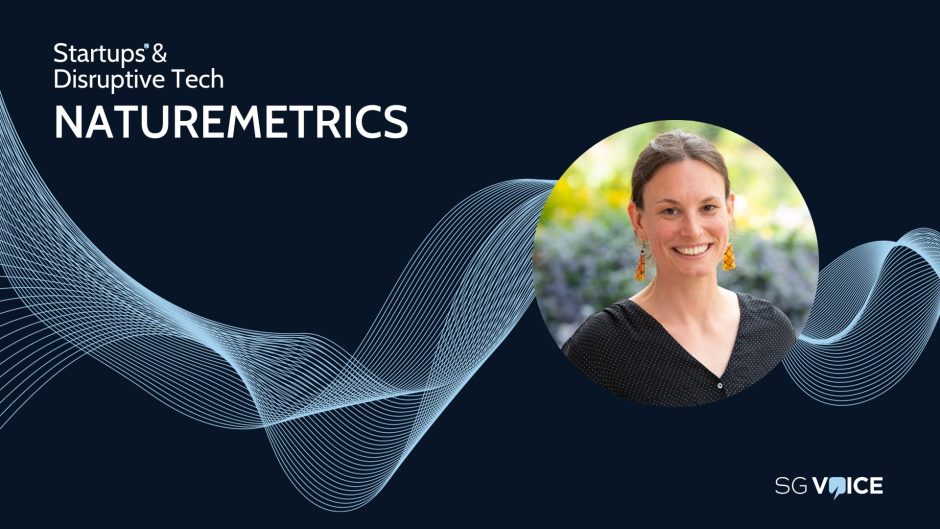 NatureMetrics was founded in 2014 by a group of ambitious scientists led by Dr Kat Bruce. By providing end-to-end intelligence platform, the company helps its corporate clients to monitor, assess and improve their relationship with the natural world. 
A vision of nature intelligence
The vision behind NatureMetrics was born from Bruce's PhD research at the University of East Anglia in 2012. Having proven the accuracy and reliability of environmental DNA (eDNA) monitoring, Bruce was inspired to put actionable insights into the hands of those who could make a real difference. 
"Our vision is to become the world's foremost provider of nature intelligence," Bruce explains. "We empower organisations worldwide to make informed decisions for nature, converting the complexities of nature into simple insights through our end-to-end biodiversity reporting solution and guidance on the implementation of nature strategies." 
There is an evident need for such a service, particularly as new reporting frameworks and regulatory requirements begin to emerge. Nature is notoriously difficult to measure and monitor, but companies and developers are under increasing pressure to minimise their negative impact and demonstrate best practice solutions. 
EDNA monitoring as a subscription service
Using its proprietary eDNA technology, NatureMetrics provides its customers with end-to-end monitoring of their relationship with the natural world. With its multiple layers of accurate and verifiable data, the solution can fulfil a range of reporting requirements, from environmental impact assessments to the continuous monitoring of ongoing projects. 
"The data we provide is a highly accurate and verifiable snapshot of biodiversity on our clients' particular sites of interest," says Bruce. "We also offer nature strategy services to help businesses make meaningful progress towards their nature targets." 
EDNA relies on the tiny traces of DNA that are left by all forms of life as they interact with their surrounding environment. By collecting samples from specific locations and analysing the DNA they contain, NatureMetrics is able to assess the range of species present in that unique habitat. 
With its service-based model, the company goes beyond simply cataloguing species at one point in time to help businesses determine the long-term impact of their operations. This not only helps them to spot any risks, but also to identify opportunities for improvement and monitor their success. 
Rising pressure catalyses the market
Already, NatureMetrics works with over 500 customers across the globe, including recognisable names such as Nestlé (SIX:NESN), EDF Renewables and Anglo American (LSE:AAL). As well as corporations in a wide range of different sectors, the service is used by government agencies and non-governmental organisations. 
"Pressure is mounting from all directions for businesses to reconsider their approach to nature," Bruce comments. "From new nature reporting obligations to increased expectations from shareholders and customers, companies are having to rapidly put in place new models to understand, reduce and disclose their impacts on nature." 
With this in mind, NatureMetrics maintains a broad target market. 
"We're here to support any organisation wishing to get ahead of incoming regulation and transition towards nature-positive practices," Bruce continues. Still, she notes that regulation is moving faster in certain industries, such as agriculture or resource extraction. This has heightened demand from these particular sectors, but the trend is likely to broaden alongside new requirements. 
Expanding the company's influence
Just recently, NatureMetrics has unveiled its most advanced service to date. The Nature Intelligence Platform is designed to act as a holistic solution for the measurement and reporting of nature performance. 
Among its key features are the ability to manage an entire portfolio of activities from a singular dashboard, the detection of invasive and endangered species, and a system for tracking long-term outcomes for biodiversity. Recognising the challenge of new reporting requirements, the platform also simplifies the process of gathering and communicating transparently audited data. 
"The launch of our new nature performance monitoring subscription service and Nature Intelligence Platform is a huge milestone in our growth journey," says Bruce. 
Still, NatureMetrics' ambitions do not end there. Having already partnered with the UK Business & Biodiversity Forum, Fauna & Flora International, and the International Union for Conservation of Nature, the company will continue to seek opportunities for collaboration. Building on its active participation in the development of guidance from the Taskforce on Nature-related Financial Disclosure, it will continue to expand its influence. 
"Collaboration is the only way forward," acknowledges Bruce. "Data is a common language we can all coalesce around, from ecologists to financial risk managers. More collaboration is needed, from those setting policy, right through to the local communities who are nature's guardians."