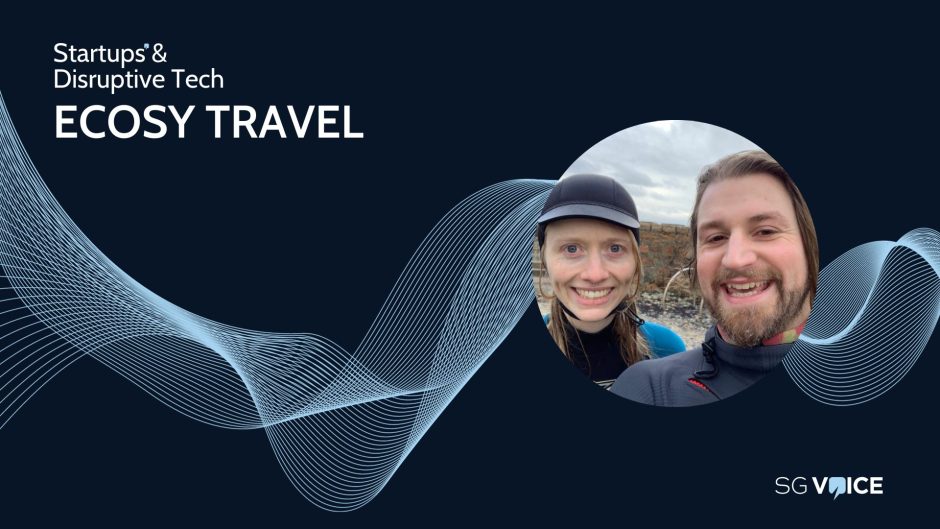 Ecosy Travel is developing a platform to help customers engage in responsible and sustainable tourism. The London-based venture was founded in 2022 by Tim Plummer and Rebecca Thompson. 
Connecting the dots of sustainable travel and tourism
"Ecosy Travel is solving the disconnect between the demand for green travel and the accessibility of planning a trip," says Rebecca Thompson, Ecosy's co-founder and chief executive. "Lack of information, inconvenience and perceived high prices prevent more people from booking, despite wanting more sustainable travel solutions." 
Indeed, research suggests that over 80% of global travelers recognise the importance of sustainable travel, but 60% are either unaware that greener properties are an option or simply do not know where to find them. Without the right information on hand, their plans are unlikely to align with their values. 
On the contrary, tourism has been estimated to account for around 8% of global carbon emissions, while also being linked to social exclusion, biodiversity loss and the destruction of critical natural ecosystems. The development of infrastructure and facilities can lead to deforestation, wetland drainage or other forms of land-use conversion, while overcrowding and littering can result in the degradation or pollution of fragile environments. 
When these risks are effectively managed, however, tourism can offer several benefits. It can serve as an alternative to more ecologically damaging industries such as mining or logging, while creating an incentive to conserve the natural environments it so often depends on. With the proper support, businesses can increase their revenues, create new job opportunities and contribute to the surrounding community. 
Empowering tourists to compare and reduce their negative footprint
As a social enterprise, Ecosy is primarily driven by its goal of empowering travellers to make more conscious decisions. 
Its software will enable partnering properties to monitor their carbon emissions, which will then be publicly displayed to consumers via Ecosy's booking platform. Property owners will be given recommendations on how they can lower their impact, with the incentive of knowing that Ecosy's customers are actively searching for the most sustainable options. 
The booking platform will also feature a journey planning tool that helps users to compare the carbon footprint of various modes of transport. Rather than searching for the cheapest available flight, they may find that they are able to take an affordable coach or a scenic route on a train. 
As Ecosy expands its user base, learning from the experiences of its virtual community, the platform's algorithms will generate inspirational suggestions that are carefully matched to each user's preferences. Future versions are expected to include an element of gamification, incentivising customers to reduce the impacts of their trip as much as they possibly can. 
Innovating at the cross point of two growing markets
Ecosy's offering captures several market trends, signalling its potential for rapid growth. Online booking services were valued at just under $520 billion in 2021, with a projected compound annual growth rate (CAGR) of 9% from 2022 to 2030. Demand for environmentally sustainable options is rising in tandem, with forecasts indicating a CAGR of around 15.2% until the end of the decade. 
According to Thompson, Ecosy has its eyes set on the millennial generation, who take an average of 5.6 trips per person per year and are particularly active in terms of researching and booking online before sharing details and photos of their travels on social media. 
The uphill battle for transformative change
Like any startup, Ecosy still has some hurdles to jump. 
"The market for online travel booking is highly concentrated," Thompson explains. "As a new entrant, our major challenge is securing brand recognition and convincing customers to switch away the company that they're used to." 
"As with most products, being sustainable isn't enough to convince people to choose your product," she adds, before delving into Ecosy's strategy. "We're developing a unique customer value proposition based on community-driven holiday inspiration and social sharing, ensuring our users have the best possible trip. We're making sure that booking with us isn't about compromising to 'do the right thing' but about creating unforgettable experiences." 
"We're driven by creating unforgettable experiences for our customers that align with their values too." 
This purpose-driven approach certainly seems to be working. Already, Ecosy has secured £200,000 in grants from Innovate UK and formed valuable partnerships with recognisable names including Megabus, Railsmartr and the Youth Hostel Association. 
Another challenge worth noting is the lack of collaboration on the part of incumbent corporations that are used to turning an enormous profit without considering the consequences of their operations. 
"To effectively deliver the transition to a regenerative tourism industry its essential that all industry players are working together with a common objective," Thompson observes. "The biggest threat to our objective as a company is continued greenwashing in the tourism industry that tries to sweep the issue of aviation emissions under the rug to continue with business as usual." 
"There are lots of instances where companies are making claims about being a 'good' travel company while still relying on flights for their business model. The most important thing we can do as a sector is give people the information they need to make informed decisions and sell a different type of experience based on positive experiences for people, places and planet." 
What next for Ecosy Travel?
Reflecting these values, Ecosy Travel is currently awaiting its pending B Corp approval. Thompson explains that this certification will provide evidence of her company's efforts to drive climate action while delivering a positive social impact. 
With plans to conclude its first round of investment in coming months, Ecosy also recognises its responsibility to meet the expectations of future shareholders. The round is intended to raise around £700,000, which will be put towards marketing, research and development, recruitment and salaries. 
Ecosy's online app will be available from December 2023, integrating its route-planning and booking capabilities with updated engagement features. From the beginning of 2024, its emissions monitoring software will be available to all partnering properties. Owners will be able to assess their emissions per stay, and customers will be able to view the same data when planning their trip. 
"For Ecosy to effectively scale, the value propositions for the customer and supply chain need to closely align to ensure there are strong incentives on both sides to join the platform," Thompson acknowledges, highlighting her grasp of the dual-ended market. "Scaleup for the company also requires significant marketing budgets to support our customer acquisition." 
Such cautious modesty is always a wise approach to take, but Ecosy has good reason to hope for success. The venture is driven by care and by purpose, authentically meeting the clear demands of its target market while doing its bit for the planet and all of society.