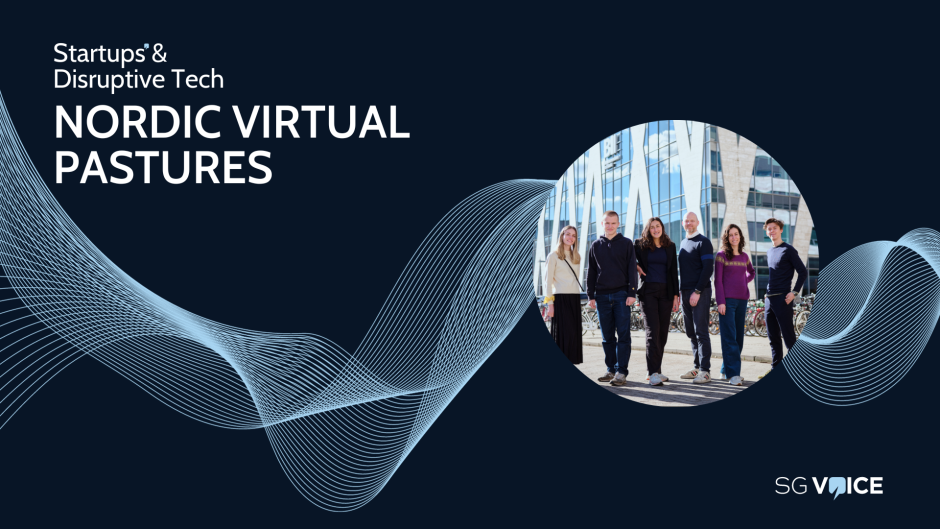 Nordic Virtual Pastures (NVP) makes cell culture medium from waste streams to cut costs, promote sustainability and enable the cultivated meat industry to achieve scale.
NVP was founded in 2021 in Denmark by Jan Dideriksen, who has an MSc in chemical engineering, in collaboration with Solange Mussatto, who is an expert in sustainable bioprocesses and the production of food from waste.
Currently in technology readiness level 5, the company has so far raised $2.2 million from Bio Innovation Institute, Food & Biocluster Denmark and the Danish Innovation Fund.
What problem are you solving?
The global population is growing rapidly – and so is our meat consumption, but conventional meat production has major negative impacts on people and the environment.
Cultivated meat is one of the alternative proteins that could help transform the food system. A major challenge for cultivated meat producers is scaling of cultivated meat production, which is crucial for reaching price parity with conventional meat and making it a competitive option.
The transition of cultivated meat technology from the laboratory to the production site puts a high demand on cell culture medium, which is the nutrient soup that meat cells grow in, primarily in terms of price, volume, and environmental footprint. NVP is looking to answer these needs with its process to turn industry waste streams into functional cell culture medium.
"How do you go from growing a couple million cells in a flask in the lab to many trillions in a huge 5.000-liter bioreactor? No cell media solution currently exists that is suitable. NVP is creating crucial ingredients to enable such large-scale production, based on farming waste streams to promote both circularity and cost reduction," explains Dideriksen.
What is your product and how does it work?
NVP has developed a solution that is suitable for large-scale cultivated meat production by producing cell culture medium from byproducts from the farming industry. It has established a novel protocol through which various waste streams can be utilised to extract crucial ingredients and growth boosters for cell growth, in a process that the company says saves water and electricity compared to conventional extraction methods.
After the nutrients have been extracted, NVP uses high throughput design of experiments to alter the composition of the nutrients to give optimal growth of select cell lines. This allows the tailoring of the growth medium to cell lines relevant for cultivated meat customers, increasing the utilisation of media ingredients, optimising growth, and thereby reducing costs and the environmental footprint of the production process.
What's your target market?
The cultivated meat market is in its infancy. A few cultivated meat manufacturers have already launched commercially, such as Upside Foods and Eat Just, and are selling their products at select premium restaurants in the US and Singapore. Regulatory bodies are moving to allow sales of cultivated meat products in several places around the world.
As of 2022, plans for 18 new pilot-scale facilities are announced for cultivated meat manufacture globally. NVP is tapping into the needs of the major players which are upscaling and seeking to initiate collaborations for crucial production inputs such as cell culture medium.
How are you disrupting it?
"The cultivated meat market has created a whole new need for a food-grade medium that is also cost-effective and sustainable. Currently, no available solution exists that can provide the full range of required components of basal medium and growth components for mammalian cells in a way that is both cost efficient, food-grade, and sustainable – and with the potential for high volume production," Dideriksen says.
"Ingredients for the most common media solutions are based on processes such as enzymatic or microbial production. They are costly and have high carbon footprints and could result in higher GHG emissions of cultivated meat than conventional meat."
Indeed, the current ingredients most common in the industry are pharma-grade, highly purified and, because the production of individual components is done separately, they are not expected to ever become cost-effective enough to drive down the price of cultivated meat production.
"We simply can't rely on the existing industry to meet the demands of cultivated meat production in their journey to cost parity with conventional meat," Dideriksen adds.
"We are looking to establish a whole new supply chain, looking to procure the ingredients from alternative sources such as a range of organic side streams from the food and agricultural sector, which can provide most of the needed nutrients in one fell swoop, meeting requirements for effective, inexpensive, and sustainable media."
"We ultimately want to enable upscaling of cultivated meat production by reducing cost and environmental footprint of key inputs in the process. We want to establish ourselves as experts within cell culture medium, freeing cultivated meat producers to focus resources on product refinement and path to market instead."
What are your biggest challenges?
The field is still in its infancy and the novel nature of the technology has presented the field with several upscaling hurdles such as cell line development, end-product formulation, bioreactors and so on. The technologies supporting cultivated meat are rapidly developing and in return so are the needs of NVP's potential customers.
"The setting that we validate our technology in today could be replaced by another preferred technology tomorrow. As B2B providers in the cultivated meat industry, we must therefore stay constantly up to date and in contact with potential customers and the state of the art within the field," Dideriksen explains.
"We must be flexible, while simultaneously moving forward with upscaling efforts to match the needs of cultivated meat manufacturers. It is a fine balance, and this is where partnerships and proof of concept with customers are crucial for us."
What will it take for you to scale up?
NVP is currently seeking a suitable partner for upscaling production and expects to start an upscaling to 1,000-litre batch production by mid-2024, resulting in a monthly production of about 20,000 litres.
It then plans to scale to 5.000-litre batch systems in 2025 and will move to establish production facilities with relevant market partners, such as producers of organic sidestreams in the food and agricultural sectors, using a licensing model. This is expected to reduce the costs of transport of goods and raw materials, increase market reach, and fully use local organic waste streams, cutting costs and environmental footprint.
"Scaling to this level will likely require either soft funding, investment, or secured contracts with bigger companies. Until such scaling becomes a reality, our main objective is to continue developing our in-house pilot plant facilities to optimize our solution by testing it in our connecting laboratories together with partners," Dideriksen adds.
Who do you consider your greatest competition?
Formulation of culture medium for mammalian cell cultivation has been ongoing for decades and is well established in literature, with most cultivated meat technologies being based on these formulations as they are reliable and effective.
NVP says it sees no challenge in competing with these technologies because they are "completely unsuitable" for large-scale production due to their pharma-grade and expensive nature.
"Several smaller companies have emerged that are also developing cost-effective cell culture medium for the purpose of cultivated meat production; however, the biggest competition will come from culture medium based on protein hydrolysates from sources such as pea and soy," Dideriksen adds.
"These technologies, although promising to be cheaper and more sustainable, are still built on industry primary products (not by-products). NVP's innovative process, on the other hand, can utilize the vast amounts of various waste streams that already exist, not relying on de novo crop cultivation, which causes wide-scale deforestation and other knock-on effects such as biodiversity loss, rising carbon emissions, soil erosion and water contamination."
"Ultimately, the scale of growth in the industry will mean that several specialized culture medium providers will be required to mature in the B2B market surrounding cultivated meat manufacturing," Dideriksen concludes.