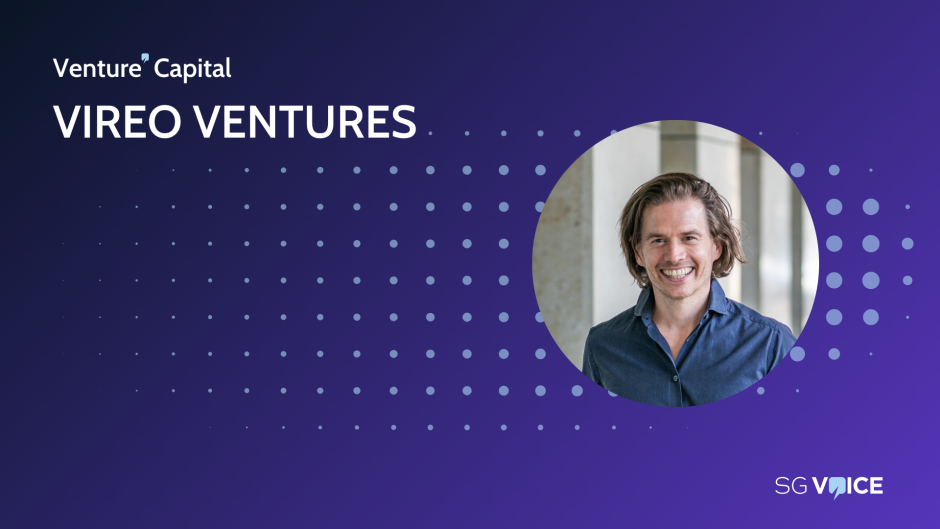 Vireo Ventures is a seed- and pre-seed-stage VC focused on European tech startups that drive electrification.
Vireo Ventures was founded in Berlin, Germany, in 2020. The firm is targeting a fund size of €60 million and announced its first closing in November 2022. It expects to close another investment before the end of 2023 after securing over $20 million from the European Investment Fund in October 2023.
Its current portfolio counts six companies, of which the following have been made public:
Green Fusion, a cloud-based energy manager for the intelligent control of heat, electricity, and e-mobility;

About:Energy, a battery intelligence platform that combines battery testing and software expertise;

Amperecloud, a startup that can manage the entire portfolios of owners and operators of renewable energy plants on one platform;

Pionix, an open-source software provider enabling the management of charging stations for electric cars.
Who are the partners?
Its team has five partners: Felix Krause, Matthias Engel, Thomas Labryga, Sven Heiligtag and Mischa Wetzel.
"We're a team of five partners with complementary backgrounds rooted in the energy sector. We've founded multiple companies, worked in consulting and M&A, spent years at some of the most relevant European energy players and have previously played instrumental roles in building venture capital units. We've worked together since 2016 and jointly invested in over 80 companies," says Krause.
"What drives us and sets us apart are two things. Firstly, we have almost unparalleled energy experience. We understand technologies and the impact they will have. Secondly, we believe in the power of partnerships. In the energy sector, the 'new vs. old' or 'innovation vs. incumbents' storyline has long prevailed. However, that won't bring about the change we need to see. On the contrary, we believe in an 'innovation and incumbents' approach."
Why did you decide to set up the fund?
Roughly 75% of global CO2 emissions can be attributed to our electricity, fuel and heat consumption. According to the International Renewable Energy Agency, reaching net zero by 2050 will require annual clean energy investments of over $4 trillion. A core part of these investments needs to address the overhaul and electrification of the energy system.  
The electrification of the energy system, however, is not just about the total increase of renewable energy production. According to Vireo, it's also essential to make our energy systems much more intelligent and to connect formerly separate sectors via sector coupling. We need to think of energy, mobility and heating as one.  
"Our investment thesis focuses on early-stage companies that do just that. They intelligently transform and connect energy supply, mobility, transportation, buildings and industry. Their technologies allow for an efficient use of resources, bring costs down, facilitate rising electricity consumption and resilient energy systems, and contribute to reaching net zero," says Krause.  
"Europe is a great place to start a climate tech company. We have leading universities, strong networks of potential business partners and access to talent. The technologies being developed are excellent. But European innovators need to improve at finding product-market fit sooner, and we need to scale across European markets and beyond much faster. We want to see European teams go to customers earlier rather than waiting until they have the supposedly perfect product. Those who take risks will build impactful businesses. We've set up our fund to help them do so."
Fighting the misconception
According to Krause, climate tech is the most exciting space to invest in. "The world is clear about the urgent need for climate solutions. The regulatory environment is shifting in many areas, paving the way for climate tech," he says. "Combining the fight against human-caused climate change with a good outlook on financial returns is a solid argument to get involved in the energy transition space. We see it as the investment opportunity of our lifetime."
"We sometimes encounter a misconception that climate tech will take a long time to deliver meaningful returns. This is only partially true. Our focus lies specifically on solutions that combine strong long-term growth potential in the future with real impact today. The market exists, the teams are raring to go, and customers need solutions. If you want to be part of this opportunity, the time to act is now."
Who are your LPs? 
Vireo's investor portfolio includes industry executives from the energy space, private equity executives, entrepreneurs, family offices and other market participants. 
"Of course, they want to generate returns. But they also come to us to access our market intelligence, enter the electrification and energy space, and benefit from early access to high-potential innovation," explains Krause. 
"We actively collaborate with our LPs and connect them with our portfolio companies to exchange ideas and co-create. We enable our portfolio companies to leverage the diverse backgrounds our LPs bring to the table. Meanwhile, the LPs benefit from the engagement with our start-ups because it allows them to identify important trends for their business and areas of interest early on."
"We regard this opportunity to actively engage with and participate in our network as crucial to jointly shaping the ecosystem. It embodies our idea of cooperation," he adds. 
What sectors and geographies are you targeting?
The firm focuses on asset-light B2B models that drive the energy transition in five sectors: energy supply, mobility, cities and buildings, transportation, and industry.
Energy supply emphasizes solutions for the decentralised, carbon-neutral transformation of energy distribution and consumption, while mobility centres around the widespread adoption of electric vehicles and the development of charging infrastructure. Companies in the cities and buildings space support the creation of smart, sustainable urban environments, emphasizing integrated electrified systems for efficient resource management.
Transportation solutions focus on electrifying sectors such as last-mile delivery and public transportation. It also targets companies that tackle the digitisation of industrial processes, reducing their carbon footprint and making them sustainable. 
In terms of geographies, the focus is on European companies with a strong emphasis on the DACH market, Nordic and Benelux countries, as well as the UK and Ireland.  
What stage of funding are you targeting?
"Our sweet spot lies in early-stage investments in pre-seed and seed companies," notes Krause. "For well-performing teams, we reserve capital for follow-on investments in their Series A. By investing early on, we can maximize our impact, help companies find their product-market-fit more quickly and support their long-term success." 
He continues: "We spot exciting teams and companies early because of our network of partners, long history in the relevant sectors and further commitments, such as mentoring programs and ​​judging awards. ​​We see over 90% of significant climate tech deals during their fundraising phase."
How much do you invest in one go?
On average, Vireo initially invests six-figure amounts and reserves about double the investment sum for follow-on investments.  
The firm stresses that it looks at its investments from more than just a monetary perspective, as its market access is equally important for the founders it works with and invests in.
Krause explains: "Given the strong set of LPs and our long-standing experience in the energy sector, we can create opportunities for collaboration. This is especially important for companies at an early stage, as they're often still looking for the product-market-fit. Our networks accelerate that process."
What do you look for in a pitch?
For Vireo, the team is the deciding factor for any investment decision.
Krause explains: "We start by looking at the problem the team is solving. Once that is clear, we must understand how the team plans to solve this problem. Then, we consider the team composition. Are they able to execute their vision? Do they have strong personalities? What prior experience in the space do they have? Will they be able to work together in challenging circumstances? These are the types of questions we ask ourselves." 
"We've been in this field for a long time. The quality of companies we see has improved drastically, as has the founders' level of ambition, their business models and pitches. Today, teams move into climate tech because it's a fruitful business opportunity that will deliver real impact."