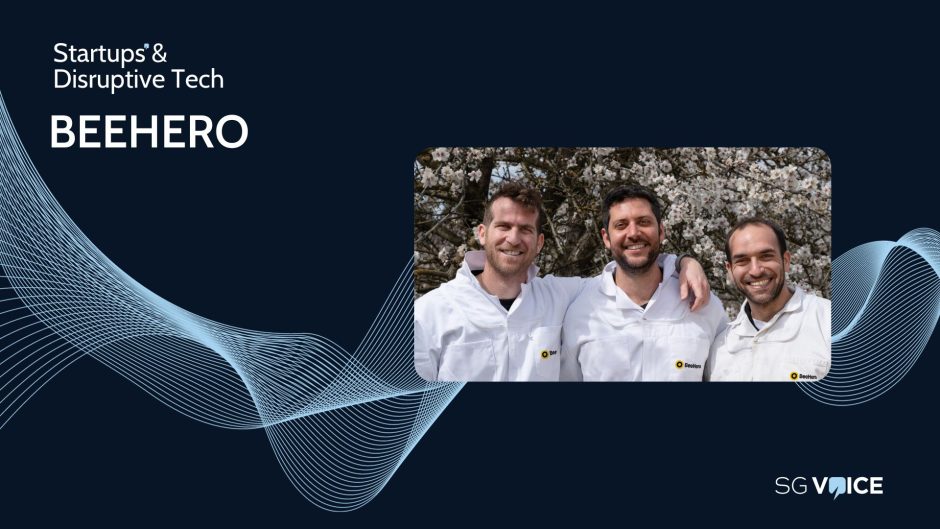 In 2017, four entrepreneurial co-founders banded together to establish BeeHero, a precision technology startup based in Fresno, California and Israel's Tel Aviv. With $64 million invested to date, plus a further $4 million in awarded grants, BeeHero is advancing its mission to future-proof global food supplies. 
Startup on a mission to prevent global suffering
"BeeHero is on a mission to future-proof global food security through the use of sustainable, data-driven pollination practices in commercial agriculture," says Eytan Schwartz, BeeHero's vice president of Global Strategy. 
"With data-driven insights at their disposal, beekeepers, growers, and other agricultural stakeholders can adapt their practices to cope with evolving environmental conditions, pest dynamics, and other variables that influence crop health and productivity." 
In today's changing world, BeeHero's efforts could not be more necessary. More than 90% of the society's most important crops are pollinated by bees and other insects, but their populations are declining due to rising temperatures, land-use conversion and the excessive use of agricultural chemicals.  
Without their service, estimates suggest that global crop production could fall by up to 8%, reducing the supply of healthy, unprocessed foods including fruits, vegetables, nuts and legumes. As the population continues to rise, there is real concern that hundreds of millions of people will be left without access to decent nutrition. 
Already, the decline of pollinating insects is estimated to be contributing around 427,000 premature deaths per year due to the decreasing availability of vital nutrients that protect us from non-communicable diseases. The reduction of crop yields also has significant social and economic implications, including the disruption of subsistence-based livelihoods and global trade activity worth an estimated $577 billion per year. 
Data-driven optimisation of pollination
BeeHero's solution is a Precision Pollination service that combines data on bee activity with relevant environmental, agronomic and horticultural insights. Its platform combines these sources of data to accurately assess the pollination requirements of each different crop. Advanced algorithms quantify the number of bees needed for every acre, and the health of each bee colony is automatically monitored. 
With actionable data in hand, BeeHero's clients can make more informed decisions on feeding, treatment, swarm management, and queen replacement to optimise every colony. Thanks to the platform's analytical modelling and comprehensive visualisations, they can quickly evaluate potential interventions rather than be hit by nasty surprises. 
The company's combination of affordable hardware and sophisticated software ensures that its service can be applied at commercial scale. By integrating data from both within and beyond the field, its remote technology provides users with a constant feed of quantified information on pollinators' performance and how it could be improved.  
A win-win solution in a rapidly expanding market
"By leveraging cutting-edge tools and technology, BeeHero is revolutionizing the way pollination is managed and optimized in large-scale crop production," Schwartz enthuses. "BeeHero processes over 10 million daily samples from more than 220K managed beehives.  
"This empowers growers to unearth profound insights into the pollination process, including optimal conditions for pollination, bee behavior patterns both in the hive and in the field, and potential obstacles. BeeHero transforms this data into actionable insights, equipping commercial crop growers and agribusiness stakeholders with the knowledge they need to make informed decisions that boost crop pollination, increase crop yields, and promote sustainable agricultural practices." 
Ultimately, BeeHero's solution benefits agricultural producers, food manufacturers and distributors as well as wider society. Its direct target market includes commercial-scale growers and beekeepers that are working to optimise the pollination of crops including almonds, avocados, and berries.  
With over 300 million hectares of crops either fully or partially reliant on bee pollination, Schwartz estimates that BeeHero's total addressable market is valued at approximately $38 billion. Expanding beyond the growth of fruits, nuts and vegetables, its platform could support the production of commodity crops such as soya, coffee or cotton. 
Upcoming plans in pursuit of growth
Already, BeeHero has established itself as a major player in both the US and Australia, with a particular focus on the pollination of almonds. Initial partners include Monson's Honey and Pollination, with Schwartz hinting that several other big names are on board.
Following its launch of a new platform that narrows in on in-field pollinator activity, BeeHero now plans to expand internationally while widening its scope to cover crops such as canola, alfalfa, apples and sunflower. It will also continue its work with various stakeholders to promote sustainable practices, habitat conservation and the enhancement of biodiversity.
With the backing of investors including Convent Capital, UpWest and iAngels, as well as the European Commission, the BIRD Foundation and the Israel Innovation Authority, the ambitious startup is certainly one to watch.