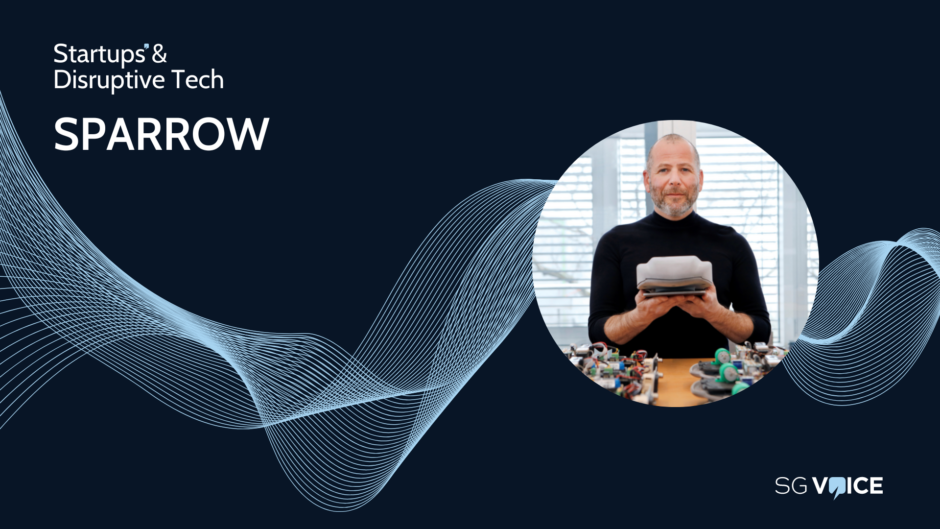 SG Voice is interested in startups that are disrupting the status quo. Sparrow harvests and analyses data to improve the quality of city life, in order to eliminate or dilute sources of pollution via simple solutions.
Sparrow.city was founded in Switzerland in 2019 by Maxim Interbrick and Elshad Hajiyev.

Company vision
Sparrow intends to help cities offer solutions based on data about the urban environment, traffic and forecasts, and directly help citizens with accurate information so they can change their routines, avoid high-pollution areas and live healthier lifestyles.
It says: "Urban residents will have the ability to get real-time pollution data to support with everyday decisions such as the best timing to go for a daily run, which neighbourhoods are noisiest when looking for a new property or finding the least polluted route for a commute to the office."
What problem is Sparrow solving?
Sparrow says that there is a "complete lack of accurate information" about the urban environment at the street level, as well as technology operating 24/7 and designed for data-driven decision-making.
The company says: "Sparrow is the 'Swiss knife' for sustainability identification. In terms of ESG, climate change and sustainability, we do a lot in terms of standardisation. As an associate member of the International Telecommunication Union (ITU-T SG20) and a leading in-house standard, Sparrow enables cities to achieve KPIs to become smart and sustainable."
It adds: "At the same time, we are fully compliant with SDG2030 Goals 3 11 and 13. Sparrow is also part of UNEP's global air quality program and many other local and federal programs in both developed countries and countries suffering from huge environmental problems."
Target market
The company targets cities and urban areas, to monitor air quality, noise, road quality, traffic, and mobility.
What is Sparrow's technology, and how does it work?  
The startup has developed an ecosystem for the collection and analysis of data on the urban environment, consisting of various parts. The plan is to create a network of autonomously moving and multi-sensor scanners by using the infrastructure of public transport to measure and collect data street by street.
The data is collected by Sparrow Nodes, which are sensors to be installed on the roof of vehicles that move around the city. They have been designed to measure more than 15 parameters simultaneously and feature sensors PM10, PM 2.5 and PM1 to detect NO2, O3, CO and CO2 gases, noise measurement and recognition, vibration and acceleration measurement, road quality as well as temperature, relative humidity and atmospheric pressure.  
This data is then aggregated, processed and blended with historical information to provide context. The data is stored in an environmental marketplace, providing direct access to stakeholders, businesses and citizens and support decision-making.
What challenges does Sparrow face? 
The startup is currently facing challenges from a legislative standpoint, as cities have problems accepting data coming from microsensors. It is also likely to experience supply chain issues as its nodes are in high demand, with potential delays in delivery.
What will take to scale up Sparrow's product and on what timeline?
Sparrow said that it needs "proper funding, a mass production plant, a team of Data Scientists" as well as fast adoption of its technologies in cities. 
What's the next milestone?
The startup is working to have 100+ cities worldwide using Sparrow within the next 18 months, with a focus on India, South America, the EU, the US and Asia.
Funding to date
Until August 2022, the company was financed through the FFF and the Swiss government. In September 2022 it received angel funding of CHF 500,000, with plans to have a fundraiser in the first quarter of 2023.
Who are Sparrow's biggest rivals?
The existence of rivals suggests a growing interest in the development of a market and a sense that there is rising demand for relevant solutions. 
Sparrow says: "Our market is taking shape these days. Any company that measures the urban environment in one way or another can be a competitor and a partner at the same time. Nevertheless, today we consider companies such as Aclima, Atmotrack, Pollutrack as competitors, although none of them offer Sparrow's complete package."