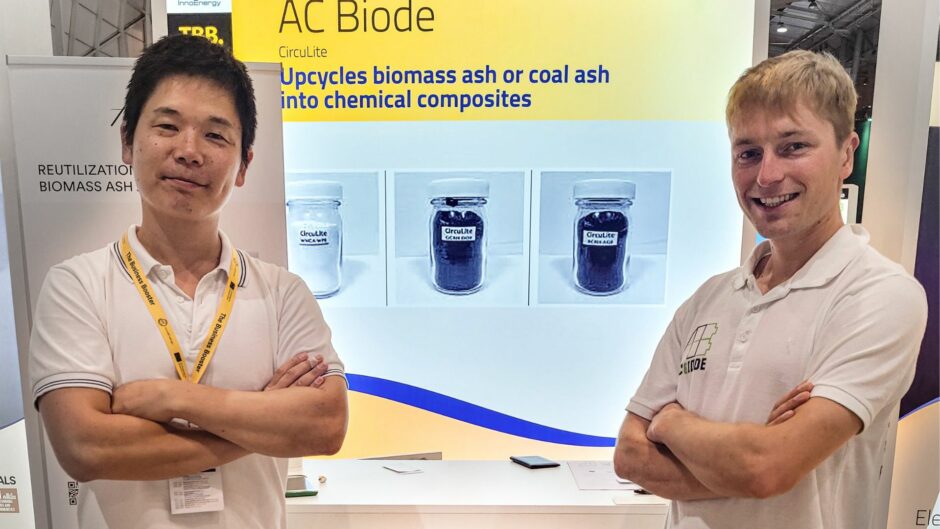 AC Biode is a cleantech startup focused on three projects: AC battery systems, catalysts for chemical plastic recycling, and a process to upcycle waste ash.
AC Biode was founded in 2019 in Luxembourg by Tadashi Kubo and Dr Atsushi Mizusawa, with labs in Japan and Europe. It is developing novel engineering solutions in chemistry and electronics, including battery systems for electric vehicles (EVs), catalysts for recycling plastic chemically, and upcycling waste ash.
What problem is AC Biode trying to solve?
The startup is developing what it claims to be the world's first standalone AC battery by using the 'Biode'. Biode is a new word the company created because it has both the characteristics of anode and cathode.
It is intended to be an alternative to lithium-ion (Li-ion) batteries, which are currently the most commonly used for EVs but are still considered a developing technology. Researchers worldwide are working on improvements to cut their relatively high costs, extend the product life, and address safety concerns around overheating. Recovering and recycling their components at the end of their life remains a challenge.
Chief operating officer Robert Kunzmann says: "To tackle climate change and air pollution, batteries are crucial for e-mobility and energy storage of renewable energy. To achieve this, we need to develop new materials or new types of batteries other than Li-ion batteries; however, it takes years and millions of pounds to do so." 
"Compared with the current DC Li-ion batteries, our batteries are safer, more efficient, and have a double life cycle and we aim to integrate or minimize converters and inverters. We already have received two patents and are going for two more this year."
How does it work?
Kunzmann continues: "We recognized that new materials alone will not create fundamental change. Therefore, we focus on the electric circuit inside the battery. Electric cars are charged in alternating current (AC) and the AC motors use AC, but the batteries cannot store AC. All batteries in the world store energy in direct current (DC)! This means that electricity needs to be converted from AC to DC to be stored and again from DC back to AC to be used. This leads to a loss of energy. This energy could be used to make cars go further."
AC Biode focused its efforts on storing AC electricity by reviewing how the battery works. Researchers used a switch to split the alternating current into the anode and cathode, finding out that the anode and cathode cannot handle this current directly. They added a new electrode to the battery they call 'Biode', which works as an intermediate electrode between an anode and a cathode.
Design process
Kunzmann adds: "We realised early on that simply improving Li-ion batteries would take a decade and the competition would probably beat us to market. Then one day we watched Apollo 13. We saw that Tom Hanks lost power in space. His only chance to survive was to optimise the entire system, not just the batteries. This made us think: 'What would the crew of Apollo 13 do?'"
"Of course, Li-ion batteries were designed to power light bulbs and small electric appliances such as radios, not large 3-phase AC motors used in cars. Battery manufacturers focus on improving batteries, while circuit manufacturers focus on improving circuits. The Apollo 13 approach would be to take a system view to optimising batteries for the use of electric cars."
After lots of failed attempts, the company started using a single semiconductor switch, to split the 50Hz charge between anode and cathode, but it was stuck with very low voltage outputs, which would not be of use to electric cars. 
Kunzmann continues: "It wasn't until a few months later we came across the Cockcroft–Walton voltage multiplier exhibited in the National Science Museum in London. This technology was designed to multiply low voltage AC current. A quick search showed that the patent had long expired. This was the final part we needed to create a fully functioning prototype."
How is it different from other batteries?
AC Biode claims its battery can create high-voltage AC from a single battery and a single switch, regardless of the number of electrodes. This is especially relevant for electric vehicles such as electric cars, as they require a high voltage AC current. Compared with the current DC batteries, the startup's AC batteries are expected to be: safer, due to the lower electric voltage of AC; have a double battery life; generate 15% higher capacity by reducing the number of cells in series; and cut costs by 15%.
Moreover, AC Biode says the technology can be used with other types of batteries such as all-solid-state ones, while it is compatible with existing materials and battery production lines.
What's next for the company?
It is working on securing a milestone research and development licensing agreement with a large battery manufacturer. Once that is achieved, it will launch a series A funding round.
It is also further developing its technology on the technical side and in terms of pilot tests. Kunzmann adds: "We are also codeveloping our systems with Salesian Polytechnique in Tokyo, Japan and receiving several inquiries from automobile Tier 1 / Tier 2 companies. 2024 will be the first test with electric cars and regenerative brakes."
Funding to date
The company says it cannot disclose the exact amount, but it is "in the region of several millions" of euros. Backers include EIT InnoEnergy and Genesia Ventures.
Target market
AC Biode is targeting manufacturers of batteries and battery parts. The world market share for these parts is dominated by Asian parts manufacturers, and there are also a lot of clusters of battery, electric circuits and mobility companies in Europe. 
Another goal is to receive development fees and secure milestone licensing agreements with battery manufacturers and integrators, especially challengers in the industry. Some examples are Murata, LG, Samsung, Kyocera, and Toshiba. The commercialisation of the battery may start earlier for micro-transportation, such as drones and e-scooters, and energy storage applications.
What other technologies has AC Biode developed?
The startup is behind two other products. Circulite is designed to process coal and biomass ash from industrial sites, which can then be transformed into end products that adsorb oil spills, filter industrial pollution and provide ingredients for beauty products. The company says it is commercially ready and can be used at clients' sites, reducing waste transport costs and integrating the full industrial cycle locally.
Plastalyst is a chemical catalyst, which decomposes plastic polymers into monomers. This process can break down plastics that would otherwise be difficult to decompose, and which normally are sent to incinerators or landfill. As such, they can be recycled rather than thrown away.