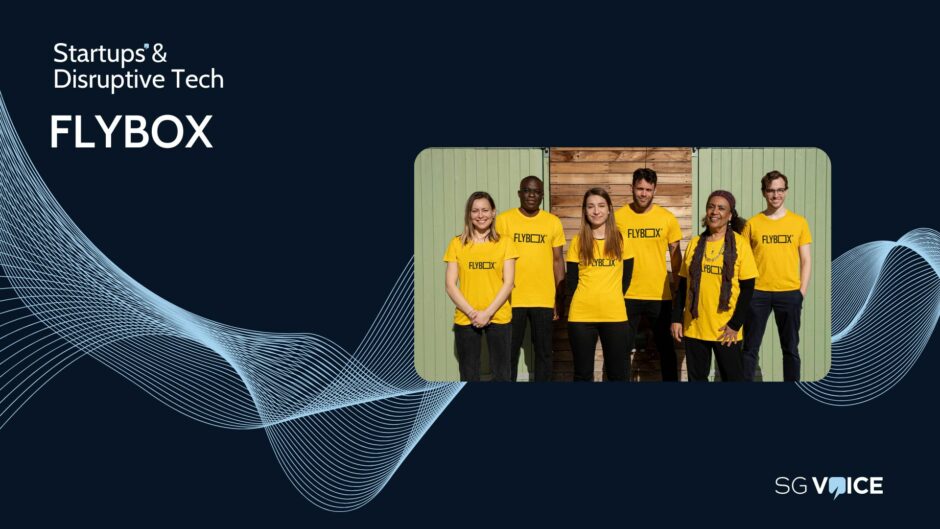 The global hunger and malnutrition crisis is unprecedented; food insecurity means as many as 828 million people on the planet  don't know where their next meal is coming from, fuelled in part by the climate crisis. A UK start-up called Flybox has been awarded over £1 million in grants by Innovate UK and the European Union to address hunger shortages around the world.
Dubbed the 'Ikea of insect farming' Flybox creates modular insect farms which transform organic waste into nutrient dense insect-protein used for animal feed and fertiliser with some pretty impressive results.  A single Flybox installed on a site can result in 37% higher growth rate in fish, 30% increase in pigs weight and an almost 20% increase in chicken weight gain. Similarly one Flybox will result in up to 70% higher tomato yields and a roughly 7% higher crop yield compared to commercial organic fertilizers.
The company was founded in 2021 by Andrea Jagodic (CEO), Larry Kotch (COO), Thomas Stringer (CFO), Mike Walker (CTO) and operates out of London and Nairobi.
What does Flybox do?
Flybox creates an efficient way for the food system to transition away from unsustainable animal feed and fertilizer – by helping them create their own insect protein factories.
Jagodi says: "We lower the barrier to entry for creating a viable insect farm. Currently the price tag for an insect farm is in the tens of millions. Flybox can accommodate budgets of £200k+ and make insect farming viable for many more companies that want to get involved."
Company mission
The company's goal is to unlock insect-farming for every food producer, retailer and farmer on the planet, so that through increases in efficiency, profitability, and a huge reduction in environmental impact, they can successfully transition to sustainable agriculture, and feed the world: confidently providing abundant, sustainable and nutritious food to all.
Jagodi believes that achieving this goal  will give the world a real shot at achieving SDG 2—feeding the world, for all intents and purposes—and it's of the utmost importance. He says: "It's the reason we exist—to feed the world, because frankly the chance of that happening without democratising solutions like Flybox at a rate much faster than anything else going on right now is our best shot.
"Exclusively centralised facilities around shiny, new, often over-engineered environmental tech are not going to produce the results the world needs by the time it's needed. The good we'll do is putting the power in the hands of the many and getting the actual results (feeding the world) is why we get up in the morning."
How does it work?
The company provides modular insect farms, combining three different elements. The three core technology products – the Flybox Breed, Hatch and Grow -can be configured into multiple layouts to build insect farms of any size or orientation for customers in a variety of industries.
The modules have software climate control programs making them very easy to operate. Once the modules are in place, then load them with organic waste, which is then recycled into protein, fat and other products using the insects.
It unlocks circular waste management for food producers, retailers and farmers on a global scale by providing a top quality source of feed and enrichment for farmers on their own land.
The average large supermarket, farmer or food producer could take 20+ Flybox Grow containers per site, which could upcycle up to 6,500 tonnes of waste per year and save 6,000 tonnes of CO2 per year per site—equivalent to the emissions of 1,200 people in the UK.
Target market
Flybox is looking to disrupt the traditional animal feed and fertiliser production markets, which are estimated to be worth around £450 billion and £250 billion respectively. They are considered prime targets for solutions like Flybox.
The world is projected to be short 60 million tonnes of protein by 2030, as climate extremes, economic shocks and soaring food & fertiliser prices reap chaos for food producers around the globe. Demand for animal feed  alone is expected to double by 2050.
There is growing interest in the potential to transform these sectors and competitors such as Better Origin, Goterra and Livin Farms are all early stage players in a market which could be of a significant size.
Challenges to be overcome
The biggest issue to overcome for any company addressing these sector is legislation. According to Flybox, the UK government is embarrassingly behind on legislation allowing the use of insect products in certain parts of the food systems,  or even the use of certain waste feedstocks as part of the insect rearing process.
While there are many applications that already exist in the UK, the progress could be exponentially faster if existing legislation (which has been adopted in Europe) could be implemented here. Jagodi says there is the potential to create serious value for the economy if the UK went a step further, and highlights that both Tesco and WF have been advocating for this.
Scaling growth
Jagodi says: "Our aim is to be the largest vendor of this kind of technology by the end of 2025. We have an ambitious R&D roadmap and focus on customer experience and qualifying customers to make sure they can actually benefit from insect farming and are not solely relying on media portrayals." The company is on track with its plans. It completed an initial seed round of £2.5 million and is demonstrating its end to end farm in its site in Buckinghamshire.
In general Flybox aims to be a global company with a footprint in as many countries as possible. Territories identified as high priority are: UK, EU, US, ASIA, Middle East, Africa (Exc China) which have a serviceable, addressable market of around £4 billion.
In most likelihood the company will have to specialise in a section of the market. Players are already addressing the large mega farm and mega processing plants (such as companies like Innova Feed). Their massive scale and the access to capital their customers enjoy should mean that collectively they should via partnerships come to take off the table the top 30% of equipment sales to the large mega factory model.
The remaining 70% of the serviceable, addressable market that is much more likely to align with Flybox's tech and farm configurations would therefore amount to £1.23 billion. The company is targeting 15% of this market or £185 million in revenue per year.
The company has had a successful run of projects in Kenya and the UK in partnership with local companies, NGOs and government. With its UK and European grants, and the backing of HSBC, Flybox is currently in talks with some of the biggest names in agriculture, food production and supermarkets globally. By unlocking insect-tech solutions for food producers, retailers and farmers everywhere, Flybox is poised to play a significant role in accelerating the global transition to circular agriculture.