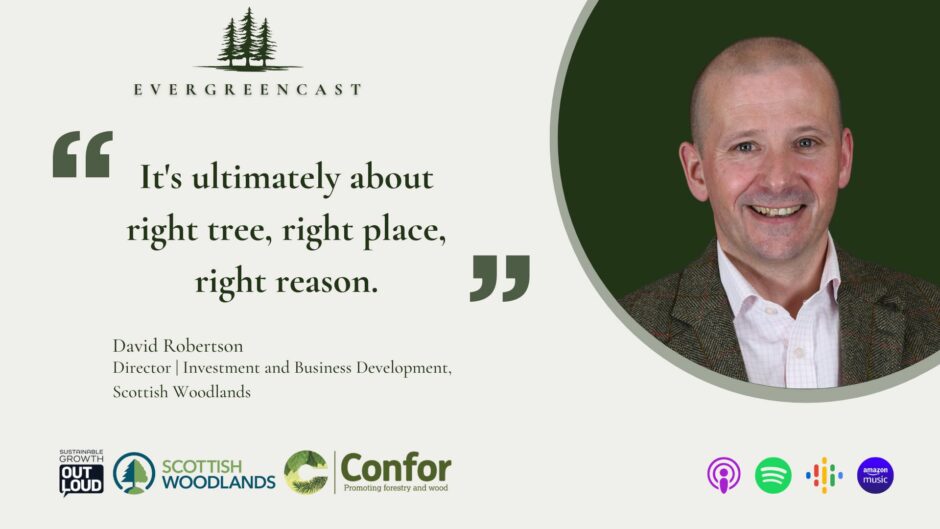 The current cost-of-living crisis, energy security, a climate emergency… the forestry and woodland sector has an overarching and sometimes surprising role in addressing all these challenges.
We're all aware, for example, that property prices have soared over the past two decades in terms of the value of our houses – and perhaps now exceptionally aware given the recent and well-publicised rises in interest rates.
Perhaps fewer know that the forestry market has also experienced a surge in activity. According to rural estates specialist Savills, there was a value increase of 19% per gross hectare in 2022 compared with the previous year in the established forestry plantation market.
In larger-scale properties, the firm reported, forestry continues to outperform most investment assets in terms of annual returns – and remains particularly attractive, both as a standalone investment or as part of a larger property diversification strategy.
Meanwhile, the Scottish Government has exacting environmental targets and recognises the importance of supporting the sector to meet those as the route to net-zero carbon by 2045 clearly won't be achieved without significant development of new woodland creation to provide a material with a much lower carbon footprint than steel or concrete.
David Robertson, Director of Investment and Business Development at Scottish Woodlands, says that the UK Government aims to have 40% of new builds per year constructed with timber frame by 2050. The current figure is just 18% per year across the UK, with England (which accounts for some 84% of all new UK housing every year) sitting at 9%.
"There is a significant change in attitude from house builders, specifiers and buyers needed to achieve this and the UK's three largest housebuilders – Barratt, Taylor Wimpey and Persimmon – are all actively investing in timber frame and offsite construction facilities in England," he adds.
There are other challenges: there's currently been a dip in timber value due to reduced demand owing to the cost-of-living crisis and like others, the industry saw some disruption caused by the coronavirus pandemic.
"Plus, In the UK we are forecast to have a decreasing availability of timber from the late 2030s due to the impact of reduced planting of coniferous trees from the early 1990s until quite recent years.
"Exacerbating this across the UK is the failure to meet the current tree planting targets set by the devolved government, and those targets are set to rise. In 2022 for example, Scotland's woodland creation saw around 8,200 hectares, around 55% of the 15,000 hectares target being achieved – but on the positive side this is still the equivalent of over 19 million trees in the ground."
Those trees alone won't be enough though. The World Bank reports that as we already import more than 80% of all the timber we use in the UK there is an urgent need to reduce our reliance on imports – not just because our trade deficits were £8.2bn in 2022 but also because of the overseas environmental and social impacts this entails.
And while the situation here is highly regulated, that in the countries from which we import much of our timber are not, with the EU saying that between 15% and 30% of all timber traded globally is illegally logged.
So, to the list of energy and food security, which have become urgent issues since Russia invaded Ukraine last year, we now need to add timber security, like we did when the Forestry Commission was set up in 1919, says Robertson. But where is all the extra timber we need going to come from?
The Committee on Climate Change's report – Net Zero The UK's contribution to stopping global warming – May 2019 outlined a "Further Ambition target of 30,000 hectares of new forestry planting per annum between 2020 and 2050" which means some 900,000 hectares of new woodland, or roughly 8% of the UK's grazing land, being devoted to timber production.
Using less productive areas of farmland could increase on-farm efficiencies and converting this to boost the UK Government's Net Zero ambitions could be achieved with no negative impact on food production," explains Robertson.
In fact, the benefits of on-farm woodland should mean a benefit to livestock through the provision of shelter while also adding capital value to less productive areas and the woodland can generate carbon units that farmers can use to inset (or implement nature-based solutions) against their own business emissions.
So, while we're all in a debate regarding either agriculture or trees we need to consider a future that involves both agriculture and trees, looking quite literally at the wider landscape.
"The team at Scottish Woodlands managed more than 40% of the planting approved by the Scottish Government in 2022/23, carrying out thorough site assessments and surveys to identify constraints such as vulnerable species, habitats, and peatland," says Robertson.
An important part of this involves detailed community and stakeholder engagement followed by a full analysis of the findings of these surveys and consultations to design woodlands to meet its clients' objectives.
"Often these objectives are based on commercial production, with nearly 60% of what we plant being productive conifer. The balance is made up of productive and native broadleaf and designed open land providing space for long-term habitat development and ecological enhancement."
He concludes: "We need productive woodlands and we shouldn't be shy about highlighting the key role they play in decarbonising our economy, mitigating more than 6.5 times more carbon than similar areas of native woodland over the period to 2050, along with the multitude of other benefits they provide society.
"More open dialogue is required on the future of a diversified land use in upland UK to help meet all our needs – and we should welcome that discussion with open arms."