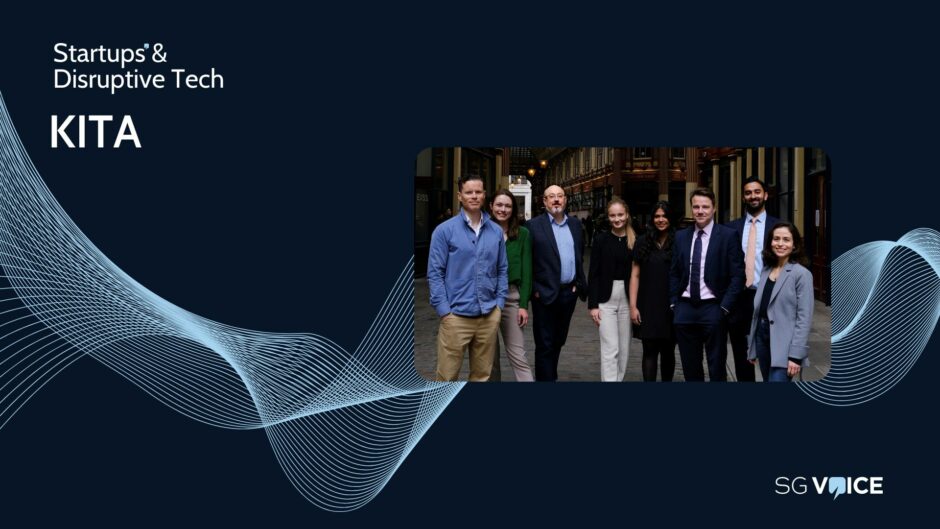 Kita is an insurance company that specialises in providing insurance coverage for carbon credit transactions. 
Its primary product, "Carbon Purchase Protection Cover", is designed to mitigate the risks associated with carbon credit purchases, particularly in scenarios where carbon sequestration projects may fail to deliver the expected volumes of high-quality carbon credits.
London-based startup kicks off with a bang
Kita was co-founded in December 2021 by Natalia Dorfman, Paul Young and Tom Merriman. The three were brought together by Carbon13 with "the shared passion of using our cumulative expertise to develop solutions to fight climate change." 
Already, the company has raised a total of £4.35 million in funding through strategic pre-seed and seed rounds. Its journey began with a boost from Carbon13 in January 2022, followed by a supplementary pre-seed round led by Insurtech Gateway. Kita's growth continued with a £4 million seed round in February 2023, this time led by Octopus Ventures with further support from previous backers including Insurtech Gateway, Carbon13 and Climate VC.
What is the product and how does it work?
Kita specialises in insuring carbon credit transactions, offering a product called "Carbon Purchase Protection Cover." This coverage protects buyers against risks in carbon sequestration projects, including avoidable and unavoidable losses (e.g., errors, natural catastrophes) and fraud or negligence. By enhancing the trust of credit buyers, Kita facilitates capital flow to scale vital carbon projects, crucial for addressing the climate crisis.
For example, a company with a high-integrity net zero strategy might forward purchase carbon removal credits in an afforestation carbon project, with the aim of capturing carbon and enhancing biodiversity. Kita's "Carbon Purchase Protection Cover" would offer protection against the risk that the project fails to deliver verifiable credits due to avoidable loss; unavoidable loss; fraud or negligence that might invalidate the credits prior to their delivery.
What problem is Kita addressing?
Imagine the climate crisis as a flooding bathtub, where addressing the issue requires both turning off the tap and opening the drain. This analogy emphasises the need to halt carbon emissions while also removing existing carbon from the atmosphere. Kita's mission centres on the latter, facilitating carbon removal through technological approaches like direct air capture or nature-based solutions like afforestation.
The pressing challenge, however, is the absence of insurance coverage for the carbon credits traded within voluntary carbon markets. As demand for high-quality carbon removal credits outpaces supply, these credits are now being sold upfront, based on the promise of future removals.
If the planned carbon removal solution does not turn out as expected, the carbon loss is rarely insured. Kita describes this issue as "carbon delivery risk," with its novel insurance solutions providing the answer.
"We think that via creating effective risk transfer solutions we will enable more high-quality carbon removal solutions to scale at speed," the company says. "Insurance is a huge enabler for this because by insuring these transactions, thus reducing risk for market participants, we open the possibility to more effective uses of capital for the market, such as debt financing."
Fostering market connections
"Kita's aim isn't to disrupt," it continues. "As the carbon insurance specialist, we are unique in that we understand both the carbon markets and the insurance markets."

Ultimately, the company's goal is to foster greater connections between these two domains by developing pioneering insurance products that can penetrate the carbon markets and channel investment into the expansion of high-quality carbon projects.
As an example of the positive changes that insurance could bring, Kita points to its ability to enable a far wider range of financial mechanisms.
Educating the market on carbon credit insurance
Kita believes in the dynamic evolution of the voluntary carbon markets, with rapid growth and transformative shifts underway. It emphasises the pivotal role of insurance-led analysis in channelling capital towards high-quality carbon removal solutions that can deliver tangible impact.
Despite the growing demand for insurance solutions, however, the market is in great need of education. This continuous educational challenge is intricately intertwined with the task of staying ahead in a complex and rapidly evolving landscape.
Kita views this as a unique selling point, claiming that its comprehension of the underlying intricacies of carbon removal projects, coupled with robust relationships within the climate industry, empowers it to consistently refine its existing products and identify the burgeoning need for alternative offerings.
Plans for future expansion
Kita anticipates significant growth in insurance for carbon markets and carbon removal solutions over the next decade. It forecasts immense potential for product innovation, with its clients' demands already pointing it towards a substantial list of future offerings.  The company's ambitions extend beyond carbon, encompassing a broader market that includes natural assets such as biodiversity credits.
Currently, Kita is considering accelerating its scale up by offering comprehensive services within the voluntary carbon market that could work in tandem with its insurance to enhance the market's integrity.
For instance, the company notes that services like carbon ratings and monitoring, verification and reporting will play a pivotal role in elevating transparency and building trust within the market. The simultaneous expansion of these complementary offerings could boost the insurance sector, providing a favourable tailwind as Kita attempts to navigate the evolving landscape.
"The financial markets in this growing carbon space will become increasingly sophisticated and need insurance solutions. Kita plans to embed into these markets from the outset," the company says.
Kita's recent achievements include its series of successful fundraising rounds, its recent regulatory approval, it continuous product development and the key partnerships it has already formed. Its recognition for The Earthshot Prize 2023 and grants from the European Space Agency and UK Research and Innovation come as further evidence of its commitment to climate solutions.
Moving forward, the company aims to solidify a sustainable business model with a focus on scaling their flagship product, introducing new offerings and expanding regulatory approvals to engage with carbon markets around the world. An upcoming milestone is its Series A funding round in late 2024, which will serve as external validation of the company's progress and dedication to shaping the future of carbon credit insurance.