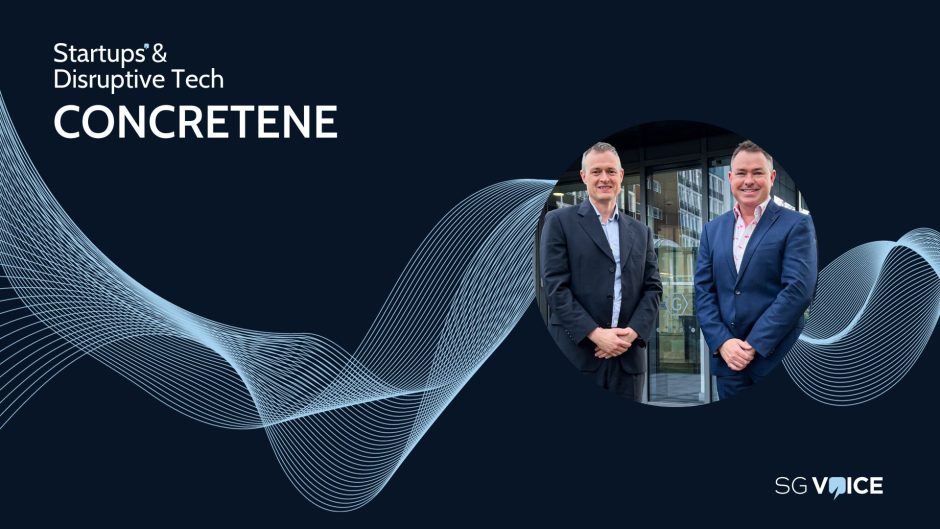 From the historic industrial centre of Manchester, Concretene has developed a graphene-enhanced liquid admixture that enhances the best qualities of concrete while reducing the carbon footprint of construction projects. The startup was founded in 2022 by Rob Hibberd and Alex McDermott. 
Solving the concrete dilemma
Concrete is the world's most widely used man-made material, but its embodied carbon emissions come at a significant cost to the planet.  
Traditionally, concrete is bound with cement, which is made by heating limestone and other ingredients to temperatures of over 1,400°C. The process requires an enormous amount of energy, typically provided by coal or natural gas. With around four gigatonnes being produced every year, cement-manufacturing accounts for a staggering 8% of global emissions. 
As the global population continues to grow, converging with increasing urbanisation and the rapid development of emerging economies, the demand for cement is only forecast to rise. Indeed, estimates suggest that production could at least double by 2030. 
Of course, this increase in cement production comes in direct contradiction to international goals of reaching net zero emissions by 2050. Without technological innovation, our instinct to build could lead us further down the path to our own destruction. 
Concretene was founded with the mission of solving this problem. 
"While there is no 'silver bullet' to addressing the grand challenge of climate change, each high-emitting industrial sector must step up to help nations meet the goals of the 2015 Paris climate agreement," says Alex McDermott, Concretene's co-founder and chief development officer . "Our mission at Concretene is to be the first to use the unique properties of graphene in a truly scalable application." 
Enhancing qualities while lowering carbon
Concretene's eponymous product is a liquid admixture made with graphene, an atomically thin form of carbon that strengthens the microstructure of concrete while reducing curing periods, microcracking and permeability. The novel material can be produced from various streams of industrial waste, including plastics and wood char. 
As such, graphene is considered a sustainable resource with several additional benefits, but its hydrophobic nature has presented a challenge when it comes to incorporating it into water-based materials like conventional concrete. Using its patented dispersal technology, however, Concretene has succeeded in overcoming this limitation. 
Through performance enhancements, Concretene enables a reduction in cement of up to 30%, proportionally reducing the carbon emissions that are embodied by construction projects. The same structures can be developed with a lower impact on the planet, with their projected lifespan lengthened by the durable qualities of the solution. 
"Concretene was invented in Manchester and there is a dimension to our work that goes beyond the immediate need to decarbonise," McDermott continues. "Advanced materials will form the basis of a new industrial revolution that can revitalise manufacturing, with Greater Manchester showing the way to successful urban regeneration." 
Ample opportunity for new materials
Initially, Concretene plans to target the UK, Europe and North America, proving out its technology in low-risk applications such as pre-cast concrete and ground-bearing slabs. In the UK alone, the market is valued at approximately £1.2 billion. 
McDermott explains that there are other low-carbon cement alternatives available, but they tend to rely on the waste streams of intensive industries such as coal-fired power or steelmaking. As these industries are adapted or phased out during the global net zero transition, the supply of their waste will inevitably dry up in the long run. 
"There are other emerging technologies such as calcined clays and crushed limestone, which will play their part in time," McDermott acknowledges. "Ultimately we envisage Concretene working in tandem with a range of complementary elements in different concrete design mixes to achieve the desired balance of carbon reduction at viable cost." 
Embarking on the long route to market
As with any startup, the route to market is not without its bumps in the road. Although Concretene has successfully demonstrated its product's potential, the chemical process is still being investigated. At present, the company is working alongside the University of Manchester to gain a better understanding of the material and refine its communication of the different benefits. 
"The keys to adoption are market confidence and accreditation," muses Rob Hibberd, fellow co-founder and chief executive. "From a business perspective, the construction sector is traditionally risk-averse, but we have seen plenty of enthusiasm." 
Concretene has formed a number of strategic partnerships that are helping it on its way. Arup, for example, is providing expertise towards accreditation of the material, while Black Swan Graphene (TSE:SWAN) is the principal supplier of graphene nanoplatelets. The University of Manchester is sharing its expertise and academic facilities.
Having recently secured £1.25 million in grant funding from Innovate UK and EPSRC, on top of an initial £3.5 million seed round, Concretene is working to complete its chemical specification by the end of 2024. From there, it will be able to scale up production and continue trialing its product. 
"Because the graphene market is still young, there are many dependencies between manufacturers, application specialists and the wider supply chain," McDermott explains. "In the early 2010s, graphene was extremely expensive to produce (up to $10,000 per kilo), but advances in manufacturing and economies of scale mean we're now modelling for applications where the graphene nanoplatelets come in at under $50 per kilo." 
"Obviously, this makes a massive change to the potential cost of your graphene-enhanced product, with real relevance for industries such as construction that are highly price-sensitive," he continues. " We are working with numerous partners, from chemical manufacturers to asset owners and government agencies – each of whom stands to benefit in different ways from the success of Concretene."