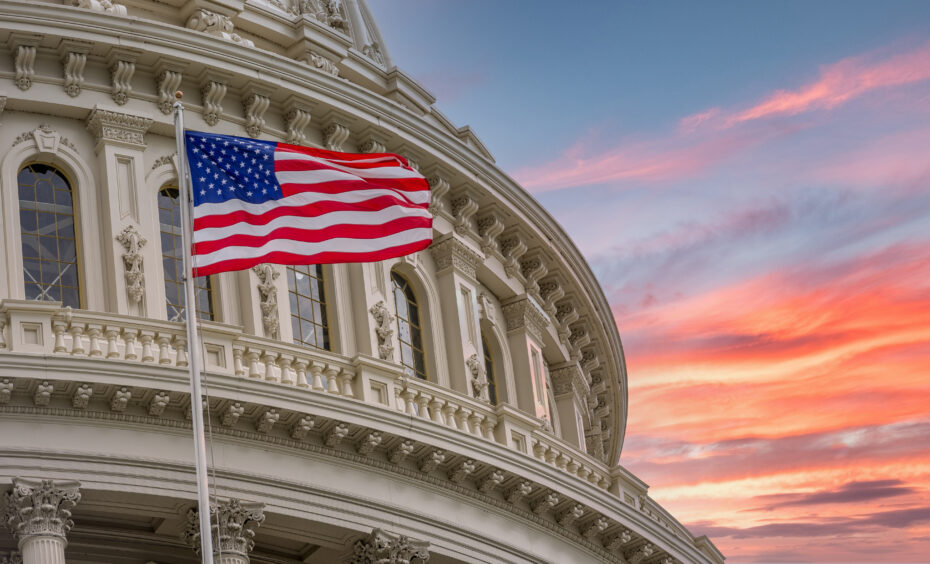 The Biden Administration has proposed a new rule that would require its federal contractors to publicly disclose their greenhouse gas emissions and exposure to climate-related financial risks. 
The US White House wants its contractors to set science-based decarbonisation targets and publicly disclose their progress using the CDP framework.

 

Spending on federal contracts reached $645.5 billion in 2021, highlighting the Government's influence over global supply chains.

 

As countries come under greater pressure to achieve ambitious emissions reductions, businesses will need to become more sustainable in order to remain competitive.

 
The White House Council on Environmental Quality has announced the introduction of its Federal Supplier Climate Risks and Resilience Rule, which will mandate the disclosure of climate-related data by the US' largest contractors. Companies made to follow the new rules must set science-based decarbonisation targets and disclose their performance via the disclosure framework created by global non-profit organisation CDP. 
"Environmental impact must be a top priority for all powerful economic actors in their decision-making going forward," said Simon Fischweicher, head of corporations and supply chains at CDP North America. 
"Just like any large corporation, the US government needs quality data from suppliers to see the full picture of its environmental impact. The Federal Supplier Climate Risks and Resilience Rule will follow the model that CDP pioneered in our sustainable supply chain work, demonstrating the power of procurement by ensuring that federal suppliers disclose vital environmental data and set ambitious decarbonization targets", he concludes. 
What would the new rules demand?
Under the proposed rules, federal contractors that receive over $50 million in annual contracts would be required to publicly disclose their Scope 1 and Scope 2 emissions, as well are their "relevant categories" of Scope 3 emissions and their exposure to climate-related financial risks. This will include international contractors in addition to suppliers based in the US. 
Those that fulfil annual contracts worth between $7.5 million and $50 million will have to report their Scope 1 and Scope 2 emissions, but their Scope 3 footprint will be excluded. Federal suppliers with less than $7.5 million in yearly contracts will be fully exempt from the rules. 
Companies that do have to follow the rules would also be expected to set science-based decarbonisation targets. This approach is expected to support the Biden Administration in meeting its own target of a 50% emissions reduction by 2030, as it will allow it to favour contractors that demonstrate their progress towards realistic, measurable goals that are sufficiently ambitious. 
The rules are now open to a 60-day public consultation, which is scheduled to close on 13 January 2023. 
The US is waking up to climate risk
The latest announcement serves as a further example of the US' increasing recognition of its exposure to climate-related risks.  
In August 2022, the US Treasury began piloting its Climate Analytics and Data Hub to help federal agencies gain a better understanding of systemic climate risks to the financial system. This was followed by its establishment of a Climate-related Financial Risk advisory Committee, and the launch of a climate risk assessment involving six major banks. 
The US Government has begun to address the sustainability of its procurement after turning its attention to climate-related risks. In September 2022, for example, the Biden Administration launched its Buy Clean Task Force to promote the use of low-carbon construction materials in federal procurement and federally-funded projects. 
Recognising that transparency will be vital in measuring the success of such initiatives, the US Securities and Exchange Commission in April 2022 proposed a rule that would require the country's public companies to disclose their climate-related data. When this is combined with the latest announcement, there appears to be a real possibility that mandatory disclosure may soon be the norm within the US. 
Public procurement as a lever for climate action
In 2021, the US Government spent $645.5 billion on federal contracts. According to its national budget, this figure should rise to a whopping $958.4 billion spent on contractual services and supplies in 2022. 
The sheer volume of federal spending demonstrates the scale of its influence over global supply chains. This influence could be scaled even further if similar measures are adopted by Governments around the world, which could become a reality as countries come under increasing pressure to achieve their emissions reduction targets. 
Indeed, those that have made Nationally Determined Contributions will soon have to participate in a global stocktake to assess their progress. This, combined with the growing number of litigation cases against Governments that are accused of failing to take effective action against climate change, makes it all the more likely that public procurement could become a priority area. 
If this does become the case, public spending could serve as a signal of demand for new market players that can offer more sustainable methods and technologies. It would also incentivise existing suppliers to clean up their act as, despite the potential costs of complying with climate-related disclosure rules, it would eventually become vital in maintaining economic viability. 
Elizabeth Small, general counsel and head of policy at CDP North America, seems to believe in such a future. Regarding the US announcement, she states that: "The White House's leadership will undoubtedly send ripple waves of change throughout both U.S. and global supply chains – and signal to the companies that are lagging on their sustainability journeys that it's time to take action if they hope to be competitive and resilient in the 21st century economy. Ultimately, this is further evidence of the impact CDP has had and will continue to have by raising the bar higher for the major players in the climate crisis."